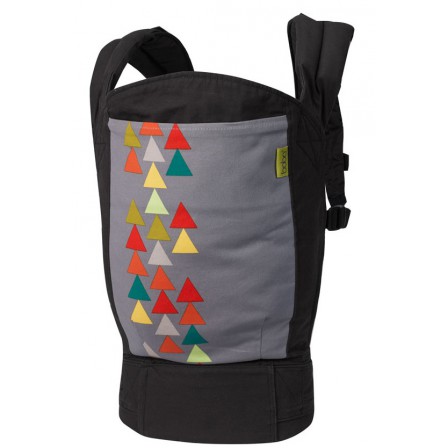 View larger
Boba 4G Baby carrier Peak
Boba
Boba 4G Tweet : change in design
The new Boba 4G Tweet is more refined as it has lost its brown band and the Boba logo is smaller (see first 4 photos).
The 4G Tweet Kangaroo is much more comfortable for newborns thanks to its two-position infant insert. The Boba 4G Tweet ergonomic baby carrier perfectly follows the growth of your baby.
The hood has been redesigned. It is attached diagonally for better head support. Improved foot straps ensure better leg positioning.
The Tweet pattern is the best seller at Boba.
By buying this product you can collect up to 6 loyalty points. Your cart will total 6 points that can be converted into a voucher of 2,70 €.
Your order delivered within 2 to 4 days
Boba 4G Tweet baby carrier: new version
The design of the Boba 4G Tweet ergonomic baby carrier has been revisited. It is more ventilated as the brown band on the body has been replaced with the Tweet pattern. A small, more discreet label allows you to see the Boba logo. We think this new version of the Boba Tweet is a success!
Compare: The first four photos are of the new Boba 4G tweet. The last are of the old Boba 4G tweet.
The new Boba 4G Tweet in 3 points:
For babies from

3.5 to 20 kg

(birth to approximately 3-4 years): it has a 3-step progression
Innovations that will change your life.
For all baby wearers from 1.5 m to 1.9 m, as easy to install as a backpack.
This progressive baby carrier follows your baby in 3 steps
The Boba 4G can be used from birth to 3 or 4 years of age (20 kg).
Step 1: Boba from birth to 7 kg
Use the infant insert to place your baby in the fetal position. This is the best position for your baby up to approximately 4 months of age to help him feel comfortable and be carried in an ergonomic position. The baby is worn on the front only.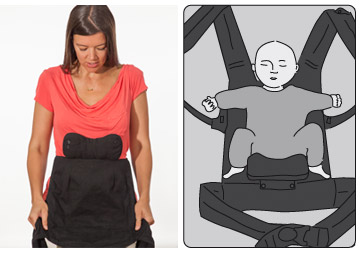 Step 2: from 7 to 10-12 kg (from 4 months of age)
The baby is worn in the front-inward position. The insert holds the baby in a natural frog-leg seated position to hold the hips and legs ergonomically.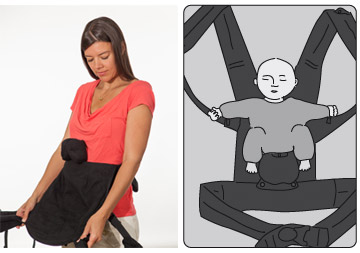 Step 3: from 10-12 kg to 20 kg
From approximately 10 kg, the infant insert is removed and the hood can support the head. It protects your baby from the sun or rain. The baby's legs are supported with foot straps that are practical for long walks. You can now wear your baby on your back.
Improvements of the Boba 4g Tweet
The Boba 4G baby carrier has a few improvements over the 3G version:
a wider seat for more comfort
side straps that are more easily adjustable as they slide towards the bottom
the Boba 4G straps are padded over a longer length
A baby carrier for anyone anytime
A stroller isn't practical in certain situations: country roads, busy sidewalks, grocery shopping, etc. Arms get tired holding baby and are needed for other things. With a baby carrier such as the Boba 4G, your child accompanies you while snuggled close. Whether you are Mum or Dad, you won't have to leave your baby. It is a secret weapon for calming baby and lulling her to sleep. And for hiking, you don't need to look any further: the Boba 4G is one of the best baby carriers for long walks.
Features of your baby carrier
100% cotton
weight: 500 g
one removable hood, adjustable depending on the age of the baby
3 storage pockets (including two with zipper)
New features of the Boba baby carrier in video
New Boba 4G baby carrier with infant insert
Data sheet
Kind of Baby Carriers
Full Buckle
Material
100 % Cotton
Made in
Asia
Recommended baby age
0 - 4 years
Baby's weight
3,2 à 20 kg
Carrying positions
Front & Back
Shoulder straps measurement
51 - 102 cm
Waistbelt measures
63 - 147 cm
Main advantage
footstrap
Warranty
2 years
Weight
645 g
Product Reviews
Number of Reviews :

38

Average Grade : 4.8 /5
José V.
the 06/05/2019

5/5
Article correspondant parfaitement à la description du site Naturiou.
Aude P.
the 31/03/2019

5/5
Super
Charlotte P.
the 21/03/2019

4/5
pratique
Léa D.
the 15/03/2019

5/5
Très bon porte bébé agréable
Constance P.
the 21/09/2018

5/5
Très pratique, bien conçu
Elise D.
the 14/09/2018

4/5
Bien pensé, adapté à mon fils de deux mois grâce à l'insert (en alternance avec l'écharpe de portage pour le moment). Les sangles de réglage sont un peu raides car produit neuf mais je pense que ça s'assouplit à l'usage, mon porte-bébé précédent (Ergo****)était un peu semblable et les réglages se faisaient bien.. Pas encore testé les cale-pieds. Les premiers essais montrent que ce porte-bb est confortable pour le porteur, un peu plus que l'Ergo**** dans mon cas qui me faisait mal au haut du dos à cause de l'attache inter-omoplate trop basse : ici elle est plus haute, je pense que ça m'ira mieux. Prévoir quelques réglages de sangles et d'attaches pour alterner entre deux porteurs (papa et maman n'ont pas le même gabarit, chez nous!)
Sabine L.
the 11/08/2018

5/5
Très facile à mettre, reste à essayer avec bébé. Très jolie
Linda S.
the 05/08/2018

5/5
Génial
Christophe L.
the 12/06/2018

5/5
Confortable et resistant
Anne C.
the 19/01/2018

5/5
je ne sais pas trop encore ,car le bébé n'est pas encore né
FRANCOISE T.
the 23/12/2017

5/5
PRODUIT DE QUALITE IRREPROCHABLE, TRES PRATIQUE
Marjorie D.
the 16/12/2017

5/5
Hyper pratique et bébé a l air super confort
Severine F.
the 06/11/2017

5/5
très bon porte bébé. le réducteur permet de porter les bébés même tout petit. mon bout chou adore être lové tout contre moi. je cherchais un porte bébé facile d'utilisation et qui permettait d'installer bébé facilement toute seule. celui ci est parfait. je le recommande!
Jennifer D.
the 25/10/2017

4/5
Porte bébé physiologique qui paraît confortable puisque ma fille de 9semaines dort dedans au bout de 5 minutes!Seul petit bémol pour les nourrisson qui ne tienne pas encore leur tête, un cale tête serait bienvenue car cette dernière balote un peu...Tissu solide et de qualité. Non testé en promenade mais il me paraît confortable également pour le porteur à première vue...
MARLAINE B.
the 03/10/2017

5/5
Porte bébé très pratique: testé et validé sur une journée à prendre train métro balade en vile
Christine G.
the 16/08/2017

5/5
Super porte bèbèSimple et ergonomique
Aminata K.
the 13/07/2017

5/5
Pratique et léger !
Charlotte L.
the 17/02/2017

4/5
Je n 'ai pas encore testé le produit.
Sébastien A.
the 04/01/2017

5/5
Conforme
Patricia P.
the 10/11/2016

5/5
Correspond parfaitement à la description du produit.
Jean M.
the 27/10/2016

5/5
Excellent produit ; nous en achetons un deuxième pour pouvoir porter nos deux enfants assez proches en âge (1 an et 2 ans et demi).
Barbara Q.
the 14/09/2016

5/5
Super !! Coloris Peak très sympa.
Florence V.
the 11/06/2016

5/5
facile pour installer bébé
Stephanie D.
the 10/05/2016

4/5
Just perfect ;_)
Amélie G.
the 19/01/2016

5/5
Très facile à utiliser, très pratique.
Julie B.
the 06/10/2015

5/5
Parfait, tellement mieux que le porte bébé classique que j'avais jusque là...
Hélène H.
the 10/08/2015

4/5
Facil à mettre et surtout tres bien pour nouveau né
LOIC S.
the 30/07/2015

4/5
Pas encore utilisé mais le produit m'a l'air très bien
Sandy L.
the 02/07/2015

5/5
Produit génial. A la hauteur de mes attentes mais en mieux
Auriane L.
the 30/06/2015

5/5
Excellent produit
Servane C.
the 01/06/2015

4/5
mon Petit mec de 7 mois semble l'avoir adopté on a fait les courses avec bien plus pratique que la pousette!il n'y a plus qu'a l'utiliser pour beaucoup d'autre chose maintenant!
Melanie P.
the 27/05/2015

5/5
Super produit ,mon bebe adore etre clntre moi pour se ballader
Delphine G.
the 11/03/2015

5/5
Livraison très rapide
Anne-Sophie D.
the 07/02/2015

5/5
Très pratique et facile d'emploi.
Benoît R.
the 04/02/2015

4/5
Je voyais le maintien de tête plus haut, mais il est super pratique!
Mathias D.
the 19/11/2014

5/5
super produit, toute la famille l'adore.les parents n'ont pas mal au doset bébé s'endort rapidement.
Virginie M.
the 17/11/2014

5/5
très bon produit
More reviews...