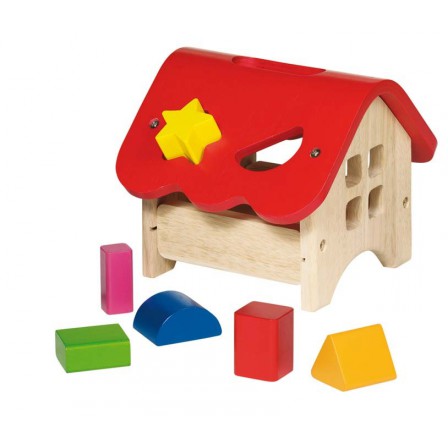 View larger
Sort box house, Casa formo by Goki
Goki jeux en bois
58887
Sort box, home



A box of "house" with five wooden shapes to find. Baby needs to put the right shape in the right place to drag the piece of wood in the house.

Dimensions : 17,5 x 18 x 20 cm.
Materials : rubberwood and plywood rubberwood. The roof is made of rigid foam.
Age : from 1year
No reward points for this product.
Your order delivered within 2 to 4 days
Box of wooden shapes by Goki
Dimensions : 17,5 x 18 x 20 cm.
Wooden toys Goki
Manufactured and studied for children, wooden toys Goki are characterized by excellent finishing, and with an originality that has nothing to envy to their counterparts in plastics.
Each toy is the subject of the greatest attention on the part of Goki. They are manufactured according to the rules of fair trade in Europe or Asia.
The brand is characterized by a design functional and very aesthetic. The colors are modern and deep. Toys Goki give a lot of fun and realism to the games of children. The wooden games are essential for developing and maintaining the motor functions, cognitive, or sensory for your little ones.
Data sheet
Material
Wood
Made in
Europe
Minimum age
1 year