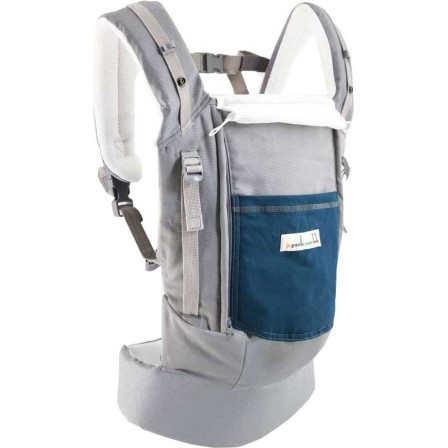 View larger
JPMBB PhysioCarrier Faux leather Elephant pocket Peacock blue
Je Porte Mon Bébé
PU434334
The Physiocarrier of JPMBB accompanies you everywhere during your walks with your toddler.
It is for you : it is both practical and ergonomic.
To wear from birth to 20 kg.
3 positions port : tummy, back and hip.
Model : JPMBB Physiocarrier artificial leather Elephant pouch Peacock Blue.
By buying this product you can collect up to 5 loyalty points. Your cart will total 5 points that can be converted into a voucher of 2,25 €.
Your order delivered within 2 to 4 days
Baby carrier vs Stroller : the advantages of a baby carrier
Your stroller takes up too much space when you do the market, you do not know where the store. You have stairs that are impossible to climb with the pram.
We have a solution !
It takes up little space, very easy to carry, and in addition, you strengthen your bond with baby. This is the carrier for a physiological Physiocarrier of JPMBB !
Your PhysioCarrier JPMBB is THE carrier physiological to the excellent quality/ price ratio. Many the desire and the whole world is watching.
10 reasons to choose the PhysioCarrier JPMBB :
- It is ergonomic.
It is easy to carry, little space.
- It respects the physiology of your baby.
- It adapts to all ages : from birth (3.5 kg) up to approximately 3 years (20 kg).
- It adapts perfectly to the morphology of your baby thanks to its side straps adjustable in height and width simultaneously.
- It can be used for all seasons. In effect, the deck slightly open.
It is beautiful and carries the DNA of JPMBB. It echoes the style of the scarf "Original" with two different colors between the baby carrier and the apron.
- It is comfortable for the wearer thanks to its generous padding and its portage type "backpack".
- It is comfortable for your baby, thanks to the booster seat and the wedge-head intended for use in small or large.
It is THE carrier that you've been waiting for !
3 investment techniques of the shoulder straps in pictures
Your PhysioCarrier JPMBB is used simply ! Here are three ways to carry your child with the carrier Physiocarrier :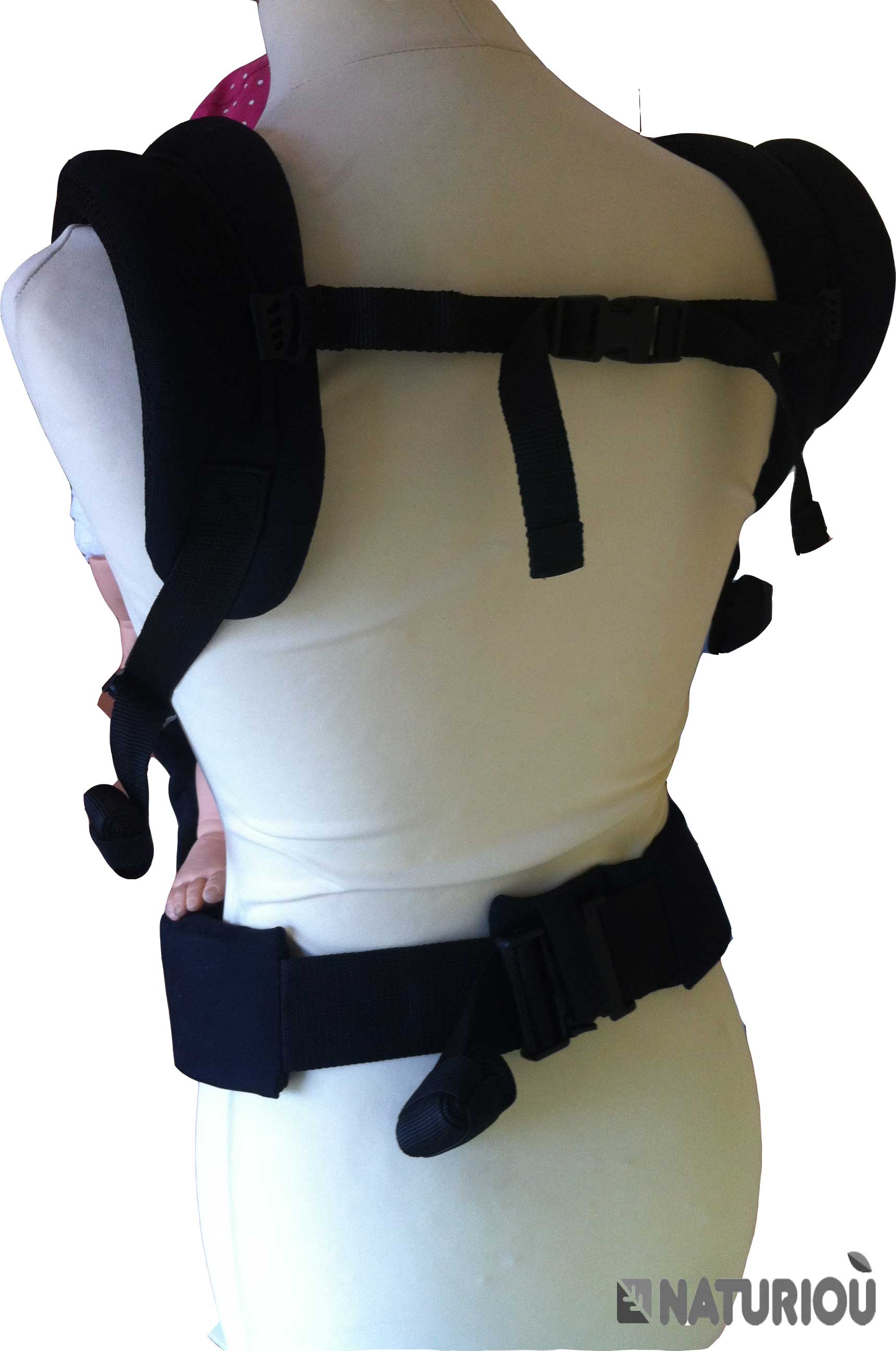 1 - Portage classic, on the belly or on the back:
This technique is the same as wearing a backpack. The brettelles are parallel. The waistband is at the waist level.
This suspension method is used for the portage ventral and dorsal.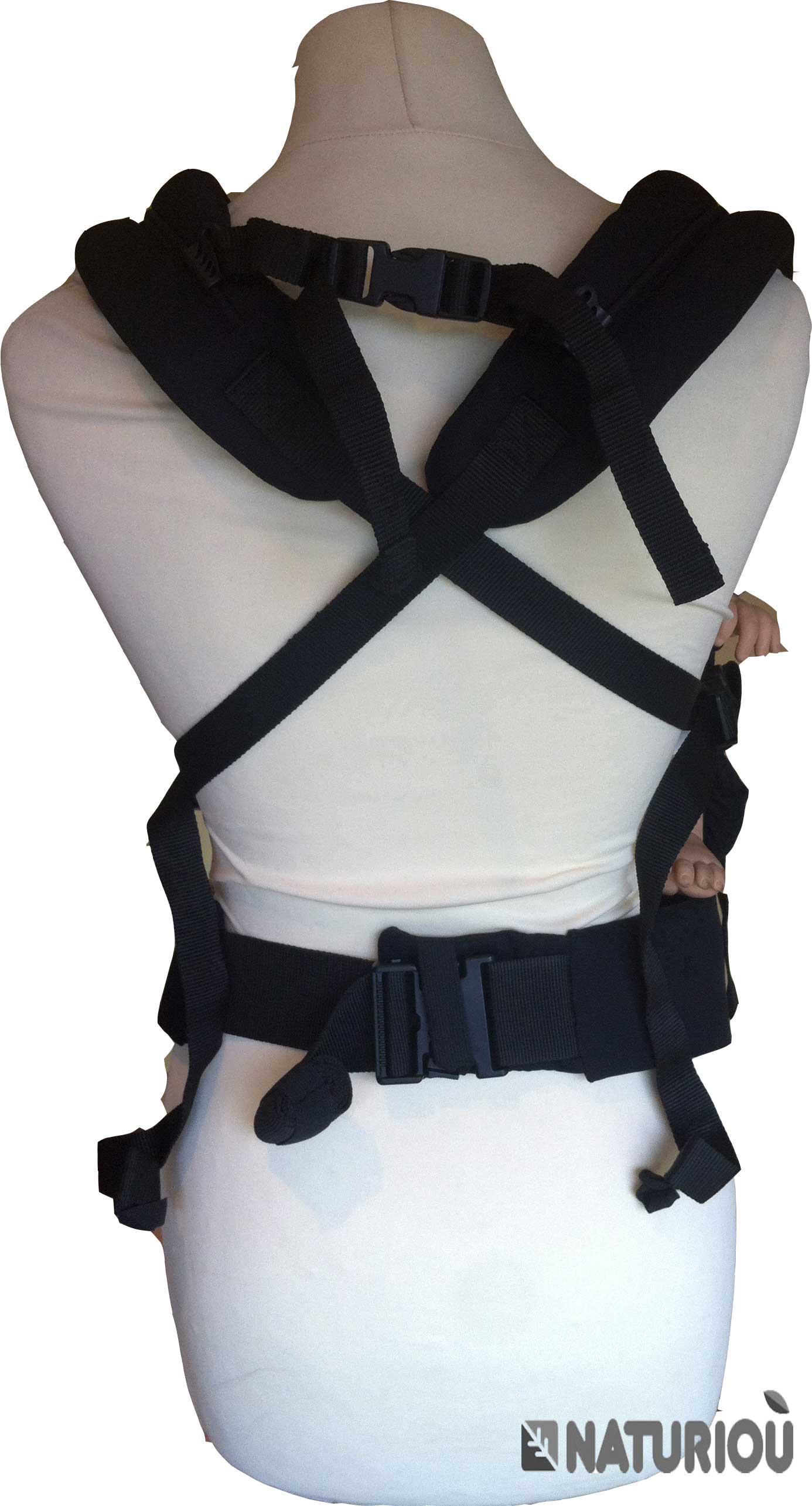 2 - shoulder Straps cross, portage on the belly :
In this case, the shoulder straps are crossed. This method allows a better maintenance of the carrier being preformed. This technique is used for the portage on the belly.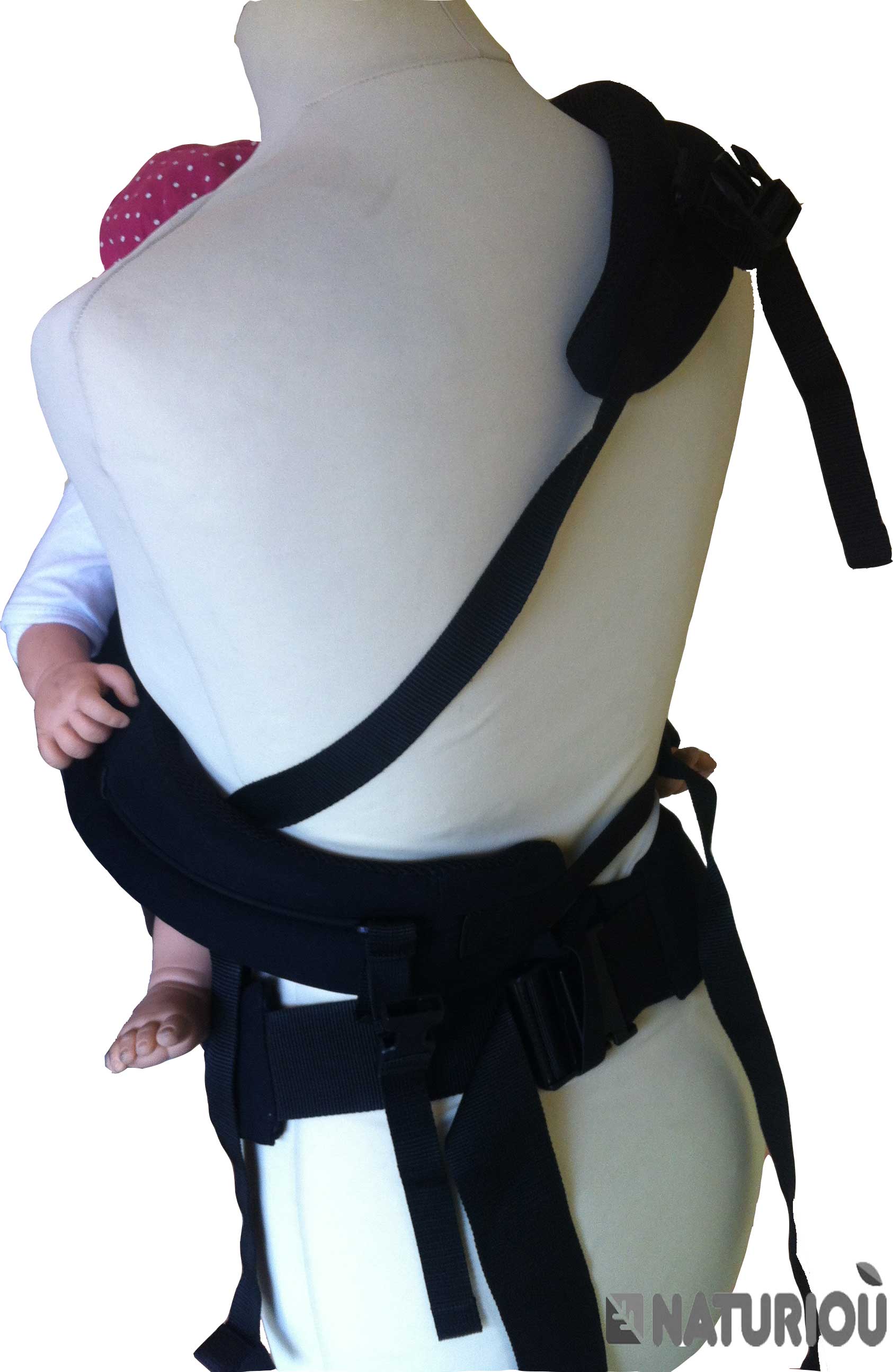 3 - Straps cross, portage on the side
The Physiocarrier offers the possibility to carry your baby on the hips. For this, there is a particular process.
1/ Attach the belt to your size.
2/ Place a brettelle on your shoulder and then attach it to the fastener opposite.
3/ Install your child in the baby carrier.
4/ To finish, take the slip road left, pass under the arm of your baby and finally clip it to the fastener opposite.
The booster and the wedge-head : 2 essential accessories (sold separately)

The pack extension JePorteMonBéBé adapts to toddlers as infants.
JPMBB offers a boost for small from birth as the greatest. It is not bulky, very easy to use. It is a ergonomically designed with its triangular shape. The insert newborn provides a physiological position of the legs of your child. The effect of PhysioCarrier features a pocket named sheath. It allows you to slide safely, and easily the booster seat.
Here are the benefits of the booster of the carrier physiological JPMBB :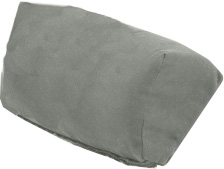 It provides a portage up and secure. In fact, wear in the height of her child encourages her breathing.
- For children from approximately 10 months, when back carrying, the greater visibility is available.
- For the wearer, it has the sensation of wearing a real backpack. In effect, the booster raises the center of gravity, it is a unique sensation.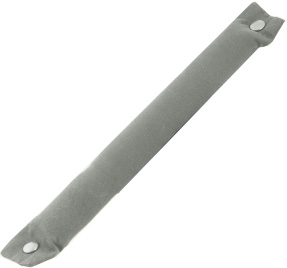 The preformed Physiocarrier think of the nape of the neck of the infants. A shim header soft quilted and offers a firm grip. Thus, it is love in the hollow of his neck.
Videos of the portage with PhysioCarrier
Below are two short videos of the PhysioCarrier JPMBB.
Installation of the new born in the physioCarrier JPMBB
Installation of the wedge head JPMBB
Data sheet
Kind of Baby Carriers
Full Buckle
Made in
Turkey
Recommended baby age
4 - 48 months
Minimum age
birth
Baby's weight
5 à 20 kg (dès 3,5 kg avec le coussin)
Carrying positions
Front, Back & Hip
Shoulder straps measurement
46 - 141 cm
Waistbelt measures
63 - 131 cm
Hauteur du tablier
42 cm
Largeur d'assise
43 cm
Main advantage
Good value for money
Warranty
2 years
Product Reviews
Number of Reviews :

31

Average Grade : 4.7 /5
Aubourg M.
the 21/06/2020

5/5
Super le porte bébé est comme on le voulait. Simple et efficace
Brigitte B.
the 12/06/2020

5/5
Qualité, design, ergonomie et également le prix tout est conforme aux attentes de la future maman
Daniel G.
the 03/10/2018

5/5
Très bien
Alain T.
the 29/09/2018

5/5
Produit conforme à mon attente
Joséphine C.
the 24/08/2018

5/5
Très agréable au portage
Charlotte C.
the 22/08/2018

5/5
Porte bébé pratique et agréable tant pour le bébé porté que pr le porteur.
Barbara G.
the 02/08/2018

4/5
Pour des bébés d'au moins 3,5 kgs par contre Ce n'est pas précisé mais un bébé de 3 kg est un peu petit pour y être bien installé
Eugénie S.
the 29/07/2018

5/5
Le porte-bébé est de très bonne qualité et rend aussi en vrai que sur la photo. Il est léger et très agréable pour l'été, confortable pour le parent et semble l'être aussi pour l'enfant puisque ma fille s'endort systématiquement au bout de 2 min dedans ! Il est en plus rapide à installer une fois les premiers réglages faits et une fois qu'on a pris le "coup de main".
Olivia P.
the 25/01/2018

3/5
Porte bébé de qualité par contre il faut une certaine largeur d'épaule pour être à l'aise, convient peut être mieux au papa.
Suzanne T.
the 25/01/2018

4/5
Bonne qualité...juste un peu peur du lavage avec la matière imitation cuire
Marielle P.
the 19/01/2018

4/5
La qualité a l'air bonne, jolie couleur.
Stéphanie V.
the 15/12/2017

4/5
Pas encore teste on attend bebe ms le produit a l air tres bien. Couleurs conformes a la description
Coralie V.
the 14/12/2017

5/5
Top qualité et colori idem aux photos sur le site
Celine G.
the 20/10/2017

5/5
Très bonne qualité très bon produit
Sixtine Z.
the 27/07/2017

5/5
Conforme au produit présenté
Nelly J.
the 14/04/2017

5/5
Tres confortable et bébé se sent bien!
Amandine E.
the 09/02/2017

5/5
Très bon produit, confortable autant pour l'enfant que pour le porteur.
Anonymous A.
the 14/10/2016

5/5
Produit au top
Anonymous A.
the 26/07/2016

4/5
Après, des doutes sur la solidité...on verra à l'usage. J'ai dû mettre le coussin d'extension car même si mon bébé a 7 mois, il dépasse à peine et sa bouche frotte sur les bretelles...
Anonymous A.
the 21/07/2016

5/5
Bien fait, mais a été peu utilisé pr le moment (le bb à une semaine)
Anonymous A.
the 16/07/2016

5/5
Produit excellent
Anonymous A.
the 07/07/2016

5/5
Produit au top, bébé confortable. Ma fille de 6 mois est encore mieux quand on met le rehausseur, elle voit mieux son environnement la petite curieuse !
Anonymous A.
the 25/06/2016

5/5
Je n'ai pas encore eu bcp d'occasion de l'utiliser. Malgré sa simplicité il faut tout de même prendre le coup pour placer correctement bébé de 3 mois dedans. J'ai fais plusieurs tentatives ... Bébé pleurait ! La 5ème était la bonne!! Mise à part cette prise en main, je pense que c'est un très bon produit, d'une grande qualité, et bien pensé . En plus j'ai pu l'avoir avec une bonne remise: les soldes avant les soldes ! Merci Naturiou!
Anonymous A.
the 11/05/2016

5/5
Très bon porte bébé,le papa le trouve très pratique,et moi sympa niveau esthétique en plus
Anonymous A.
the 20/02/2016

5/5
Porte-bébé facile à installer. Bébé (4 mois) se sent bien dedans et s'endort facilement.
Anonymous A.
the 18/02/2016

5/5
La qualité jpmbb est bien là
Anonymous A.
the 08/02/2016

5/5
Produit conforme à la description. Parfait.
Anonymous A.
the 27/10/2015

5/5
Très agréable. Aucune douleur. Je l'adore!
Anonymous A.
the 24/07/2015

5/5
Produit top
Anonymous A.
the 01/07/2015

5/5
Un porte-bebe pratique, et confortable pour le bébé et les parents.
Anonymous A.
the 01/07/2015

4/5
Bon produit
More reviews...