Ling Ling d'amour
LLA Baby carrier P4 Babysize Eucalyptus
Your P4 Babysize : for babies from birth to 1 year
Ling Ling Love offers a door-baby cheap with an excellent quality/price ratio : the P4 Babysize. It is designed to carry smaller babies : 3.5-15 kg approximately.
The P4 Babysize requires no booster cushion or booster to carry the smallest babies. The ingenious adjustment system allows you to adjust your baby carrier according to the morphology of your baby.
For the new-born
The dimensions of the P4 Babysize set at a minimum of 11.5 cm in width and 23 cm in height with the headrest lowered. Thanks to the drawstrings side and at the base of the apron, you change your carrier and set it according to the template of the baby.
For more great
Once the baby has grown up a bit, the basis of your preformed P4 Babysize Eucalyptus reached a maximum of 29 cm width and 36 cm in height for the deck. Your child from 1 year or so will still be comfortable in it.
Your P4 Babysize is physiological
Your baby is comfortably seated in the P4 Babysize LLA. It adopts a physiological position. His back is well-rounded. It is very well maintained by the fabric of the wrap of 210 g/m2 of your preformed. Thus, your new-born is installed in a position physiological :
his back is rounded,
his knees are higher than the buttocks,
his pelvis is slightly anteverted.
This position is validated by the'International Institute of Dysplasia of the Hip.
Your P4 Babysize is easy and quick to use
Your baby carrier physiological P4 Babysize is simple to use. It begins as a backpack. You put in two times three movements. You made the ajustemenst necessary easily, with one hand. The straps and cords are used to adjust the carrier.
Its fabric scarf woven in a twill-twill is 100% organic cotton certified GOTS.
Your P4 Babysize suitable for all carriers
All P4 of the French brand Ling Ling Love have a waistband gusseted. That is to say, that when you adjust the seat belt, it folds on itself like an accordion. In fact, it does not create a crease when it is at a minimum. The fabric of the apron is also tight. LLA is the only brand to offer this type of belt.
As well, your baby carrier suits all sizes of carriers : from 34 to 56. The shoulder straps of the P4 are also adjustable. They measure 137 cm at the maximum.
Zoom in on your P4 Babysize LLA :
Ultra-adjustable for wear babies

0 to 1 year.

Fabric scarf 100% organic cotton certified GOTS.
Padding at the level of the hollow of the knees of the wearer.
Shoulder straps well padded and comfortable.
A mirror and storage pouch color Eucalyptus provided with.
Storage bag to match.
Machine wash 30°C.
Not tumble dry.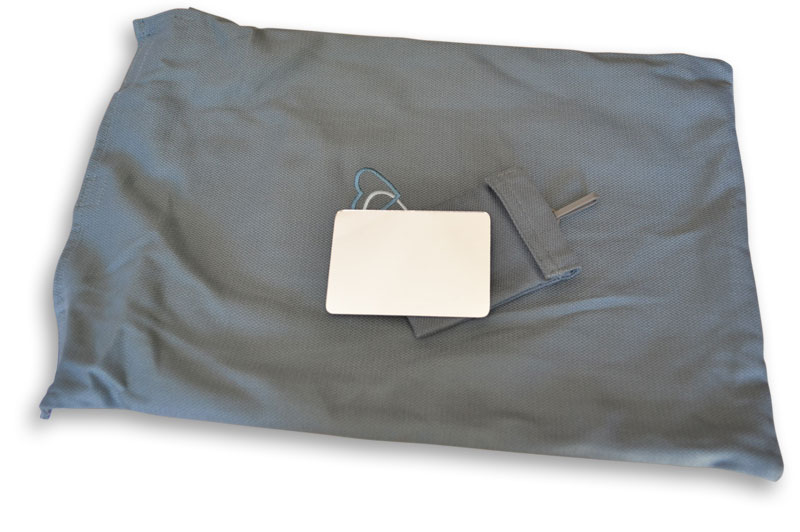 Mirror and storage bag color Eucalyptus
Comparison of the colours Eucalypt, Dune and Dried-Herb.

Characteristics
Recommended baby age

- 0 - 12 months

Carrying positions

- Front & Back

Kind of Baby Carriers

- Full Buckle

Label

- Gots

Baby's weight

- 3,5 to 15 kg approx.

Made in

- Asia

Waistbelt measures

- 60 - 135 cm

Panel Height

- 18 à 36,5 cm

Seat width

- 11 à 29 cm

Main advantage

- très adpaté pour les nouveau-nés

Warranty

- 2 years

Material

- 100% organic cotton

Weaving type

- Broken Twill
Avis des clients (2 Avis)
Anonymous A.
- 25/08/2018
RAS.
Anonymous A.
- 06/07/2017
Acheté en prévision de l'arrivé de bébé donc pas encore testé mais belle qualité, réglages simples !
Be the first to ask a question about this product!