Love Radius
JPMBB Bundle Physiocarrier Cotton Black, pocket Iris
The Bundle pack Physiocarrier Black pocket Iris in detail
JePorteMonBébé offers a package for its famous baby carrier physiological : the Physiocarrier. You can find it now in a Bundle Pack with the accessories to wear at the birth : the booster and the shim header.
All this in a single box :
more practice
least expensive
more easy to store.
Tissue micro-ventilated
Your baby carrier of the French brand JPMBB has a characteristic non-negligible : it is fabric micro-ventilated area. The skirt opens on each side with the help of zippers to zip. The fabric mesh on the underside of the deck allows for aeration and ventilation.
Hood
The carrier Physiocarrier features a hood thread. It is anti-UV. It helps protect your child's head from the weather.
Pack Physiocarrier JPMBB : to wear from birth
With your preformed Physiocarrier JPMBB, you wear as soon as the birth (3.2 kg) up to 20 kg. For newborns, you need the booster and the shim header. These 2 accessories are essential for a portage physiological comfortable in any security.
The booster
The booster is a booster cushion. It is necessary to carry your new-born. The child is sitting-crouching in position of the frog. As well, his body is in a physiological position :
- his legs are folded
- his knees are higher than the buttocks
- his back is well-rounded
- his pelvis is slightly retroversé.
The wedge-head
The shim header is used only with infants. It helps support his head and his neck. It also serves as a headrest in the event of a dodo. It clips on the shoulder straps.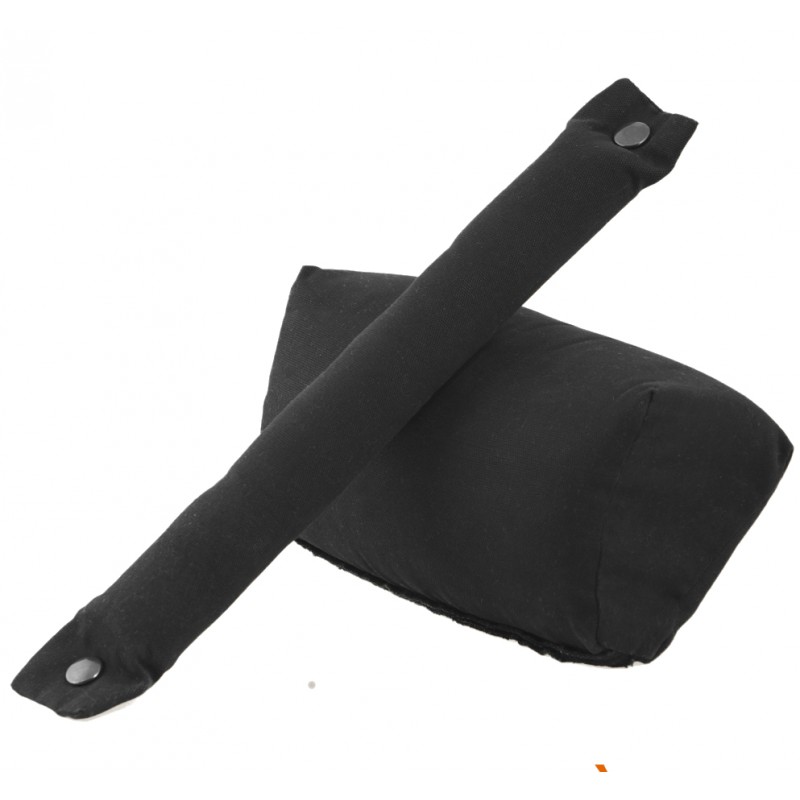 Accessories to wear at the birth : booster and wedge-head
A perfect setup for babies like toddlers
The Physiocarrier of JPMBB has on the sides of the apron straps. these allow you to adjust the baby carrier. They have the function to change the height of the deck. As well, you may as well wear a new-born as a larger child.
Your door-baby JePorteMonBébé is scalable. He carries your child from birth to 20 kg.
Bundle Pack Physiocarrier : a baby carrier for all
Your baby carrier physiological Physiocarrier is a preformed easy to use. It is suitable for all morphologies of wearer. His shoulder straps and his belt adjustable to allow a perfect fit.
The Physiocarrier is a baby carrier that is easy to install. Its clip system is simple and reliable. In a blink of an eye, you place your baby carrier.
Your Pack Physiocarrier : a baby gate of good quality at a low price
The carrier Physiocarrier is made of cotton. It is resistant and of very good quality. This is a baby carrier performance at a low price.
The Physiocarrier I PorteMonBébé has been the award-winning salon Baby Cool in 2016 in the category of accessory on the go.

Characteristics
Minimum age

- birth

Made in

- Turkey

Recommended baby age

- 0 - 48 months (with insert)

Kind of Baby Carriers

- Full Buckle

Baby's weight

- 3.5 to 20 kg approx.

Carrying positions

- Front & Back

Shoulder straps measurement

- 46 - 141 cm

Waistbelt measures

- 63 - 131 cm

Main advantage

- Good value for money

Warranty

- 2 years

Height

- 42 cm

Width

- 43 cm
Avis des clients (3 Avis)
Anonymous A.
- 21/10/2017
Top ! après avoir bcp utilisé l'écharpe, ce porte-bébé est super pour ma fille de 3 moi et demi (et déjà 7 kg), assise sur le coussin : elle voit tout, sa position est vraiment physio, et je n'ai plus a enlever/remettre pulls et pantalons, grâce au filet qui évite qu'elle aie trop chaud ! elle gigotait un peu au début, car c'est différent : il nous a fallu a peine une semaine pour nous y habituer et depuis, l'écharpe c'est surtout pour les gros calins... ce porte-bébé est extra pour toutes les sorties, une fois les réglages faits il se clipse en 2 temps/3 mouvements ! pour allaiter en toutes situations c'est vraiment extra. léger et facilement transportable... Je recommande chaudement !!!
Anonymous A.
- 21/08/2017
Pratique, léger, facile à installer après une petite prise en main pour les réglages. Avoir un pack est très pratique, car de nombreux site propose les articles séparément. Le prix en était d'autant plus intéressant. La couleur est conforme à la photo.
Be the first to ask a question about this product!