P'tits Dessous
Reusable nappy P'tits Dessous So Easy Kiwi without insert - size 1
So Easy Kiwi without insert Cloth nappy
The  So Easy is an easy and simple to use Cloth nappy.   the day and night.
The So Easy Kiwi has barriers, anti-leakage, soft and effective. It assures you no leakage. It does not mark the delicate skin of your baby.
Absorbent Insert sold separately
The So easy absorbent insert is made of bamboo covered with Coolmax for a "butt dry". Irritations and redness are greatly diminished. It is sold separately. The insert has 3 layers of bamboo for a great absorption capacity.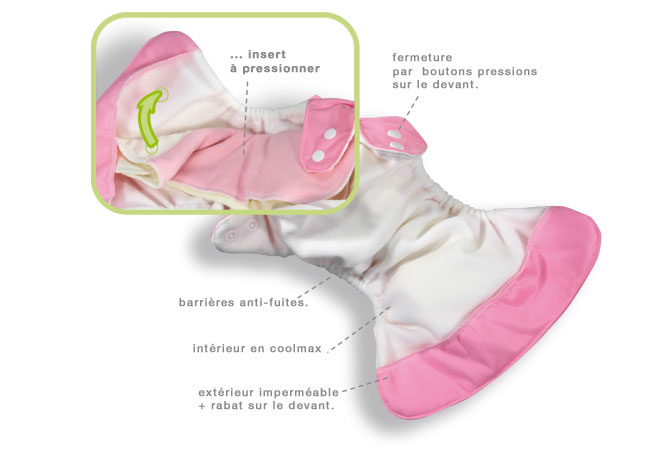 So Easy Kiwi : scalable and economic
YourSo Easy is scalable. It is manufactured in a single size : 3.5 to 15 kg. You don't need to change diaper when baby grows up. Practical and economical!
The nappy has a pressure system on the front : it allows you to adjust the height of the layer. The nappy becomes smaller to suit a new-born.
The So Easy : multi-purpose nappy
You have the option of using your So Easy as an 1-in-2 classic : you change the So Easy (diaper + insert) to each changing.
Or you use your So Easy as a TE2 : you just change the insert is soiled, replace it with a insert clean.
Composition
Exterior : 100% PUL
Inside : 100% polyester.
Characteristics
Label

- Oekotex 100

Baby's weight

- Jusqu'à 9 kg

Main advantage

- may be tumble-dried

Material

- Pull

Size

- One size

Conditions de lavage

- 40°
Be the first to ask a question about this product!