Other color available
Hiver
Mam
MaM Softshell Flex Cover Deluxe babywearing cover
Mam Softshell Flex Cover Deluxe
Your coverage of portage Softshell MaM is an easy to use to face the cold temperatures of the winter. It is ideal for everyday use as it is quite lightweight and folds easily. You take it everywhere be it in the city, in the mountain, in the rain, wind or snow. It fits all infant carriers.
Warm and reversible, the coverage Mam Softshell provides warmth and softness during the portage. A front pocket allows you to slide your hands to warm them. The water repellent fabric and waterproof allows you to use all the time.
Zoom on the cover MaM Softshell Black/ Rock Grey
Your coverage adapts to all the baby carriers and slings (except a baby carrier to metal frame). Its modern design and beautiful colors make it a coverage to portage the top of the range.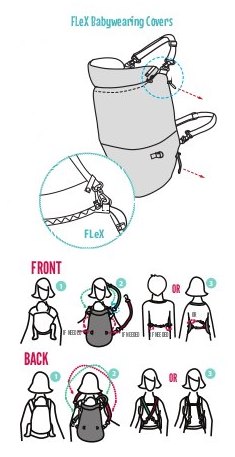 Composition
Inside : Fleece average weight 320 g/m2 (Polyester)
Outside : Pongé, water-repellent membrane with MaM®Tec(>5000 mm), equipped with small reflective strips.
Maintenance and cleaning
Wash at 30° cold.
Not tumble dry.
Characteristics
Minimum age

- birth

Carrying positions

- Front & Back

Main advantage

- S'adapte à tous les moyens de portage

Size

- One size
Avis des clients (1 Avis)
Anonymous A.
- 28/12/2020
Bien chaud facile utilisation
Quelle est la plus chaude celle ci ou là combo flex?
Bonjour,
Pour nous la combo Flex est plus chaude, car plus épaisse au toucher, cependant MAM les classe au même niveau de froid.
Quelque soit votre choix, il est obligatoire de bien vérifier régulièrement que votre enfant n'a pas froid en toute circonstance, notamment à ses extrémités.