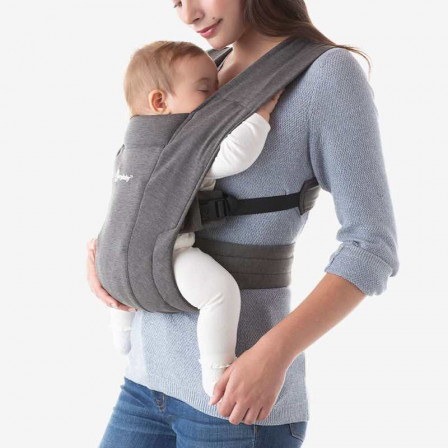 View larger
Ergobaby Embrace Grey Mouse - Door-New born baby
Ergobaby
BCEMAGRY
The Embrace of Ergobaby door with light and gentle for your newborn.
Wear from birth : from 3.2 to 11.2 kg
Easy to use : intuitive and fast to put on oneself
Ultra enveloping thanks to its soft fabric in

jersey

Position physiological ensured
Installation on the stomach : your baby facing you and facing the world
Model : Ergobaby Embrace Mouse Grey (Heather Grey)
By buying this product you can collect up to 3 loyalty points. Your cart will total 3 points that can be converted into a voucher of 1,35 €.
Your order delivered within 2 to 4 days
The Ergobaby Embrace : cocoon of softness
Want to cocoon your baby from birth with a carrycot ? Opt for theEmbrace of Ergobaby for a portage smooth. Its soft fabric and soft, and brings a enveloppememt perfect to your child against you. Halfway between a meï-taï, and a preformed, the Embrace offers a portage-comfortable and suitable for toddlers from 3.2 to 11.3 kg. The shoulder joint of the Kiss spread on the shoulders to cross in the back. The fabric of the Embrace is closer to that of a knitted scarf.
Physiological Position with 2 positions porting
Worn in the physiological position, your baby is placed appropriately in the Embrace. It is designed for the portage on the belly only :
Either belly to belly
Or you can install baby face in the world, from 66 cm
The child's legs are folded in the Embrace. Baby-sitting and crouching so his knees are higher than his buttocks. His back is well-rounded to meet the positionof natural kyphosis.
Why the Kiss is so sweet ?
The secret of theEmbrace lies in the composition of the fabric. Ergobaby has developed a baby carrier ultra soft and supple. Comfortable and supportive, the fabric of the Embrace is made up as follows :
79% polyester
17% rayon (artificial silk)
4% elastane
The deck, that is to say, the front of the carrier is doubled for support and a perfect fit.
For a portage-comfortable, smooth
Choose the Ergobaby Embrace it is to make the choice of quality and innovation. The american brand is strong and offers a baby carrier is unique in its kind :
the shoulder straps are padded and very pleasant
the abdominal belt is very supportive
reinforcement at the knee of the baby to rest his legs
headrest to support the head if baby is sleeping
Quick and easy to install, opt for the Embrace it is wear in a physiological manner with simplicity and comfort.
2 ways to wear with the Embrace baby carrier newborn
For the new-born
The belt rolls in order to reduce the sitting that is to say, the width of the carrier. You get a foundation that is "gathered" to welcome a little baby. Thus, the difference of hip of your child is respected, it does not force his crotch.
For more great
The belt snaps as it is. You can wear belly-to-belly, or with the position of "facing the world".
Wear the new-born with the Kiss
How to wear it from birth with Embrace
Understanding the portage belly to belly from 58 cm
Understand the porting in the face of the world as early as 66 cm

Data sheet
Made in
Asia
Kind of Baby Carriers
Full Buckle
Label
Oekotex 100
Recommended baby age
0 - 18 months
Baby's weight
3,2 à 11,3 kg
Carrying positions
Ventre face à vous & face au monde
Warranty
10 years
Product Reviews
Number of Reviews :

16

Average Grade : 4.7 /5
Elodie L.
the 16/07/2020

5/5
Rapport qualité/prix parfait. Moins cher que certains magasins
Vickyna T.
the 11/07/2020

5/5
Porte bébé très pratique pour nouveau né. Notre fille est très bien dedans. Le portage est confortable pour bébé et maman ! Simple à utiliser. Il y a des démonstrations vidéos sur You tube. Ça aide !
Ophélie B.
the 16/06/2020

4/5
Beau produit de qualité. Matiere douce et agréable. Facile d'utilisation. En revanche testé avec mon bébé de 6 semaines et qui n'avait pas l'air à l'aise dans cette position ventrale. Pas évident de positionner bébé au niveau de la tête. A retester quand bébé sera un peu plus grand.
Johann B.
the 14/06/2020

5/5
Très bon produit, très confortable et tissus agréable au toucher, et surtout très confortable par rapport à d'autres portes bébé moins cher. Je le recommande.
Marion M.
the 11/05/2020

5/5
Produit de très grande qualité
Marianne F.
the 17/04/2020

5/5
Ce porte-bébé est miraculeux. Il soulage en quelques instants les coliques de bébé qui s'apaise comme par magie. Je n'avais jamais eu recours à un porte-bébé pour mes 3 premiers enfants mais je le regrette! Je l'utilise en position nouveau né pour ma fille de 6 semaines. Facile à installer, même seule. Pas trop imposant donc aussi bien pour l'utiliser dans la maison qu'en promenade. Passe en machine sans problème en suivant les recommandations de lavage.
Laura F.
the 17/04/2020

5/5
Facile d'utilisation et porté confortable
Audrey D.
the 13/04/2020

3/5
Bon porte bébé à condition d'avoir un peu « d'expérience de portage » Pas facile de trouver la bonne position pour les tous petits ( moins de 4 mois). Cependant une fois le bon réglage trouvé il est très pratique pour la maison et petites courses. Pour les grandes marches un peu moins surtout quand même bébé grandit.
Lucille M.
the 07/04/2020

5/5
J'en suis très satisfaite, c'est exactement le porte-bébé que je cherchais. Il est souple, léger sur les épaules comme une écharpe mais beaucoup plus rapide à mettre. Idéal pour la maison ! Nous n'avons pas encore testé les plus longs trajets. Le derrière de la tête et des jambes est bien renforcé et pour un bébé de 1 mois le maintien est parfait (pas testé avant). La couleur est un peu plus foncée que sur la photo.
Cinthia A.
the 24/02/2020

4/5
Produit top,léger.. franchement j'adore
ALINE P.
the 30/01/2020

5/5
Produit pas encore essayé mais satisfaite de la qualité
Jennifer B.
the 02/01/2020

5/5
Porte bébé très simple à utiliser et qui convient aux nouveaux nés. Mon mari et moi l'utilisons quotidiennement depuis la sortie de la maternité.
Florence C.
the 12/12/2019

4/5
Je ne l'ai peut être pas mis correctement mais j'ai trouvé que la tête du bébé n'était pas maintenue. Ce porte bébé est léger et confortable et il prend peu de place.
Amelie F.
the 06/12/2019

5/5
Super porte bébé, nous avons essayé plusieurs sortes de moyens de portage comme le sling les bandeaux et le préformé, celui là réuni les 3 a la fois ! Il est d'une simplicité à positionner. Le tissus est agréable effet sweet, un peu chaud pour l'été je pense... Ideal de la naissance à 1ans MAX Je met 4 étoile sur 5 non pas pour le porte bébé qui pour moi vaut un 5/5 mais pour le site qui ne prend pas en compte les retours colis.
Justine B.
the 31/10/2019

5/5
Le porte bébé qui me fallait. Adapté à mon fils de 5 mois qui est un petit « gabarit »
Sandrine R.
the 20/10/2019

5/5
Très confortable pour un nourrisson et facile à mettre. Très satisfaite de mon achat.
More reviews...