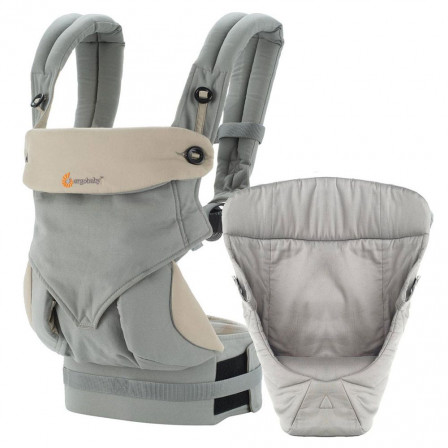 View larger
Ergobaby 360 Baby Carrier - Bundle of Joy Grey
Ergobaby
BCII360AGRY
The famous baby carrier Ergobaby 360 finally available in the pack.
With the cushion special new-born, you will be able to use your Ergobaby 360 from birth!
The benefits of pack 360 Ergobaby
Scalable:

Wear from birth and up to 3 or 4 years

4 positions physiological

portage of which the position in the face of the world
Reliability and quality Ergobaby.
By buying this product you can collect up to 7 loyalty points. Your cart will total 7 points that can be converted into a voucher of 3,15 €.
Your order delivered within 2 to 4 days
Pack scalable Ergobaby 360 grey
Naturioù offers you in exclusivity the pack Ergobaby comprising the carrier Ergoaby 360 grey and her pillow with the last generation. With this set, you will be able to wear your child from birth and in all positions!
Indeed, the advantage of the Ergobaby 360, is that in addition to being ergonomic, you can carry your child in 4 positions:
1 - ventral positions in the face of the wearer
This is the favorite position of the very small and the most suitable for you. The cushion Ergobaby you will be useful up to 4 months or more. In effect, the cushion helps maintain baby as in a cocoon in the fetal position (see the videos Ergobay 360 below). This ergonomic position ventral is used up to 10-12 months. You'll love having baby right up against you: You will feel snuggle and will give kisses on the top of the forehead. This posture is very fulfilling for both the child and the parents.
2-Position on the side (on the hip) in the Ergobaby 360
The baby carrier Ergonomic 360 also allows you to wear your child on the side. This intermediate position enables you to "vary the pleasures". In fact, thanks to an ingenious system of clips, you can cross the straps and thus wear on the side. This posture has the advantage of providing a vision of the world to your child. It may as well look in the direction of travel that snuggle up against you. It is important that below 5 months your child can take refuge against you when the images of the world does not suit him more.
Even if that position generates a slight imbalance, which restricts the long walk*. It is very nice because you feel low the weight of your child that is based on your hip
*for hikes in the baby carrier, the positions of ventral or dorsal are to be preferred
3 - supine Position with the 360
This is THE ergonomic position for bigger kids. It is preferable from 10-12 months. Each child is different and you will be able to judge the ideal age according to the needs and desires of your protected.
Placed as well in the sling, legs spread wide, you are sure(e) to carry your child properly. At this age, please do not hesitate to take your Ergoaby 360 for long walks or hikes because it surpasses even the baby-carrier in a metal frame.
A lot of parent came to consult with us because they had back pain after wearing over long periods of time with their child in a baby carrier metal. It is logical, the center of gravity of the baby is distant from the column of the wearer. It pulls towards the rear of your back. On time is too long, your lower back are stretched and in addition the door-baby metal are heavier than the baby carriers ergonomic. You have understood: don't overspend your money on a baby gate in metal frame..
4-Prone Position "facing the world"
The majority of psychologists, psychomotor therapists, and pediatricians specialize in the portage seem to be unanimous that it is necessary to carry baby facing the world after his 5 months ago*. Why?
The brain of a toddler would not be developed enough to store as much information and images without being able to snuggle against mom or dad.
Find scientific studies at the bottom of this sheet.
Video of the baby carrier Ergobaby 360 in the prone position
Video Ergobaby 360, position the baby in the cushion
Here is small explanation to be particularly successful and performed by Ergobaby to position baby into the insert cushion in a standing position
A few scientific studies on the portage ergonomic and its benefits.
Few studies exist on the topic, however, a number of institutes, hospitals or specialists think that it is necessary to carry baby ergonomically or physiological, to avoid any hip problem such as hip dysplasia.
List of scientific articles on the portage ergonomic
Montreal children's hospital. (2013) Use your baby carrier is flexible in a safe manner.
Price, C. T., Schwend, R. M. (2011) Improper swaddling a risk factor for developmental dysplasia of hip. AAP News Vol. 32 No. 9, pp. 11.
International Hip Dysplasia Institute. (n. d.) Infant and Child Dyslplasia : Baby Carriers, Seats, & Other Equipment.
Messenger, Sophie. (2013) " Babywearing : A guide ". The National Childbirth Trust.
Burgun, Isabelle. (2012, April 20) baby carrier : the position of "facing the world" is not recommended. Born and grow up.
Data sheet
Material
100 % Cotton
Made in
Asia
Recommended baby age
5 mois à 3 ans
Baby's weight
5,5 à 20 kg
Carrying positions
Back, Hip, Front facing parent, Front facing out
Shoulder straps measurement
73 - 119 cm
Waistbelt measures
66 - 140 cm
Main advantage
4 positions
Warranty
10 years
Weight
1000 g
Product Reviews
Number of Reviews :

34

Average Grade : 4.7 /5
Zeinob G.
the 11/10/2019

5/5
Répond au descriptif du site.
Jessica L.
the 23/08/2019

5/5
Parfait
Delphine W.
the 19/07/2019

5/5
Parfait. Répond à 100% à mes attentes.
Marie R.
the 19/05/2019

4/5
Je trouve le porte bébé très bien fait. Mais j'ai pour l'instant du mal a le fermer seule dans le dos... et pour l'instant mon bébé de 3 mois et demi n'apprécie pas...... elle tient 3 minutes puis s'agite pour sortir..
Alicia M.
the 11/04/2019

5/5
Super porte bébé très pratique et ergonomique
Dominique L.
the 05/03/2019

4/5
utile et solide
Domitille G.
the 05/03/2019

5/5
Article pour l'instant conforme à ses promesses. Attendons l'arrivée du bébé pour tester !
Justine D.
the 27/02/2019

4/5
NOTE EXPLICATIVE UN PEU SOMMAIRE MAIS PORTE BEBE TRES PRATIQUE
Ghislaine B.
the 20/12/2018

5/5
offert pour mon petit fils, les parents sont heureux
Patricia R.
the 14/12/2018

5/5
tres bien
Dorothee M.
the 17/10/2018

5/5
Pratique et confortable pour bébé
Gérard D.
the 05/08/2018

5/5
Très bonne qualité, parfaite ergonomie, produit évolutif.
Marie F.
the 17/04/2018

5/5
Un produit solide et bien conçu
Elisabeth F.
the 15/03/2018

4/5
Produit conforme aux attenres
Anne-Marie E.
the 17/02/2018

5/5
Très bien On verra à l'usage
Vincent I.
the 09/02/2018

5/5
Correspond à la description du vendeur
Muriel L.
the 19/01/2018

5/5
Produit génial pour porter bébé dès le plus jeune âge !
Matthias G.
the 26/12/2017

5/5
Solide pratique
Melissa C.
the 18/10/2017

5/5
Très pratique ! Confortable pour bèbé (gros dodo) et pour le porteur. Le coussin est parfait pour mon bébé de 3 mois.
Anne-Lise L.
the 31/03/2017

4/5
Facile à utiliser ! Le livre explicatif est très bien fait ! Notre bébé s'est très bien senti dedans dès ses 15 jours !
Rachel D.
the 14/02/2017

4/5
Produit conforme à la description. Pas encore utilisee, donc à voir à l'usage.
BECOT E.
the 28/01/2017

4/5
Pas utilisé pour le moment mais à l'air de qualité
Adéline M.
the 27/10/2016

5/5
Conforme à la description.Bébé est très bien dedans. Les jambes en grenouille.Très bien également pour le dos du porteur. Ayant un bébés bras et des problèmes de dos l'ergobaby a amélioré mon quotidien.De plus il est facile à installer.
Elisa O.
the 21/10/2016

5/5
Très bonne qualité
Caroline P.
the 12/10/2016

5/5
super produit de qualité
Mélissandre R.
the 11/08/2016

4/5
Très bon produit dans l'ensemble. En effet, le poids du bébé est très bien réparti. Facile à mettre en place. Seul bémol est le 'clips' du dos qui est non aisé à mettre.
Mylene C.
the 28/06/2016

5/5
produit d'une excellente qualité et très bien conçu ! Ma fille apprécié les balades tout contre maman. Simple d'utilisation c'est un plaisir
Jennifer C.
the 04/06/2016

5/5
Ne pourra être testé que dans un mois mais le produit à l'air parfait et facile d'utilisation.
Julien D.
the 03/06/2016

4/5
Compliqué à fermer les bretelles ou desserrer les sangles pour l'enlever.
Julie M.
the 27/03/2016

4/5
Produit de grande qualité et très sécurisant pour un parent.L'installation d'un nourrisson avec le coussin adapté es en revanche malaisée même si très rassurante pour bébé et maman.
Aubane D.
the 04/12/2015

5/5
top!
Yeliz A.
the 21/08/2015

5/5
Super
Lucie B.
the 05/08/2015

4/5
Très pratique Correspond a mes attentes
Marie G.
the 03/06/2015

5/5
Excellent produit très bien pensé et facile d'utilisation.
More reviews...