Ergobaby
Ergobaby Baby carrier Adapt Cool Air Mesh Onyx Black
Zoom  on the Ergobaby Adapt Cool Air Mesh Black Onyx
Tissue micro-ventilated
The baby carrier's innovative american brand is made of fabric micro-ventilated : Adapt Cool Air Mesh Ergobaby is perfect for the warm periods. This is a baby carrier ventilated, breathable and appreciated the porters and worn. The air passes and the door-baby is ventilated.
Ergobaby Adapt to the new-born
The carrier physiological Adapt Cool Air Mesh Black Onyx can be worn from birth to 4 years. You don't need a cushion due to the small innovation of Ergobaby. A system of hook and loop fasteners allows you to modulate the position of the carrier. 3 positions of portage depending on the age of your baby :
birth
from 3 months (60 cm)
after 9 months (71 cm).
How does it work?
Ergobaby has thought of an ingenious system of hook and loop fasteners to the inside bottom of the deck. The bands velcro allow you to adjust the seat width of the carrier. The scratchs are thick and a landmark of colors to guide you for the position.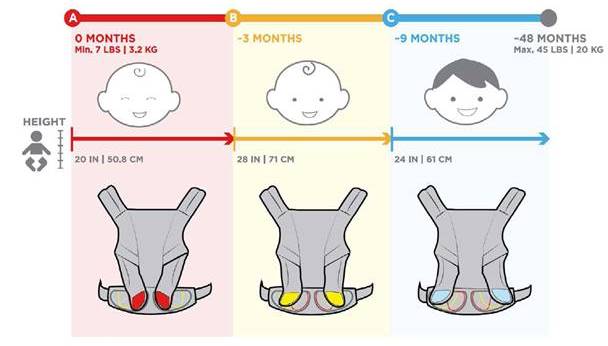 You set the scratchs interior as a function of the age and the morphology of your baby. The bottom of the deck outside has a pressure system with straps. The deck is reinforced by the pressures. They block in the selected position.
TheErgobaby Adapt has 2 adjustment systems : internal and external. This makes it possible to adjust the seat to convenience. The seat measures at least 20 cm and a maximum of 37 cm.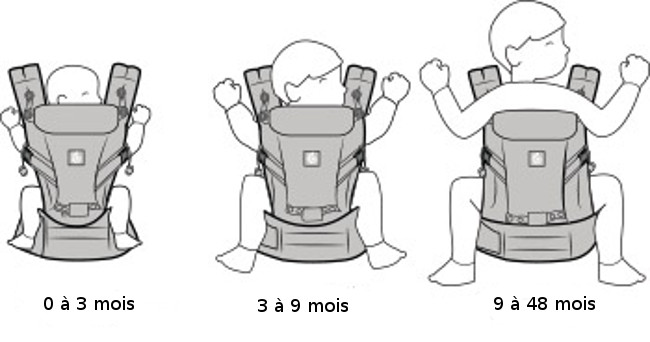 Adapt Cool Air Mesh Black Onyx : a preformed ultra comfortable
The baby carrier Ergobaby Adapt has a lap belt extremely comfortable. A  lumbar system support ensures you immediately a portage without any pain. the waistband stays in place, it does not slip. The weight of your baby is very well distributed.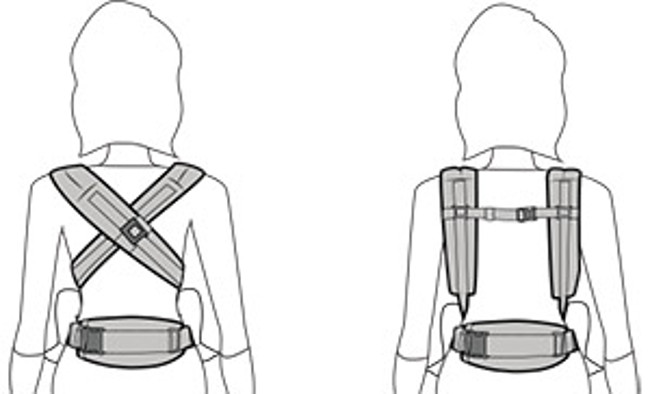 Belt of the Ergobaby with lumbar support and shoulder straps déclipsables
The shoulder straps are thick and well padded. They are very comfortable. They are easily adjusted with one hand. They measure 65 to 124 cm. They are déclipsables to allow a portage ventral practice. You can as well wear them on the hips comfortably.
Adapt Cool Air Mesh Black Onyx : for all carriers
The preformed Adapt Cool Air Mesh is designed for all body types of wearers. The holders of the sizes XS to XXL, that is to say, about of 1m55 to 1m95.
The belt measure from 66 to 140 cm.
The baby carrier Adapted to Cool Air Mesh Black Onyx is particularly appreciated by those that can not stand the heat. In fact, it can be difficult to wear during the summer. The carrier micro-ventilated is the solution to a portage on the palate.
The carrier Adapt : to carry in a physiological manner
Your baby sling allows you to carry in a physiological way your child.
What is a physiological position?
portage only vertical
back of your child's rounded "C"
knees higher than buttocks
pelvis is slightly anteverted.
This position called "the frog" is approved by theInternational Institute for Hip Dysplasia.
High scalability to Adapt Cool Air Mesh Ergobaby
Your baby Adapt is scalable and follows your baby from birth to about 4 years old. It has a system of wedge-head special new-born : the extension is lowered to the inside of the baby carrier. The deck width is 30 cm, perfect for small babies.
You lower the extension to the outside for the toddlers. If you lift, you have a height of apron 45 cm. As well, your toddler is sitting comfortably in theErgobaby Adapt Cool Air Mesh Black Onyx.
Details of your baby carrier Adapt
hood modular : 5 height settings. It stores in the folder
storage pocket : to stow a blanket, a pacifier or keys
wash in washing machine at 30° in delicate cycle
prefer a removal of local in order to preserve the life of your preformed.
Video Ergobaby Adapt : adjusting to the new-born
Presentation of The Adapt of Ergobaby video
Characteristics
Recommended baby age

- 0 - 4 years

Carrying positions

- Front, Back & Hip

Kind of Baby Carriers

- Full Buckle

Baby's weight

- 3,2 à 20 kg

Made in

- Asia

Shoulder straps measurement

- 68 - 125 cm

Waistbelt measures

- 66 - 140 cm

Panel Height

- 30 à 45 cm

Seat width

- De 20 à 37 cm

Main advantage

- très adpaté pour les nouveau-nés

Warranty

- 10 years

Material

- 100 % Cotton

Conditions de lavage

- 30°
Avis des clients (14 Avis)
Pratique et facile à mettre.
Anonymous A.
- 28/05/2020
Très bon produit solide
Bonjour, Je voulais savoir si on peut aussi utiliser ce porte-bébé pour porter bébé dos vers le parent ? Cordialement
Bonjour,
Les porte-bébés Adapt d'Ergobaby ne permettent pas le portage face au monde (donc dos vers le parent). Les modèles Omni et 360 d'Ergobaby le permettent ainsi que les Explore de Tula.