Ergobaby
Ergobaby Adapt Soft FlexMesh™ Slate Blue
Your Ergobaby Adapt Blue Admiral
The new baby Adapt from the american brand Ergobaby is designed to carry babies from birth to 4 years. A small technological feat that is unique in the world thanks to a system of hook and loop fasteners. Inside, strips of velcro are located on the bottom of the deck module to the seat width to wear it according to 3 age groups :
birth
from 3 months (60 cm)
after 9 months (71 cm)
Within the inside belt, there are colour coded positions of adjustment, placed to help you get the best fit for your baby. You set the hook and loop fasteners according to the morphology of your baby.
On the outside, the seat is reinforced by a system of poppers on thin straps. The pressure on both sides keeps to the selected position.
Ergobaby has designed for his Adapt a double adjustment system : internal and external. It allows you to adjust the seat and go from 20 to 37 cm.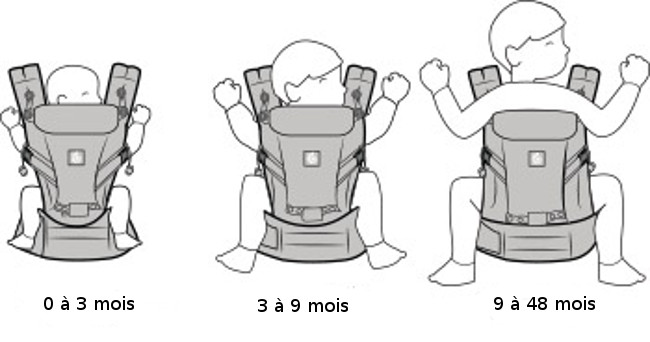 Your Ergobaby Adapt : a carrier for an ergonomic fit
The Blue Admiral adapt full buckle meets a physiological position. That is to say that your child's back is rounded in a "C" with the folder in hollow form. His knees are higher than the buttocks, which allow a tilting of the Pelvis. A position validated by the Institute the International Hip Dysplasia.
The Adapt-a high scalability
Your  Blue Admiral Adapt is without a doubt the baby carrier is the most adjustable on the market. It should be both for new borns and a toddlers. Thanks to its clever system of headrest, the height of the backrest is modular.
For the new-born, the extension is lowered to the inside of the baby carrier. You get a height of apron 30 cm, and the extension serves as a wedge head.
For toddlers, the extension is lowered to the outside. You can also take it to go up to 45 cm. Your toddler is so comfortable.
Adapt Blue Admiral, a very stylish full buckle
The Blue Admiral Adapt is a very slick navy blue ergonomic baby carrier. It's decorated with geometrical patterns, reminiscent of the links of a chain for a boat's mooring system. A baby carrier that feels good on the spray! Enjoy walking along the coast or in the forest while wearing your baby.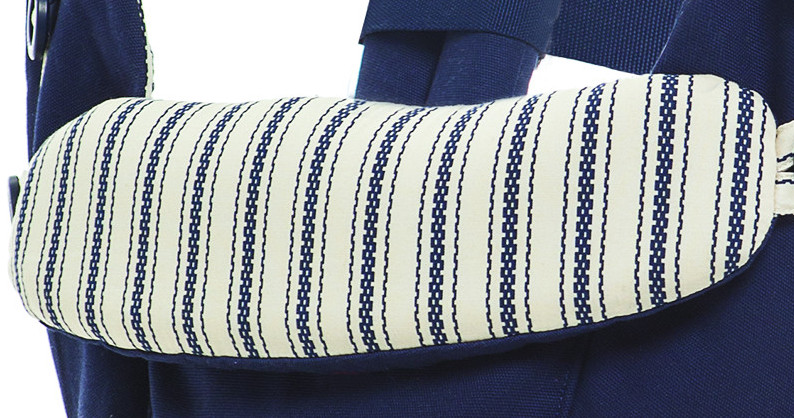 Your Ergobaby Adapt : a level of absolute comfort
The shoulder straps of your Ergobaby Adapt are very comfortable.
They adjust to your size, from XS to XXL (height: 1m55 à 1m95). They are adjustable from 65 to 124 cm.
They are clip-ons: this allows for front and hip carry.
They are thickly padded for maximum comfort.
The waistband of your new Ergobaby has a lumbar support system : still a little innovation ! It is integrated within the belt. It protects your back thanks to the very compact padding. Your vertebrae are well supported and wearing without pain is guaranteed ! The length of belt 66 to 140 cm which represent size 32 to over 60.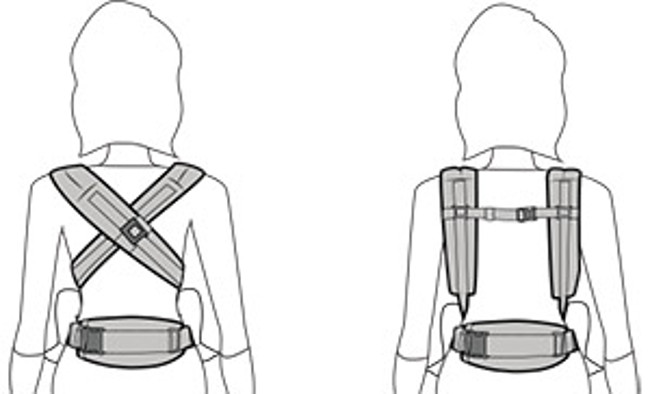 Belt with lumbar support and shoulder straps déclipsables
Zoom in on your Ergobaby Adapt Blue Admiral
Ergobaby has well thought out his Adapt. He has designed a hood modular : it includes 5 heights of trimming. It stores in the folder.
The folder also includes a storage pocket, handy for storing a security blanket, a pacifier, or your keys...
We advise you not to over wash your baby carrier Ergobaby in order to preserve the most long time possible. Prefer a hand wash or a stain removal local with a soap stain remover. Otherwise a program in the delicate cycle at 30° with a mild detergent is possible.
Video Ergobaby Adapt : adjusting to the new-born
Presentation of The Adapt-Grey Ergobaby video
Characteristics
Recommended baby age

- 0 - 4 years

Carrying positions

- Front, Back & Hip

Kind of Baby Carriers

- Full Buckle

Baby's weight

- 3,2 à 20 kg

Made in

- Asia

Shoulder straps measurement

- 68 - 125 cm

Waistbelt measures

- 66 - 140 cm

Panel Height

- 30 à 45 cm

Seat width

- De 20 à 37 cm

Main advantage

- très adpaté pour les nouveau-nés

Warranty

- 10 years

Material

- 100% polyester SoftFlex™ Mesh

Conditions de lavage

- 30°
Be the first to ask a question about this product!