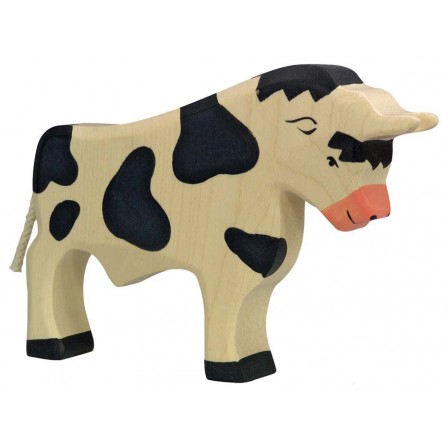 View larger
Bull black Holztiger
Holztiger
80000
Bull wooden Holztiger
A great and strong bull!
It is the mightiest of the farm animals Holztiger..
19 x 2.8 x 13.5 cm
Games wooden Holztiger are hand-made. The paints are water-based and reveal the grain of the wood.
Game in wood suitable from 3 years.
No reward points for this product.
Your order delivered within 2 to 4 days
Holztiger: exceptional wooden figures.
The wooden characters made by Holztiger are large, often measuring more than 15 cm. This enables children to take hold of them easily and parents to fully appreciate the quality of each piece.
Their colours closely approximate reality, making them perfect for creating lifelike scenes such as a farm. These are toys that really make you want to play!
Holztiger: made by craftsmen.
Holtziger characters are made from maple and beech wood. Finished in meticulous detail, they are both soft to the touch and pleasant to handle.
They are hand-painted using water-based paints that are guaranteed free from any toxic substances. The wood grain is left visible, lending these quality toys a great deal of character.
Each model is individually labelled, highlighting the skilled work of the Holztiger craftsmen.
All Holztiger products are recommended for children aged 3 years and over.
Each figure is handmade, so the stated dimensions may vary slightly.
Holztiger toys have been made in Romania for many years, in a small factory run by the German company Gollnest & Kiesel, which ensures the quality of each item. This partnership is your guarantee of strict quality controls and of impeccable quality.
Data sheet
Minimum age
3 years
Sort
Farm