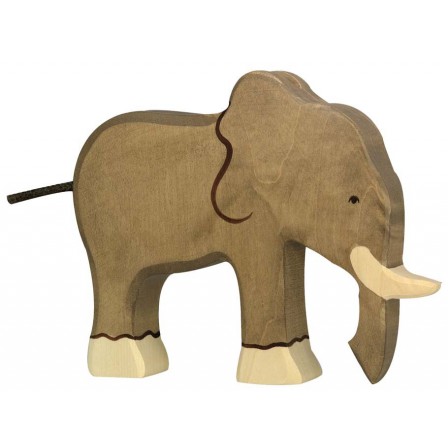 View larger
Wooden elephant Holztiger
Holztiger
80147
Elephant wooden Holztiger
approx 19 x 2.8 x 15 cm.
The largest animal on earth is also one of the most beautiful figurines and Holztiger.
Hand painted by Holztiger.
Manufactured in Europe, the figures Holztiger are known for their play value, safety and quality remarkable.
Game in wood suitable from 3 years.
No reward points for this product.
Your order delivered within 2 to 4 days
Holztiger: exceptional wooden figures.
The wooden characters made by Holztiger are large, often measuring more than 15 cm. This enables children to take hold of them easily and parents to fully appreciate the quality of each piece.
Their colours closely approximate reality, making them perfect for creating lifelike scenes such as a farm. These are toys that really make you want to play!
Holztiger: made by craftsmen.
Holtziger characters are made from maple and beech wood. Finished in meticulous detail, they are both soft to the touch and pleasant to handle.
They are hand-painted using water-based paints that are guaranteed free from any toxic substances. The wood grain is left visible, lending these quality toys a great deal of character.
Each model is individually labelled, highlighting the skilled work of the Holztiger craftsmen.
All Holztiger products are recommended for children aged 3 years and over.
Each figure is handmade, so the stated dimensions may vary slightly.
Holztiger toys have been made in Romania for many years, in a small factory run by the German company Gollnest & Kiesel, which ensures the quality of each item. This partnership is your guarantee of strict quality controls and of impeccable quality.
Data sheet
Material
Bois (hêtre ou érable)
Minimum age
3 years
Sort
savannah & jungle
Product Reviews
Number of Reviews :

19

Average Grade : 5 /5
Xavier M.
the 28/01/2020

5/5
conforme
Céline G.
the 08/12/2019

5/5
Trop beau
Emily A.
the 19/12/2018

5/5
Chouette
Maud P.
the 18/12/2018

5/5
Conforme à la photo
Emmanuelle A.
the 22/11/2018

5/5
Beau produit de belle qualité, belle taille, magnifique
Anne-sophie L.
the 09/11/2018

4/5
BELLE QUALITE
Stéphanie H.
the 17/10/2018

5/5
superbe j''adore
SEBASTIEN C.
the 25/08/2018

5/5
Qualité correcte, rien à dire.
Charlotte D.
the 14/08/2018

5/5
Magnifique
Elodie T.
the 16/05/2018

5/5
Trop gros et du coup un peu lourd
Veronique B.
the 23/04/2018

5/5
qualité et ergonomie
Somaly O.
the 08/03/2018

5/5
Très beau et grand ! Qualité au rendez-vous comme d'habitude avec Holztiger !
Meriem A.
the 17/08/2017

5/5
grand et bel éléphant! les animaux holztiger sont vraiments de beaux objets
Anne-Sophie D.
the 18/10/2016

5/5
beauté et qualité, ici on est fan de holztiger !
Oceane B.
the 19/07/2016

5/5
super
Perrine T.
the 15/12/2015

5/5
très grand
Amélie A.
the 11/12/2015

5/5
Très beau, très solide
Claire-Emmanuelle H.
the 30/01/2015

5/5
très-bien
David T.
the 18/11/2014

5/5
voir notre denier reponse
More reviews...