Mam
Mam Insert Large cold MaM double collar Paisley Dream
Use your Insert Large Cold MaM
TheInsert MaM Cold weather is made of fleece nice, thick and warm, weight 360 g/m2. He is in addition under a coat or a jacket of portage, or even under a blanket of portage lightweight. It keeps baby warm for the extension of the portage even with low winter temperatures.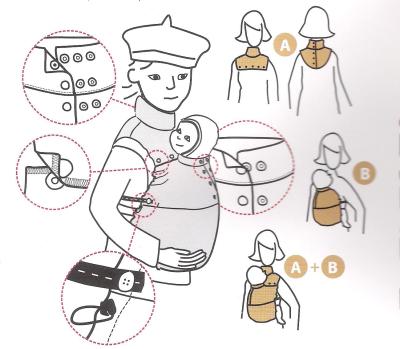 The Insert Cold weather comes complete with a garment of portage light or a blanket of portage waterproof. You can also use it only in inter-saisson.
The MaM Cold Weather Insert Paisley Dream has a double collar for baby and wearer and a part-wrap to keep baby warm. The col holder is detachable.
The Insert Cold weather fleece creates a nest, all warm particularly for small children and installs easily over your baby carrier or sling in position " portage on the belly ". The bottom of the insert Mam has a small edge : the feet of a baby are well-kept and warm.
The insert of portage can also improvise a cover for the car seat or stroller.
Precautions
Coverage to carry is not a baby carrier. It is a garment to cover baby when porting. Monitor your child during the portage, check their extremities (hands and feet) if it is very cold.
Composition
The Insert Mam double collar consists of fleece very soft and warm, weight 360 g/m2.
Maintenance and washing : our advice
Wash in washing machine to 30° is cold.
Not tumble dry.
About Babyidea and MaM
Brand Finnish specialized in clothing and the portage, Babyidea offers for baby products : clothing merino wool with the range Manymonths and his slippers, of portage, blankets portage and jackets of portage.
Characteristics
Minimum age

- birth

Carrying positions

- Front & Back

Main advantage

- S'adapte à tous les moyens de portage

Size

- One size
Be the first to ask a question about this product!