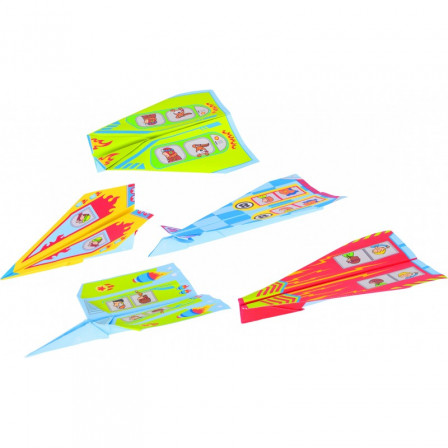 View larger
Paper airplanes 5 models Goki
Goki Nature
58775
Paper planes Goki 5 models assorted
The pretty had colourful to create itself. 5 models of paper airplanes Goki assorted fold up to make them fly.
10 pieces.
Age : from 6 years.
No reward points for this product.
Your order delivered within 2 to 4 days
Paper airplanes to create self-
Here are 5 models ofpaper airplanes Goki together to develop the imagination of children.
Paper airplanes are nicely decorated. They bend over and launch them in the air to make it fly.
An explanatory leaflet is inside.
Paper planes Goki are suitable from 6 years.
Toys Goki
The toys from the German brand Goki are create for the baby and the child in the interests of ethics and respect.
The toys Goki allows the development of motor, sensory and cognitive of the child.
Each toy is the object of the greatest attention. Toys Goki are of excellent quality and apporterront to your child joy and great moments of the games.
Data sheet
Material
Wood
Made in
Asia
Minimum age
4 years
Peintures et vernis
écologiques et sans toxique