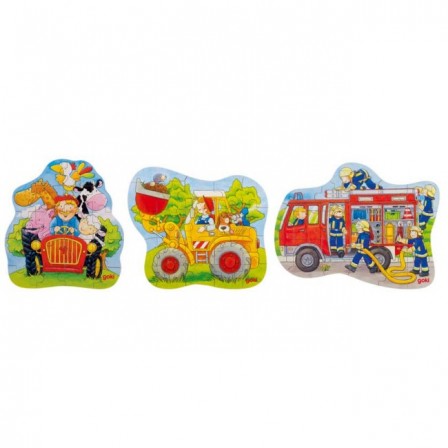 View larger
Puzzle wooden 18, 20 or 22 pieces Goki
Goki jeux en bois
Puzzle wooden Goki
The puzzles Goki wooden. This makes them strong and resistant. They are pleasant to handle.
Dimensions : 27 cm x 20.5 cm.
Three models to choose from :
18 parts : the farm
20 pieces : tractopelle
22 pieces : the fire department.
Age : from 4 years.
No reward points for this product.
Your order delivered within 2 to 4 days
Puzzle wooden Goki
The wooden puzzles Goki are funny. They représentatent moments of farm life, and the fire department. A puzzle is essential in the life of a child. It allows you to work the concentration, the dévelippement and maintenance of capacotés the motor and sensory child.
The wooden puzzles are ideal for :
Develop fine motor skills focus
Invite them to observe and reflect
Appeal to her sense of logic
Learn patience
The parts are in wood, so solid and pleasant to handle.
100% natural.
Wooden toys Goki
Designed in Germany, wooden toys GOKI involved in the development and the maintenance of motor functions, sensory and cognitive of children.
The wooden play Goki are characterized by excellent finishing, and with an originality that has nothing to envy to their counterparts in plastics. Each toy Goki is the subject of the greatest attention on the part of Goki. They are manufactured according to the rules of fair trade in Europe or Asia.
The brand Goki is distinguished by a functional design and very aesthetic. The colors are modern and deep.
Toys Goki give a lot of fun and realism to the games of children. The wooden games are essential for developing and maintaining the motor functions, cognitive, or sensory for your little ones.
Made in Europe.
Data sheet
Material
Wood
Made in
Asia
Minimum age
3 years
Sécurité
Normes CE EN 71
Peintures et vernis
écologiques et sans toxique