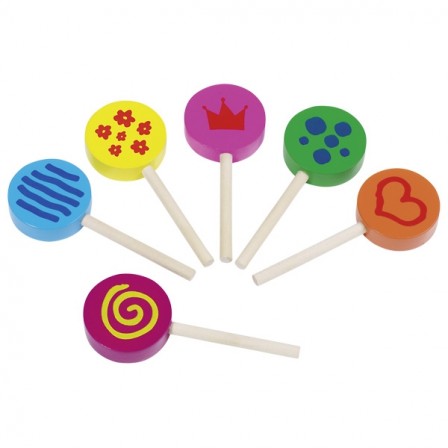 View larger
Lollipops wood Goki
Goki jeux en bois
51850
Lot of 6 lollipops in colorful wood Goki
These jnice lollipops colorful Goki make you want to eat! They are in wood green.
Dimensions :
diameter : 3.5 cm
length : 8.5 cm
width : 3.5 cm.
Age : from 3 years old.
No reward points for this product.
Your order delivered within 2 to 4 days
Lollipops wood Goki
You will find 6 lollipops in the wood in this lot : 1 red, 1 pink, 1 green, 1 orange, 1 yellow and 1 light blue.
The batch of pops will have its place in the stalls of the small market.
Wooden toys Goki
GOKI is a manufacturer of wooden toys (from Germany) very famous in Europe. This manufacturer places a great importance on sustainable development.
This is why the wood used in the manufacturing process is taken only where it can fight off.
GOKI brings more attention to the design of each of the toys.
The wooden play GOKI contribute to the development and the maintenance of motor functions, sensory and cognitive of the child according to his age.