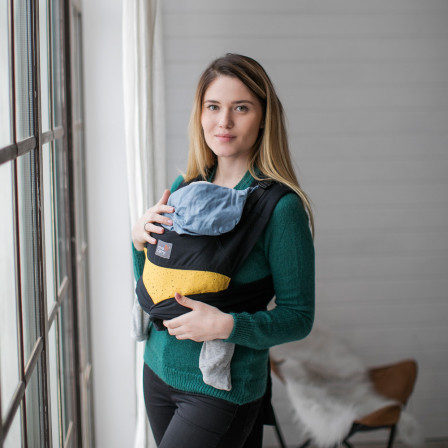 View larger
Love And Carry Mimosa - baby carrier Mei Tai
Love and Carry porte-bébés
LC353
Burn with your Meï-taï Mimosa. A colours night blue motif yellow farting, meï-taï has it all. Bring your child as early as 2 months when your outgoings in order to live a unique moment !
3 positions : ventral, side, and dorsal
As early as 2 months : between 4.5 and 15 kg
A physiological position authenticated to ensure a healthy development of your baby
Material : 100% cotton
Product in Europe
Model : Mei Tai Mimosa - Love & Carry
By buying this product you can collect up to 2 loyalty points. Your cart will total 2 points that can be converted into a voucher of 0,90 €.
Your order delivered within 2 to 4 days
The Meï-taï perfect to wear under the sun !
Love & Carry is launched in a warm colour and floral. A colours dark blue, almost black with a pattern of yellow, dotted with small task black. The ideal to be in agreement with a sunny weather. Your mei-tai, Mimosa will fit perfectly with your next outfit.
Ensure the proper development of your baby : a placement physiological
Your porte-bébé meï-taï Mimosa is suitable for children from 2 months. It has been developed so that the child is placed in a physiological manner. This position allows the development natural and healthy of his hips, his spine and his pelvis. It is a position that he had the habit of adopting in the womb of his mother. It is therefore necessary that the child be placed this way :
The legs mimic a "M"
Knees bent and above the buttocks
The back slightly bent to look like a "C"
The baby's head is unobstructed and above the mei-tai
You can wear your child up to 15 kg at maximum. In fact, your meï-taï is adaptive depending on the size of your child. You can change the size of the deck but also tie the shoulder straps and the belt to the length desired. It is very simple to adjust the size according to your morphology and your baby.
How to install meï-taï self-esteem ?
First of all, the door-baby Mimosa of Love and Carry is, in three positions.
Position on the stomach : your baby facing you
This is a very common and easy to implement. It is recommended for babies from 2 months.
Below is a video tutorial to install it on the belly
Position on the side
The portage on the hip is just as simple to install. However, be sure to adopt at the age of 5 months your child's.
Position on the back
It is recommended to install your child in this position as soon as he was 10 months. The position of the dorsal is very much appreciated by parents because it allows freedom for all of your movements and your gestures. The space is bigger and it is a convenient way to go for a walk with your baby.
Below is an explanatory video to put baby on your back
Most of the Meï-taï Love and Carry
Your meï-taï Mimosa of Love and Carry a baby carrier with many advantages. It guarantees a perfect fit in terms of the size of your child but also a great comfort :
The belt around your waist measuring 1.77 m long : it adapts to all body types and ensures comfort to the wearer and the child, thanks to its padding. The belt is tied in the back.
From as early as 2 months your child up to 15 kg. You can wear your baby in 3 positions and two on the belly, on the side and on the back.
The shoulder straps measure 2 m long and has two straps with clips to attach the hood : the shoulder straps have padding to relieve the shoulders of the bearers. The straps cross in the back and knotted behind. Its length allows you to knot them several times for more security and maintenance.
A large hood in grey fold-out : it allows you to protect baby from sun and rain, but also serves as a head support to keep the neck of your baby. The head support is used to rest your baby's head when he has not full control of his neck. The hood attaches to shoulder straps with clips.
A cotton fabric : cotton is a texture strong, soft and of exceptional quality : it gives a nice touch and a great comfort
Our tips for cleaning
It is machine-washable at the washing machine at 40°. Use a mild detergent and put it in the delicate cycle. However, we recommend not to wash too frequently and do not use dryer or bleach. Preferred cleaning tasks with a cloth or damp sponge.
Data sheet
Kind of Baby Carriers
Mei-Tai
Made in
Europe
Material
100 % Cotton
Minimum age
2 months
Baby's weight
4,5 à 15 kg
Shoulder straps measurement
pans de 195 cm
Waistbelt measures
pans de 64 cm
Hauteur du tablier
37 cm
Largeur d'assise
36 cm
Main advantage
Rembourrage ceinture sur 60 cm et bretelles de 8 à 26 cm
Warranty
2 years
Sécurité
European and German standards