Love and Carry porte-bébés
Love And Carry the Dino - Porte-bébé Meï-taï
The meï-taï Love & Carry
The meï-taï, it is the combination between a baby carrier and a baby carrier preformed. No risk of tangling the brushes with a mei-tai ! Her apron and the straps are placed very easily on you. It is enough only to tie the shoulder straps and the belt around you thanks to a tie-very simple to learn. Very intuitive and quick to put on, you will adopt very quickly the meï-taï Love and Carry.
Three positions as physiological as possible on itself
With your baby carrier mei tai, you can install it in three distinct ways :
On the belly : your baby facing you
On the hips : breastfeeding discreet in this position
On the back : as early as 8 months
To understand how to install your baby on you, take a look at the videos below
Wear on the tummy
Wear on the back and hip
The physiological position
Regardless of the installation of the mei-tai on you, your baby maintains a good physiological position. In effect :
Her buttocks are left behind, well at the bottom of the seat
The knees lift with the flex of his legs
The free arm
The back curved like a "C"
The head above the carrier to clear its respiratory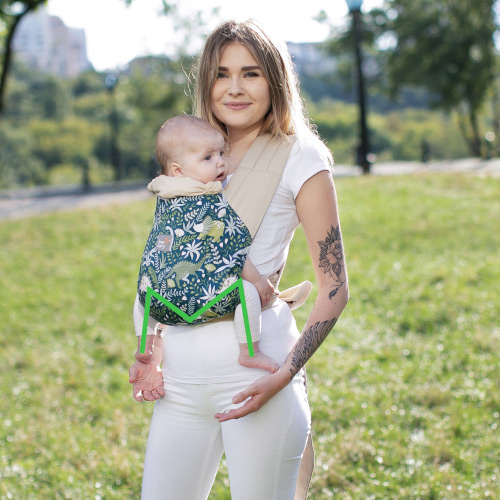 Physiological Position of the Meï-taï Dino Love & Carry
Your meï-taï Dino is certified by the International Institute for Hip Dysplasia.
Your mei-tai Dino in summary
A

hood anti-uv

, fold out and folding in on itself to create a head support
Apron unique patterns of dinosaurs
Soft fabric in

100% cotton

Waist belt and shoulder straps to tie
Padding under the thighs of the baby
Simple to put on oneself
To wash it in the washing machine at 40° occasionally
Material

- 100 % Cotton

Minimum age

- 2 months

Made in

- Europe

Kind of Baby Carriers

- Mei-Tai

Baby's weight

- 4,5 à 15 kg

Shoulder straps measurement

- 200 cm

Waistbelt measures

- 177 cm

Hauteur du tablier

- 37 cm

Largeur d'assise

- 36 cm

Warranty

- 2 years

Sécurité

- European and German standards
Questions
Be the first to ask a question about this product!