Manduca
Manduca XT Black jeans - baby-carrier Scalable
Payment available in 3 or 4 times
Your Manduca XT : scalable without accessories !
Your baby carrier Manduca XT brings a real added-value compared to baby carriers Manduca classic. With the XT, no need accessories, Size-It and Extend it to fit your baby carrier to your child, when he is new-born and toddler. Indeed, the Manduca XT is a baby carrier scalable : the deck is adjustable in height and width (seat). In addition, the Zip-In is included to customize your baby carrier when you set the deck in the highest position.
Your Manduca XT is accompanying you therefore, as soon as the birth of your baby up to 4 years old, when he became a toddler. Designed for children should the weight ranges from 3.5 to 20 kg, the Manduca XT grows at the same time, and going door-baby gate-child :
The seat can measure between 24 and 45 cm.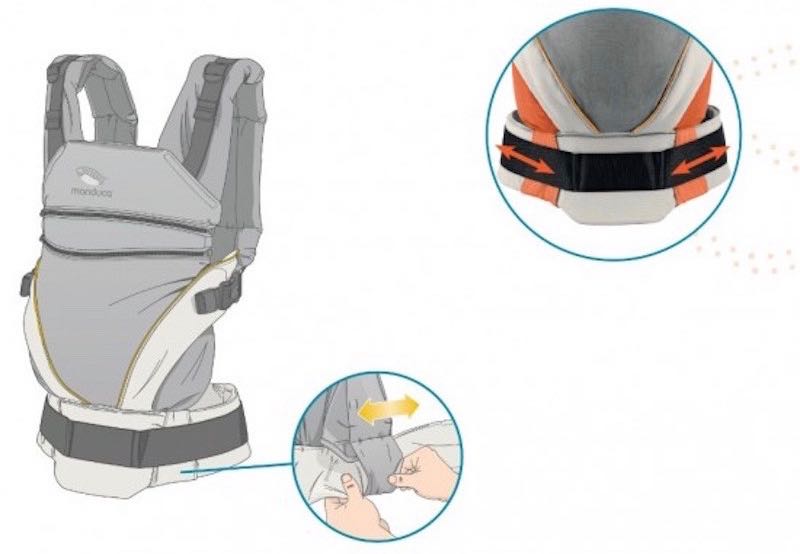 Photo : adjustment of the seat of the Manduca XT
The height of the deck changed from 35 to 41 cm (1. minimum setting, 2. maximum setting, 3. maximum adjustment with Zip-In installed)

Photo : the different settings of the height of the deck
Three positions of portage physiological with your carrier scalable XT
What is a physiological position ?
The physiological position is the only one that guarantees your baby's well-being, respect for his body (including his spine and his hip) and good growth. In a baby carrier physiological, the baby is held by the buttocks and thighs. In a baby-carrier non-physiological, it is in general maintained by the genitals, position to ban ! Like all baby carriers Manduca and sold at Naturioù, your Manduca XT is a carrier for a physiological.
In physiological position, your baby has legs that form an "M". Her buttocks are lower than his knees and his back is rounded.
The three positions for babywearing in your Manduca XT
Your Manduca XT Grey White allows you to wear your baby in three positions :
on the belly, in front of you
on the hip for a port of the booster
on the back
The positions on the hip and the back can be used when baby is holding his head right. The tummy position is ideal for baby's first months. Nestled against you, he is reassured and calm, and discovers the outside world in confidence.
Your baby carrier Manduca : designed and manufactured in Europe !
A european product
The mark Manduca designs and manufactures all of its products in Europe :
The design takes place in

Germany

with a staff of portage, to offer you a product that matches your expectations of carrier parents.
The manufacturing is taking place in

the Czech Republic

.
Manduca uses of the cotton comes from organic agriculture and certified GOTS, that is to say, without harmful substances and toxic. Your door-baby, respecting your baby, you and the environment.
Great comfort for the wearers
Follows a baby carrier very well thought out for your baby (as seen above) and you : shoulder straps and waist straps that distribute perfectly the weight of your child. You can go hiking without fear of back pain. The settings are quickly and simply to adapt to all wearers.
Zoom on the colors black White (Grey White)
Your baby carrier Manduca XT is adorned with two grey, one light and one dark, and two tucks in white, which give it its name : XT Grey, White (Grey White).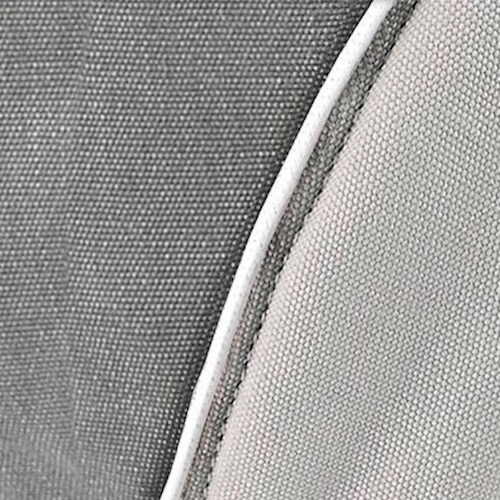 Your Manduca XT machine washable at 30°. Do not go in the dryer.
Characteristics
Recommended baby age

- 0 - 4 years

Carrying positions

- Front, Back & Hip

Kind of Baby Carriers

- Full Buckle

Baby's weight

- 3.5 to 20 kg approx.

Made in

- Europe

Shoulder straps measurement

- 55 - 115 cm

Waistbelt measures

- 80 - 149 cm

Panel Height

- 35 à 41 cm

Seat width

- De 24 à 45 cm

Main advantage

- Great for all size

Warranty

- 2 years

Weight

- 600 g

Material

- 100% organic cotton

Sécurité

- PD CEN/TR 16512:2015
Avis des clients (5 Avis)
Pauline et Christophe L.
- 20/09/2023
Très bon rapport qualité prix
Très satisfaite du produit, manduca est vraiment génial en porte bébé
Be the first to ask a question about this product!