Love and Green
Love and Green, Pure Nature, Size 1, hypoallergenic diapers x 32
Even greener layers
Love and Green innovates to give even more ecological value to its disposable diapers.
Layer Pure Nature are made from non-chlorine bleached cellulose. Chlorine is intended to remove lignin to make cellulose more absorbent. It is unfortunately toxic.
This lack of treatment gives these layers their slightly beige color. A natural color that does not detract from their effectiveness.
Alternative solutions are used to give full satisfaction to the users of these baby diapers. Absorbent microbeads of plant origin are one of them. They give the absorbent cushion an undeniable comfort. Perfectly hydrophilic, it ensures the retention of liquids until the next change.


Hypoallergenic diapers
Materials of disposable diapers Pure Nature are chosen carefully to avoid irritation.
The veil in contact with the skin is based on plant polymers such as corn starch, sugar cane, beet or potato.
A little more at the waist, a cutout is provided to let the navel breathe.


The Pure Nature layer in details
Ultra-absorbent layer :
Magical tubes technology, 3 channels for optimal absorption
Anti-leakage and wrinkle barrier :
Green PE (in contact with skin) + nonwoven polupropylene + elastane
Sail in contact with the skin :
PLA & Green PE (corn starch, sugar cane, beet or potato)
Acquisition sail :
Polyethylene terephthalate and nonwoven polypropylene fibres
Multiflex fastening system :
Scratches attach everywhere on the diaper ! More convenient !
Elastic ears :
Breathable and anti-compression for baby comfort
Absorbent cushion / mattress :
FSC certified unbleached cellulose + absorbent microbeads of natural origin !
Print :
Solvent-free ink
Outer sail :
polyethylene film and polypropylene nonwoven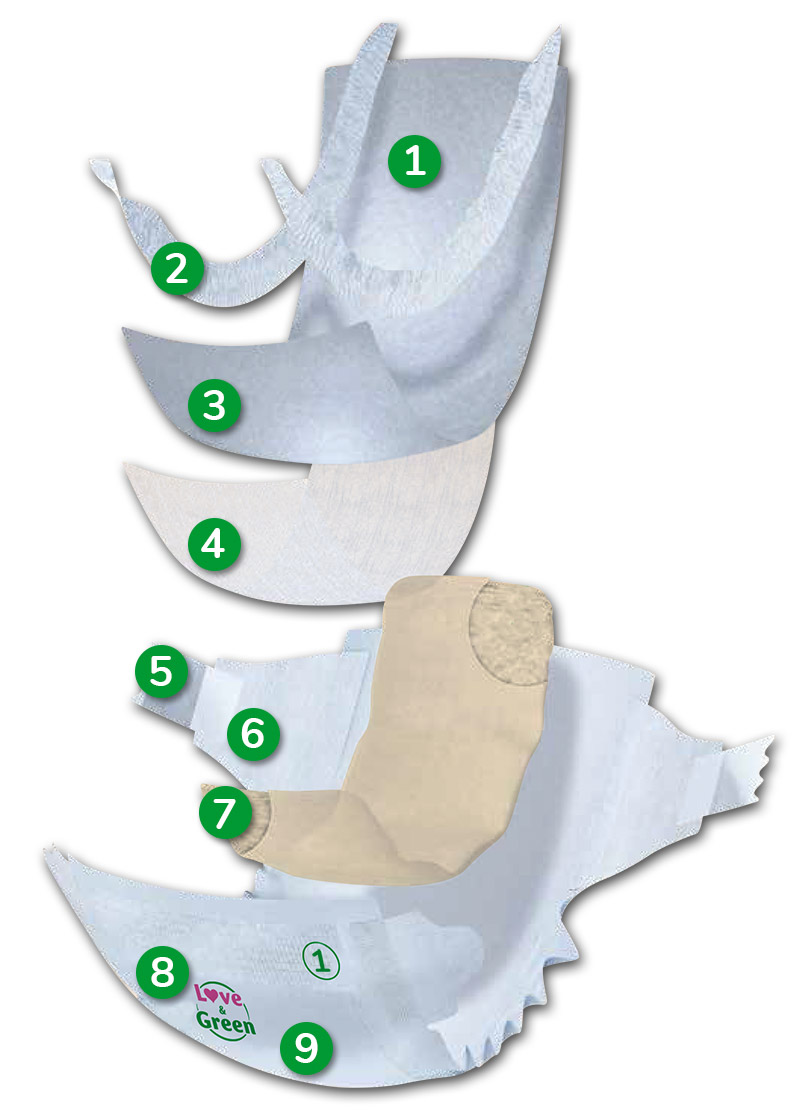 A certified and responsible brand
As with its other products, Love and Green is committed to the planet. To complete its commitments, the layers of the Pure Nature range are delivered in biodegradable and recyclable paper packaging.

Characteristics
Made in

- Europe

Baby's weight

- 2 à 5 kg

Size

- Taille 1 : 0-9 mois
Be the first to ask a question about this product!