Ling Ling d'amour
LLA Baby carrier P4 Babysize Dune
P4 with a size Babysize
This form of baby carrier is rare in the world of portage, only Buzzidil offers baby-carrier type sac-à-dos are perfectly adapted to the new-born.
In addition to suit perfectly to all small, the P4 Babysize Dune has the same advantages as the other P4 :
Extremely flexible and adjustable thanks to its cord and his belt to boot.
Fabric high quality cotton, organic and certified GOTS.
Quick and easy to install, like a bag.
Lightweight and compact : fits easily into a carry bag.
Options understood as the carrying bag and the mirror of portage.
P4 Dune evolutionary and physiological
Your baby carrier P4 Babysize LLA is adjustable in several places in order to modulate the seat and the deck. Because of this, it can accommodate a newborn and a larger baby.
Your baby is placed in a physiological manner. His back is well-rounded. It is well maintained by the flexibility and the fluidity of the fabric of the wrap of the P4 Babysize.
You can wear in front and in the back with your P4 Babysize.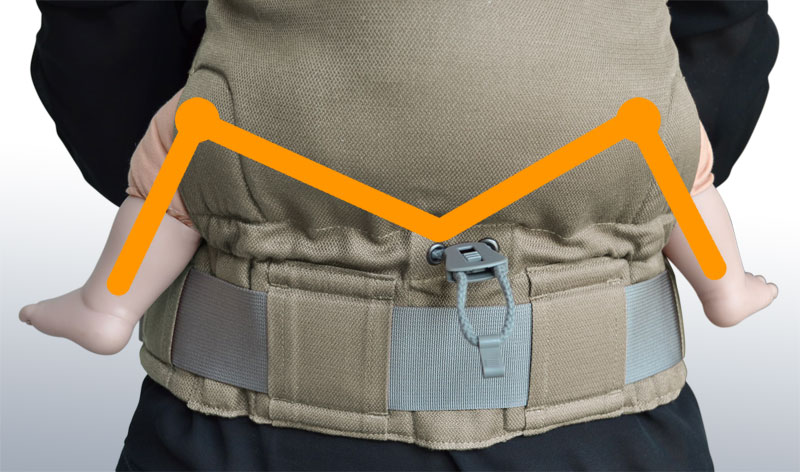 The position and physiological in "M"
P4 Dune : installation tips
After you have adjusted your door-baby by adjusting the shoulder straps and webbing, here's how to install your baby in your P4 Babysize Dune :
place your baby tummy-to-tummy against you, in a squatting position,
observe the gauge natural legs,
support the child with your hand under her buttocks,
re-assemble the apron on his back,
thread the shoulder straps over each of your shoulders and clip them to each other.
Maintenance and cleaning
Machine wash 30°C.
Not tumble dry.
Use a mild detergent and avoid fabric softener.
Comparison of the colour Dune, Eucalyptus and Dried-Herb
.

Characteristics
Recommended baby age

- 0 - 12 months

Carrying positions

- Front & Back

Kind of Baby Carriers

- Full Buckle

Label

- Gots

Baby's weight

- 3,5 to 15 kg approx.

Made in

- Asia

Waistbelt measures

- 60 - 135 cm

Panel Height

- 18 à 36,5 cm

Seat width

- 11 à 29 cm

Main advantage

- très adpaté pour les nouveau-nés

Warranty

- 2 years

Material

- 100% organic cotton

Weaving type

- Broken Twill
Avis des clients (2 Avis)
Anonymous A.
- 04/11/2019
Je suis très contente de ce porte-bébé qui esr très pratique et s'adapte parfaitement à mon bébé de 2 mois, cependant il me semble qu'il n'est pas si physiologique que cela, car bébé a le dos assez droit et pas tellement arrondi. Mais il semble s'y plaire, et je pense que si ce n'est pas le seul moyen de portage utilisé ça ne doit pas poser problème. Pour ma part quand jai plus de temps j'utilise l'écharpe.
Anonymous A.
- 14/09/2017
Super qualité ! Facile à installer...
Be the first to ask a question about this product!