View larger
JPMBB PhysioCarrier Cotton Black pocket Blue
Je Porte Mon Bébé
CO101037
Your PhysioCarrier JPMBB Black Cotton pocket Iris is one of the best Seller I wear My baby. The preformed JPMBB assure you of beautiful walks, up to 4 years approximately.
The strong point of your Physiocarrier Iris : the small pocket of aeration, ideal for the summer heat and its quality of manufacture.
Modele : JPMBB Physiocarrier Black Cotton pocket Iris.
By buying this product you can collect up to 5 loyalty points. Your cart will total 5 points that can be converted into a voucher of 2,25 €.
Your order delivered within 2 to 4 days
Your preformed JPMBB for all ages
Wear your baby from birth (3,2 kg minimum) until approximately 3 years (20kg).
The indispensable accessory of JPMBB is the booster! It allows the carriage of infants and of the greatest. A security pocket holds the booster in place. It is located under the buttocks of the baby, and guaranteed for freshness and breathability. It is sold separately with the wedge-head in the Pack Extension.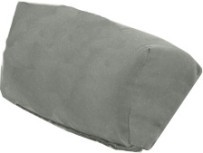 The booster allows you to :
- Greater visibility for the child at the port in the back.
- A secure portage and height.
- A sensation near the backpack to the wearer.
3 positions of the portage with the PhysioCarrier
There are 3 positions possible with PhysioCarrier JPMBB Black Cotton - BLACK pocket Iris
- The portage on the belly (3-20 kg)
- The portage on the hips (3-20 kg
- The port on the back (6-20 kg)
The features of JPMBB
The carrier PhysioCarrier consists of :
- a shim header to the new-born babies (sold separately)
- a headrest in mesh,
- an elastic band is present on all the straps to store the excess,
- an opening of the apron,
- the padding on the shoulder straps and the waist belt.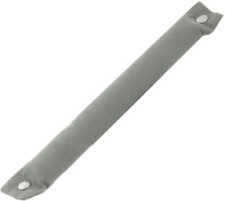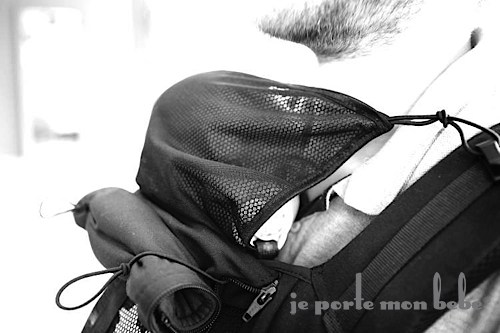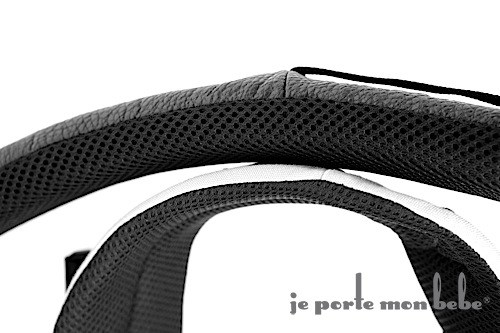 The preformed PhysioCarrier JPMBB, an innovation
The side straps fit perfectly the apron to the morphology of your baby !
The side straps adjust simultaneously the height and the width of the deck.
For children of 10 months, they help with the bending of the knees.
They ensure a good distribution of the weight of your toddler.
Our opinion on the PhysioCarrier
This is baby carrier ergonomic, ideal for walks. This baby carrier is an innovative adapts perfectly to the morphology of the baby.
Data sheet
Kind of Baby Carriers
Full Buckle
Made in
Turkey
Recommended baby age
4 - 48 months
Minimum age
birth
Baby's weight
5 à 20 kg (dès 3,5 kg avec le coussin)
Carrying positions
Front, Back & Hip
Shoulder straps measurement
46 - 141 cm
Waistbelt measures
63 - 131 cm
Hauteur du tablier
42 cm
Largeur d'assise
43 cm
Main advantage
Good value for money
Warranty
2 years
Product Reviews
Number of Reviews :

55

Average Grade : 4.8 /5
Julie A.
the 12/06/2020

5/5
Produit conforme à la description
Maïté S.
the 28/08/2019

4/5
Très pratique et me donne beaucoup moins mal au dos qu'avec mon écharpe. Par contre pour mettre bébé dans le dos seule c'est possible avec un peu de stress de peur de faire tomber mon enfant (elle remu beaucoup) mais elle fini de travers donc pour le dos je n'ai pas encore tenté car seule ma fille est mal installé. Je la porterais donc sur mon dos uniquement avec l'aide de mon mari. Dommage car pour le reste ce porte bébé est bien. Je le recommande.
Sandy P.
the 14/08/2019

5/5
Ca me change la vie. Bebe ne veut pas dirmir la.journee, j'étais prisonnière. Avec le physiocarrier, hop dans le dos et c'est parti: promenade,shopping,menage,cuisine. Je revis. De plus tres facile a mettre, plein de reglage qui rende le portage super agréable
Constance D.
the 05/06/2019

5/5
Excellent
ALEXIS D.
the 26/05/2019

5/5
Conforme
Carmélite H.
the 05/02/2019

5/5
Facile d'utilisation
Julie R.
the 29/01/2019

4/5
Le produit en lui même est super j'enlève 1 étoile car malheureusement mon bébé ne le supporte pas...
Roselyne G.
the 23/05/2018

5/5
matériel de qualité conforme aux attentes des futurs parents
Coralie G.
the 02/04/2018

2/5
Bon produit mais coloris tres terne par rapport au coloris affiché sur le site
Marie C.
the 16/02/2018

5/5
Très belle qualité, bonne posture de bebe
Hanane B.
the 14/12/2017

5/5
Super produit très confortable ma fille est très à l'aise dedans et moi aussi à je ne la sens presque pas et mes mains sont enfin libre de tout mouvements
Alice P.
the 22/08/2017

5/5
j'adore mon nouveau porte bebe je m'en sers des que je peux. il est très pratique et bebe se sent bien dedans
Lucie D.
the 11/08/2017

5/5
Porte bebe très confortable qui ne tire absolument pas dans le dos comme celui que j'avais deja achete avant. Aussi confortable qu'un sac à dos dommage que les bretelles coupes un peu le dessous des Bras c'est le seul point négatif. J'ai achete ce porte bebe pour ma fille de 9 mois aussitôt installée elle s'endort !
Gael V.
the 07/08/2017

5/5
Conforme à l'explication du site, il est très pratique
Audrey D.
the 07/08/2017

5/5
Exactement ce que j'attendais d'un porte-bébé. Confortable pour bébé comme pour moi. On est vraiment mobile en portant bébé contrairement à l'écharpe par exemple. On n'a pas trop chaud non plus! Rapide à enfiler! Et bébé s'endort dedans en 5 min. Bref, il est parfait comme convenu!
Virginie N.
the 06/08/2017

5/5
Très bon produit
Gaelle P.
the 05/08/2017

5/5
On adore, une fois qu'on maîtrise les réglages il est vraiment pratique et bebe adore.
Sabine Q.
the 01/08/2017

5/5
Très bon produit.
Alexandra L.
the 31/07/2017

5/5
bien
Sara F.
the 29/06/2017

5/5
Pas encore essaye mais tout a fait conforme a ma commande; tres beau bleu Iris. Par contre j ai aussi acheté le pack extension et je n'ai vu que plus tard que Naturiou faisait un pack porte bebe avec pack extension (5 euros moins cher que si on commande les deux séparément ... )
Aurélie T.
the 08/06/2017

5/5
Excellent produit
Krystle T.
the 28/02/2017

5/5
Super confortable facile dutilisation
Sandra L.
the 16/02/2017

5/5
Produit au top! Très confortable et facile de prise en main. Mon fils adore!
Nathalie C.
the 12/02/2017

5/5
Très bien mon bebe de 4 mois est un grand gabari j aurai du l acheter avant!
Anonymous A.
the 21/08/2016

5/5
Très bien
Jennifer P.
the 11/08/2016

5/5
couleur conforme à l'air très confortable
Emily F.
the 05/08/2016

5/5
Super porte bébé mon fils la adopté et s'endort dedans des que je bouge !!
Prisca C.
the 27/07/2016

5/5
Je suis enchantée. Le porte bébé est simple et fonctionnel. J'ai gagné en liberté de mouvement, il ne me quitte plus.
Anonymous A.
the 19/07/2016

5/5
super pratique
CHRISTINE D.
the 15/07/2016

5/5
Super nous profitons tout de suite de ce porte bébé ! Très facile d'utilisation et vraiment agréable pour bébé bien lover contre nous.
CLAUDE D.
the 09/07/2016

5/5
vraiment bien
Anonymous A.
the 06/07/2016

5/5
Cadeau offert aux jeunes parents qui en ont été super contents.
Natacha F.
the 02/07/2016

4/5
Tablier un peu juste pour un enfant de 2 ans, mais avec les extenders ça devrait régler mon soucis
Coralie J.
the 14/06/2016

4/5
Pas encore essayé car bebe arrive cette semaine. Il a l'air cependant de bonne qualité, robuste même pour le filet d'aération en cas de forte chaleur.
Anonymous A.
the 08/06/2016

5/5
Parfait
Audrey L.
the 03/05/2016

5/5
Porte bébé très agréable a porter, le poids est bien réparti sur les épaules. Facile à prendre en mainLes différents réglage permettent une bonne adaptation à la morphologie de bébéUn petit moins pour le miroir, certes pratique, mais les bords saillants peuvent blesser bébé. Il manque un petite poche pour pouvoir le ranger en sécurité
Pauline K.
the 17/04/2016

4/5
Super porte bébé physiologique
Anonymous A.
the 16/04/2016

5/5
Parfait. rapidité d installation. Confort.
Melissa B.
the 14/04/2016

5/5
Conforme. Bébé l'a déjà adopté !
Marc D.
the 09/04/2016

5/5
Très pratique
Lucie Q.
the 29/03/2016

5/5
Très bon porte bébé, pas mal au dos pour le porteur, bébé confortablement installé, nuque bien maintenue, très très rapide d'installation, mon bébé se calme tout de suite quand on le met dedans. Acheté pour un bébé de 6 semaines, il va servir encore longtemps.
Anonymous A.
the 16/03/2016

4/5
Impeccable même pour un bébé de 12 mois passés, il faut par contre prendre le temps de comprendre tous les serrages de sangles, mais ça en vaut le coup par contre pas encore essayé sur une longue promenade
Emilie A.
the 15/03/2016

5/5
Je suis tres satisfaite.... confortable autant pour bébé que pour le porteur.
Elise T.
the 24/02/2016

5/5
Produits très qualitatifs
Anonymous A.
the 22/02/2016

5/5
Pour le moment j'en suis très contente
Anne-laure D.
the 20/02/2016

5/5
Super
Anonymous A.
the 17/02/2016

5/5
Parfait
Julie D.
the 27/01/2016

5/5
Simple d'utilisation physiologique et très joli
Claire M.
the 25/01/2016

5/5
Super porte bébé. Produit de qualité, jolie design, facile d'utilisation et qui sera utilisé très souvent pendant les 1ères années de notre fille!
Marie G.
the 24/10/2015

5/5
Au top ! Soutient bébé sans douleur pour nous les maman, Des reglage un peu partout pour adapter a notre morphologie et celle de bebe.Possible de relever la poche dorsale s il fait trop chaud ! Porte bebe que je recommande sans hesitation!
Anonymous A.
the 23/10/2015

5/5
Porte bébé qui répond à toutes mes attentes. Très confortable, aucune douleur même après plusieurs heures d'utilisations. Se règle assez facilement avec toutes les sangles. Mon bébé d'1mois et demi s'y endore en 10minutes!
Anonymous A.
the 16/10/2015

5/5
conforme à notre demande je recommande
Anonymous A.
the 22/09/2015

5/5
Très rapide d'expédition
Dorothee D.
the 15/09/2015

5/5
Le porte bébé physio par excellence. Bébé a 2 mois et est aussi bien que dans l écharpe avec maman. Je préfère l écharpe pour le côté proche de moi. Mais le papa est ravi :-) facile à positionné et les sont vraiment l aération et la poche. En plus il est léger
Anonymous A.
the 08/09/2015

5/5
J'ai déjà utilisé plusieurs porte bébé. Celui-ci est de loin le plus pratique et confortable (y compris par rapport à l'ergo bsby).
More reviews...