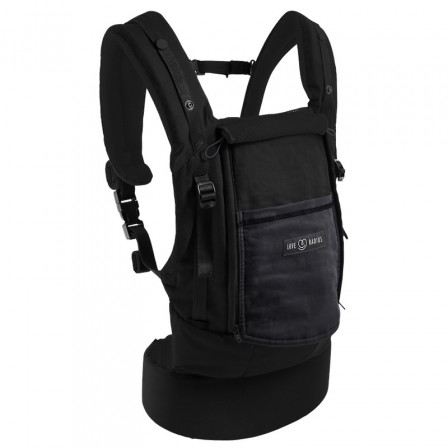 View larger
Étiquette "Love Radius"
Reduced price!
JPMBB PhysioCarrier Black cotton pocket Charcoal grey
Je Porte Mon Bébé
CO101012
Your baby carrier JPMBB Physiocarrier Black Cotton pocket Anthracite is one of the most beloved of Physio. Its sober colour and its élangance make him a sling to wear in all circumstances.
The Full buckle JPMBB provides you with beautiful walks from the birth (with the pack booster sold separately) about 3 or 4 years.
Model : JPMBB Physiocarrier Black Cotton pocket Anthracite.
By buying this product you can collect up to 4 loyalty points. Your cart will total 4 points that can be converted into a voucher of 1,80 €.
Your order delivered within 2 to 4 days
Your Full Buckle JPMBB for all ages
Wear your baby from birth (3,2 kg minimum) until approximately 3 years (20kg).
The indispensable accessory of JPMBB is the booster! It allows the wearing from infants to toddler. A security pocket holds the booster in place. It is located under the buttocks of the baby, and guaranteed for freshness and breathability.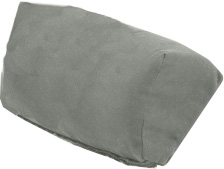 The booster allows you :
- Greater visibility for the child when carried on the back.
- A secure portage and height.
- A sensation of carrying a backpack for the wearer.
3 positions of the portage with the PhysioCarrier
There are 3 positions possible with PhysioCarrier JPMBB :
- The carrying on the belly (3-20 kg)
- The carrying on the hips (3-20 kg)
- The carrying on the back (6-20 kg)
The features of JPMBB
The carrier PhysioCarrier consists of :
- a cotton headrest for the new-born,
- a headrest in mesh,
- an elastic band is present on all the straps to store any excess,
- an opening of the apron,
- the padding on the shoulder straps and the waist belt.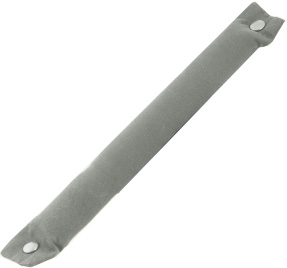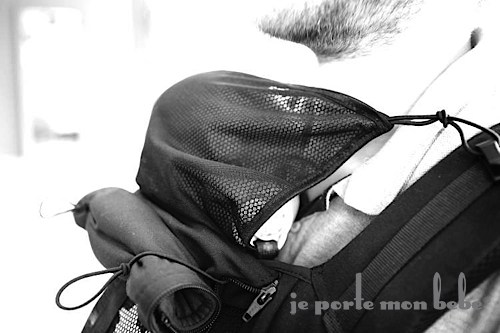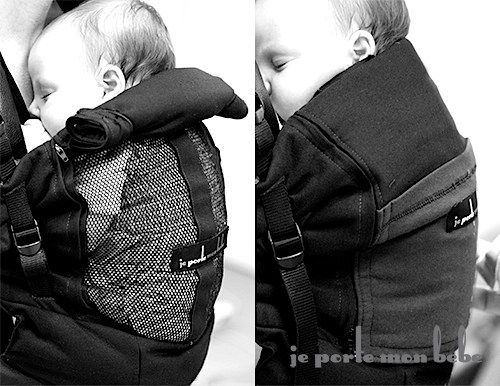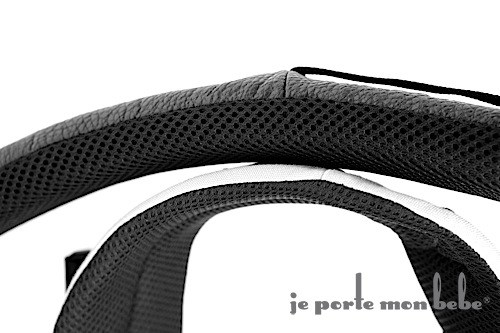 The JPMBB PhysioCarrierFull Buckle : an innovation
The side straps fit perfectly the back panel to the morphology of your baby !
The side straps adjust simultaneously the height and the width of the panel.
For10 months old children, they help for the knee to knee position.
They ensure a good distribution of the weight of your toddler.
Our opinion on the PhysioCarrier
This is an ergonomic baby carrier ideal for walks. This baby carrier is an innovation witch adapts perfectly to the morphology of the baby.
Data sheet
Kind of Baby Carriers
Full Buckle
Made in
Turkey
Recommended baby age
4 - 48 months
Minimum age
birth
Baby's weight
5 à 20 kg (dès 3,5 kg avec le coussin)
Carrying positions
Front, Back & Hip
Shoulder straps measurement
46 - 141 cm
Waistbelt measures
63 - 131 cm
Hauteur du tablier
42 cm
Largeur d'assise
43 cm
Main advantage
Good value for money
Warranty
2 years
Product Reviews
Number of Reviews :

58

Average Grade : 4.7 /5
Eleonore B.
the 29/08/2019

5/5
Produit bien pensé pour les bébés et facile d'entreti
Jennifer M.
the 03/07/2019

5/5
A priori dernière version donc ravi de cette bonne surprise !
Blandine K.
the 06/06/2019

5/5
Conforme à mon attente
Marie W.
the 16/05/2019

4/5
Bon Rapport qualité prix. Confortable
Laura R.
the 17/04/2019

5/5
tres bien
ROBERT L.
the 30/03/2019

5/5
cadeau pas vu encore
Hamza E.
the 17/11/2018

4/5
Super
Magalie C.
the 28/08/2018

5/5
Porte bébé au top
Laure M.
the 15/08/2018

3/5
Dans l'ensemble je suis assez satisfaite du porte-bébé que j'ai commandé chez vous mais il y a un élastique qui s'est décousu dès la première utilisation
Quentin R.
the 14/08/2018

4/5
Tres confortable pour bébé et ses parents. Je recommande
Emilie G.
the 14/08/2018

5/5
Produit semble de qualité, pas encore utilisé puisque bébé pas encore là, mais correspond au descriptif.
Camille Z.
the 08/08/2018

5/5
Qualité espérée suite à la connaissance du produit - super investissement
Guillaume D.
the 07/08/2018

5/5
Facile à prendre en main et de bonne qualité.
Thierry C.
the 07/08/2018

5/5
Très bien
Elsa R.
the 20/06/2018

5/5
Très bonne qualité, bretelle rembouree, faut comprendre comment le mettre mais notice explicative parfaitement réalisée Même papa peut porter di coup
Magalie S.
the 08/05/2018

5/5
Au top pour bébé et pour le porteur
Yannick D.
the 02/05/2018

5/5
porte-bébé de qualité, conforme à la description, ultra pratique et facile de prise en main, réglages des sangles simple et efficace. Ne fait pas mal au dos. Le bébé est bien installé et bien sécurisé
Rahima C.
the 02/05/2018

5/5
J'avais déjà un porte-bébé qu'on m'avait donné et peu confortable. J'ai donc hésité avant d'acheter le PhysioCarrier. Après une semaine d'utilisation quotidienne je ne regrette absolument pas. Le poids du bébé est bien reparti entre les hanches et les épaules et les bretelles rembourrées ajoutent un confort supplémentaire. De plus, bébé est bien maintenu sans être compressé. Le produit est un peu cher, mais très rentabilisé lorsqu'on l'utilise régulièrement.
Jennifer W.
the 30/04/2018

5/5
Super j'ai commandé un porte bébé de grande marque au meilleur prix. Sur ce site
Leslie R.
the 16/04/2018

5/5
Parfait
Mathilde V.
the 06/03/2018

5/5
Super porte bébé ! Mon Loulou là de suite adopté !
Bintou D.
the 03/03/2018

5/5
Produit au top. Une superbe qualité et il est magnifique. Maintien trop bien mon bébé
Aurélie R.
the 02/03/2018

4/5
Bretelles à croiser car sinon ça frotte sous les aisselles, du coup pas facile à mettre seule, surtout au début.
Emilie E.
the 23/02/2018

5/5
Produit parfait correspondait à mes attentes
Corinne C.
the 23/01/2018

5/5
Ma fille dit que c'est parfait.
SHANAEL M.
the 14/12/2017

5/5
Tres bon porte bebe
Mélanie M.
the 12/11/2017

5/5
Au top, hyper confortable
Charline H.
the 04/09/2017

5/5
Deuxième produits jpmbb après l'écharpe conforme à ce que nous recherchions. Testé avec une petite de 3 et demi en dorsale reste confortable. Avoir avec un nouveau né
Pascale J.
the 02/05/2017

5/5
Très pratique
Isabelle F.
the 29/01/2017

4/5
Il a l'air très bien et confortable. Couleur conforme à ce que je voulais.J'attends que bébé soit là pour pvr le tester.
MAHARAVO R.
the 03/11/2016

4/5
Pas encore essayé mais semble adapté à un usage quotidien. Look très sport, donne la sensation d'un sac à dos. Un peu large pour les petits gabarits comme moi (1,50m)
Vanessa B.
the 06/07/2016

5/5
Je recommande ! Top
SANDRA M.
the 05/07/2016

5/5
Excellent quatlité JPMBB
GILLES S.
the 21/06/2016

4/5
Bon produit de qualité.
Julie L.
the 10/06/2016

4/5
Confortable,un peu difficile à régler quand bébé est dedans
Sara D.
the 09/06/2016

5/5
Très satisfaite! Super produit!
Aminata K.
the 25/05/2016

4/5
Contente de mon achat, très bon porte-bébé confortable et aéré (critère indispensable pour moi car je vis en Guyane) du coup bébé n'a pas chaud lorsqu'il est ouvert. Manque juste une petite poche de rangement.
Eva L.
the 18/05/2016

5/5
Une fois le produit bien en main, il est très facile d'utilisation, mon fils se sent bien dedans, il est design, j'aime beaucoup et ne regrette pas
Melanie L.
the 26/04/2016

5/5
Produit de très bonne qualité.
Vincent C.
the 19/03/2016

5/5
tres bien
Frederic M.
the 15/02/2016

4/5
RAS. correspond à mes attentes.
Flavie C.
the 13/02/2016

5/5
Super
Frédéric C.
the 12/02/2016

5/5
Super produit !
Emeline C.
the 09/02/2016

5/5
Pas encore testé, conforme à mes attentes
Virginie F.
the 09/02/2016

4/5
Pratique et modulable avec une utilisation dès la naissance
Romain H.
the 09/02/2016

5/5
Parfait
Gaëlle G.
the 05/02/2016

4/5
Produit très bien étudié, belles finitions. J'ai testé le produit dès réception avec mon loulou de 3 mois 1/2. Comme habituellement je le porte en ventral en écharpe, j'ai testé le portage ventrale comme expliqué sur la vidéo de jpmb. Les réglages sont un peu complexes quand on a jamais eu de porte-bébé, mais la vidéo est très bien faite. Je n'ai pas trouvé le portage très confortable, le poids était trop présent sur les trapèzes et la lanière qui relie les 2 bretelles dans le dos se sent trop au file de la balade. de plus les bretelles godaillent un peu. Je sais qu'avec certains porte-bébés on peut croiser les bretelles, à voir si c'est possible avec le jpmb. Pour le moment j'avoue préférer l'écharpe. En revanche, le confort de la ceinture est extra, de même que le molleton des bretelles, je pense qu'en portant bébé dans le dos quand il sera un peu plus grand se sera super. Sinon beaucoup de réglages, le c'est qu'on peut adapter à sa morpho et au bébé, le - c'est qu'il faut les maitriser. mais ça je pense que ça se fait assez bien (la vidéo est explicite ). Je suis contente de mon achat, la forme de la poche offre une position physiologique très bonne pour bébé, c'est ce qui m'avait décidé pour ce modèle, et effectivement bébé était bien installé.
Gateau J.
the 03/02/2016

5/5
Très bon produit même si un peu difficile à mettre et régler au début. Je conseille d aller faire un tour sur YouTube avant!
Fanny E.
the 03/02/2016

5/5
Je suis une grande fan de la marque, j'attendais quelque chose de peut-être un peu plus complet que l'écharpe de portage, pour porter mon aînée qui a bientôt trois ans et pour ma cadette, un "outil" vite mis en place lorsque je n'ai pas la place pour faire le noeud et/ou pas l'occasion de le laisser en place et je ne suis vraiment pas déçue. Le physiocarrier est vraiment génial, facile à prendre en main (surtout pour le papa réticent à utiliser l'écharpe!), plein de petites astuces (comme le miroir pour le portage dos, les petits élastiques pour que les sangles ne pendouillent pas, clapet de ventilation...), bref, c'est un vrai bonheur, merci JPMBB!
Renard A.
the 29/01/2016

5/5
Très bon produit , mise au dos facile et rapide ma fille et moi adorons
Jennifer R.
the 27/01/2016

4/5
Très bien mais un peu cher
Shirley B.
the 15/11/2015

5/5
A tester
Florian A.
the 07/11/2015

5/5
Conforme à ma commande
Maud P.
the 20/10/2015

5/5
Conforme à mes attentes, très bon produit, léger et facile d'utilisation.
Marion D.
the 13/10/2015

5/5
Idéal! Un porte bébé physiologique haut de gamme, cher mais pas pour rien!
Outhone M.
the 30/09/2015

5/5
Très agréable pour bébé et maman/papa
Anne-Charlotte B.
the 07/08/2015

5/5
Comme ce que j'imaginais :)
More reviews...