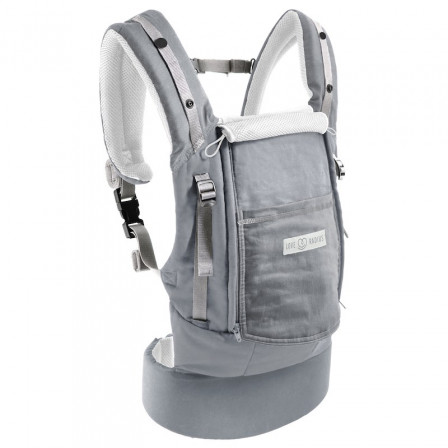 View larger
Étiquette "Love Radius"
Reduced price!
JPMBB PhysioCarrier All Grey
Je Porte Mon Bébé
CO434343
This is the new Physiocarrier of JPMBB ! Sober and elegant, the "All Grey" is the PC that was missing from the range I carry My Baby.
Your Physiocarrier Gray Elephant pocket Elephant is a baby carrier awesome:
scalable

from 0 to 4 years of age with the booster (not included),
opens to

let pass

the heat,

practical

and easy to install.
Model : JPMBB Physiocarrier Gray Elephant pocket Elephant.
By buying this product you can collect up to 4 loyalty points. Your cart will total 4 points that can be converted into a voucher of 1,80 €.
Your order delivered within 2 to 4 days
Why your Physiocarrier Any Gray is it awesome?
Explanations on your door-bébéphysiologique Physiocarrier Elephant in 5 points:
Ergonomic design, hamonieuse for you and your child
Optimal comfort with nombeus upholstery.
Easy to install, thanks to clips ingenious
Scalable : it follows the growth of baby up to 4 years
Solid and in cotton : we find all the seriousness of the house JPMBB.
Your physiocarrier Gray Elephant pocket Elephant
A solid gray tone-on-tone here which is very elegant. This new Physiocarrier will become quickly your companion. Easy to use, you do not you will spend more!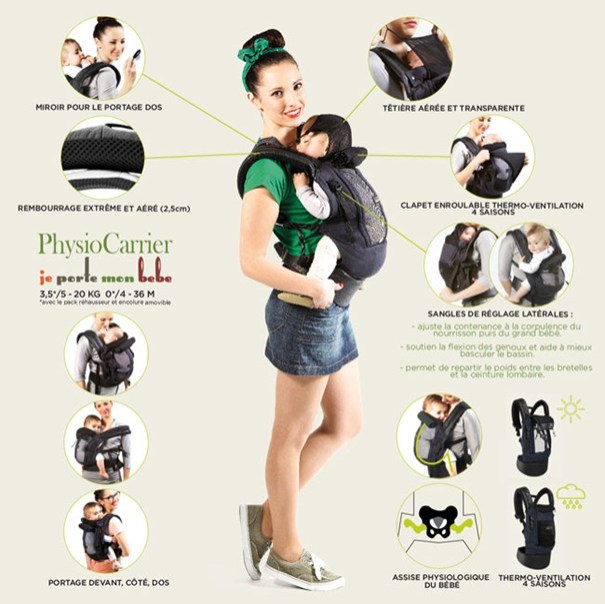 You clip it like a backpack and deuxs time three movements, it is installed!
Install the pack the booster in the Physiocarrier Elephant pocket Elephant (not included)
A summary of the PhysioCarrier image
Data sheet
Kind of Baby Carriers
Full Buckle
Made in
Turkey
Recommended baby age
4 - 48 months
Minimum age
birth
Baby's weight
5 à 20 kg (dès 3,5 kg avec le coussin)
Carrying positions
Front, Back & Hip
Shoulder straps measurement
46 - 141 cm
Waistbelt measures
63 - 131 cm
Hauteur du tablier
42 cm
Largeur d'assise
43 cm
Main advantage
Good value for money
Warranty
2 years
Product Reviews
Number of Reviews :

42

Average Grade : 4.7 /5
Clélia R.
the 27/06/2020

5/5
Cette marque est un classique. Impossible d'être déçu
Maria D.
the 09/06/2020

5/5
Une porte-bébé recommandé par mon animatrice de portage. Elle avait raison, il est très bien.
Sophie G.
the 23/04/2020

5/5
Produit de qualité et conforme a mes attentes
Alexandra R.
the 19/10/2019

5/5
Utilisé pour des petites balades pour le moment, pas encore utilisé pendant de longues balades, mais top! Bretelles un peu larges et un peu loin sur les épaules pour les femmes je trouve.
Mélanie S.
the 09/10/2019

5/5
Conforme à mes attentes
Emmanuelle P.
the 28/09/2019

4/5
Difficile a régler
Aurélie B.
the 14/08/2019

5/5
Super porte.bébé physiologique, coloris original, prix correct pour un équipement qui servira au moins 4 ans pour 1 enfant
Anne-sophie L.
the 31/07/2019

5/5
Ma fille et moi adorons
Sophie L.
the 05/07/2019

5/5
ma fille en est tres contente
Raphael C.
the 06/06/2019

5/5
Tres bien
Marie B.
the 08/03/2019

5/5
Je l'adore
Manon C.
the 29/09/2018

5/5
Porte-bébé le plus physiologique possible, bien pensé. Dommage qu'il soit si cher (seul bémol)
Camille P.
the 18/09/2018

5/5
Très confortable, facile à utiliser.
Marie F.
the 01/09/2018

5/5
Satisfaite du produit, j'apprécie beaucoup cette marque qui pense au bien être du bébé et des parents (confort ergonomie sécurité. ..)
Stephanie D.
the 07/08/2018

5/5
Tres confortable autant pour bebe que pour maman. Je le prefere de loin a l echarpe de portage...
Sarah L.
the 28/07/2018

2/5
N'est pas destiné aux nouveaux nés comme indiqué..
Sarah M.
the 13/06/2018

5/5
J'adore!
Solene J.
the 12/06/2018

5/5
Super produit confortable autant pour le porteur que pour le bébé. ..ayant l'avantage de ne pas tenir trop chaud. ..Nous sommes ravis !
Frédéric B.
the 07/06/2018

5/5
Conforme à mes attentes; bon emballage, ainsi que emballage cadeau et message conforme à la demande
Alice P.
the 23/05/2018

5/5
Très confortable pour moi et bon maintient pour ma fille.
Amandine R.
the 19/05/2018

5/5
T'es satisfaite
Yamina A.
the 18/05/2018

5/5
Excellente qualité
Celine B.
the 07/05/2018

5/5
Produit de tres bonne qualité. Facile a mettre et balades tres agréables avec bébé : tout le monde a son confort !
Pauline D.
the 28/04/2018

5/5
Bébé n'est pas né encore, donc je n'ai pas eu l'occasion de tester mais le porte bébé répond a mes attentes
Marion F.
the 24/04/2018

4/5
Ct plus haut
Céline M.
the 19/04/2018

5/5
Très joli et super pratique
Sophie Y.
the 19/04/2018

5/5
Excellent produit.
Sophie P.
the 07/04/2018

5/5
Excellent porte bébé de grande qualité mais je l'ai échangé car il ne convient pas trop à ma morphologie (je suis assez menue).
Sophie G.
the 06/04/2018

4/5
Ce qu'on recherchait, et la couleur est jolie, on attend de ce faire offrir le re-hausseur de tête car bébé est encore tout petit !
Vanessa D.
the 29/03/2018

4/5
De bonne facture, pas encore suffisamment testé pour en dire plus
Alexandra D.
the 11/03/2018

4/5
Pratique et confortable
Pauline R.
the 16/02/2018

5/5
Confortable pour bébé, pour maman et pour papa! Position naturelle respectée
Emilie R.
the 30/01/2018

4/5
Pas encore utilisé, mais ce porte-bébé a l'air très bien. Vide, il est très léger. Bonnes finitions.
Chloe B.
the 17/12/2017

5/5
enfin Le porte bébé ideal, je nai pas mal au dos,je peux m'en servir seule, la tete de bébé est bien maintenue avec le kit supplementaire, la matiere est top! Je recommande fortement!
Kelly U.
the 15/12/2017

4/5
Produits conformes à la description
VANESSA T.
the 14/12/2017

5/5
Super porte bébé, pratique et physiologie respectée pour bébé. J'ai une préférence pour mettre les sangles croisées. Modèle gris éléphant magnifique.
Elodie L.
the 10/10/2017

5/5
Excellent porte bebe physiologique sa pub n'est plus à faire !Convient aussi bien à bebe de 6 mois qu'a Mon grand de 2 ans et demi !Très facile d'utilisation !!
Shirley B.
the 15/09/2017

5/5
Pratique beau agréable
Francoise M.
the 17/07/2017

5/5
parfait correspond à mon attente
Céline S.
the 11/05/2017

5/5
Je ne jurais que par l'écharpe de portage, ce porte bébé est vraiment parfait pour le bébé et le porteur, simple rapide, on ne traine pas des pieds pour l'utiliser pour des temps courts, au contraire je l'utilise beaucoup en dorsal également.
Elodie D.
the 07/04/2017

5/5
J'adore. Je regrette juste le manque de tirette en-dessous de la pochette enroulable (fesses donc toujours "à l'air").Sinon je suis conquise !!!
More reviews...