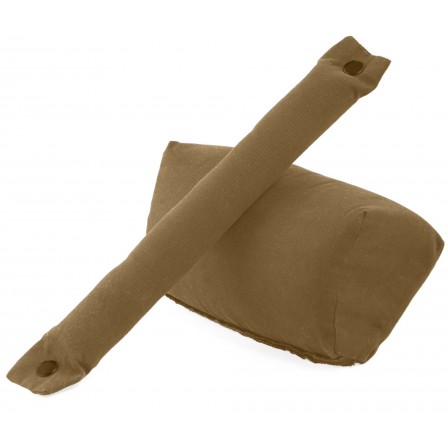 View larger
PhysioCarrier Accessories Booster and Neck Pillow - Safari
Je Porte Mon Bébé
ACC68
Accessories to wear from birth
The pack extension Safari is the latest essential accessory for your door-baby Safari pocket rosé or pocket dark olive.
It includes a cushion and a headrest.
It allows you to wear baby from birth thanks to the cushion and prop your child's head.
The cushion safari will be used to raise the greatest in the supine position. Thus, they will be able to see over the shoulder of the wearer.
Model : JPMBB Pack Extension Physiocarrier Safari.
No reward points for this product.
Your order delivered within 2 to 4 days
Pack extension Safari Physiocarrier JPMBB
Your pack Expansion Physiocarrier Safari is attached to your baby carrier JPMBB Safari. Thanks to the cushion, you can carry your baby from birth. To do this, simply embed the booster in the pocket provided for this purpose. The position is physiological and ultra-comfortable.
Mode port in the back, you can use the cushion booster seat for a toddler bigger. It will offer a wide visibility on the most beautiful landscapes, so "explorer".
The pack extension includes :
A cushion/booster color Safari : in full harmony with your Physiocarrier Safari.
A head support Safari : the ideal solution to keep your child's head. If baby falls asleep in the excursion, his head will be pressed and he will be able to extend his nap while being rocked to sleep.
Video of the installation of the booster Safari JPMBB
Data sheet
Kind of Baby Carriers
Full Buckle
Warranty
2 years
Product Reviews
Number of Reviews :

24

Average Grade : 4.9 /5
Sefiani S.
the 14/05/2020

5/5
Produit de bonne qualité.
AMBROISE C.
the 30/01/2020

5/5
Super, avec ce pack extension pour mon porte-bébé, je peux emmener mon bb dès la naissance grâce au rehausseur qui se glisse dans le bas du porte bébé et le cale tête est indispensable.
Kathy D.
the 14/08/2019

5/5
Très bien
Ombeline A.
the 25/07/2019

5/5
très bien pour installer bébé dans les premières semaines
Matthieu S.
the 07/02/2019

5/5
Parfait et la couleur est vraiment jolie
Amandine B.
the 09/11/2018

5/5
Je trouve sympathique que ce kit nourrisson soit proposé pour les personnes qui veulent commencer dès la naissance le portage en porte bébé plutôt qu'en écharpe. Facile d'installation grâce au manuel
Sandra R.
the 11/10/2018

5/5
Bébé qui a 4 mois est ravi de prendre de la hauteur pour voir autour de lui
Hélène W.
the 07/09/2018

5/5
conforme
Juliette L.
the 01/08/2018

5/5
Très bien
Marie B.
the 18/07/2018

5/5
Très utile pour installer un petit bébé de 3 mois. Bon soutien de la nuque.
Mélanie V.
the 22/06/2018

5/5
Très pratique pour porter bébé dès la naissance.
SYLVIE L.
the 19/06/2018

5/5
Je ne peux pas vous dire le bébé arrive en août. Mais je l'ai quand même essayé et pour moi il est parfait reste à voir pour le bébé.
Astrid M.
the 16/03/2018

5/5
Pack nécessaire pour offrir à notre bebe de un an une position supplémentaire qui lui plait beaucoup ! Il est plus en hauteur, le haut du corps plus libre et peut tout voir.
Géraldine M.
the 13/02/2018

5/5
Suréleve l'enfant (1 an). Facile à mettre en place.
Mathilde B.
the 25/01/2018

5/5
Bien
Karine S.
the 19/01/2018

5/5
Très utile pour les petits
Alice T.
the 06/01/2018

4/5
Indispensable pour un nourrisson
Anna C.
the 14/11/2017

4/5
It's useful for the front when baby is 0-5 months and on the back from 6 months onwards so a useful addition.
Alfonso J.
the 20/07/2017

5/5
Très bien
Julie F.
the 07/07/2017

5/5
Parfait pour mon petit bebe !
Veronique C.
the 29/06/2017

5/5
Très pratique
Christelle A.
the 03/05/2017

4/5
Pratique et bonne qualité
Camille A.
the 09/02/2017

5/5
Très pratique pour utiliser le pc des la naissance
Elodie P.
the 09/02/2017

5/5
Facile à utiliser
More reviews...