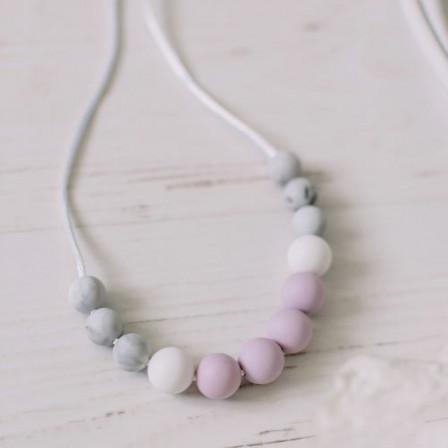 View larger
Love And Carry Amethyst Necklace of portage silicone food
Love and Carry porte-bébés
LC912
Your padded portage Amethyst will delight more than one. Be sure to stir the curiosity of your baby with this wonderful colours !
Suitable from birth
Made of silicone food without toxic
Fun colors : gray, white, and purple
Necklace length of portage : 36 cm
Designed in Europe
Model : Necklace of portage Amethyst Love and Carry

No reward points for this product.
Your order delivered within 2 to 4 days
The key on your necklace of portage silicone Amethyst
12 round beads silicone food without toxic
a fastener on the back to clips
cord comfortable and resistant
a length of 36 cm
beads of 15 mm to 19 mm
A precious stone around the neck
Burn with your beautiful necklace from portage. The colours of purple light unique, inspired by the famous precious stone amethyst. Your jewelry add a touch to your appearance.
Why choose the silicone food for a necklace breastfeeding ?
The silicone support is very much appreciated by the children, due to its unique texture. Nice to chew and touch, the discovery of sensation is total for your child.
The silicone is firm, fluffy, soft and waterproof. It does not absorb water, convenient when we went to the pool, at the spa or at the beach.
This material is also very resistant to high or low temperatures. You can wear it in any season !
Your necklace for breastfeeding and babywearing : what is it ?
Your necklace Amethyst has many features :
Hold your baby : when you wear your child, he sometimes has a tendency to pull your hair or scratch lightly your skin. This can be very unpleasant. Your gem port is used during these moments. Wear your necklace during breastfeeding, or when you have your child in your arms. Your child will be concentrated on the colours and shapes of the beads siliconized. It is a very effective way to distract and occupy it !
Takes the role of a collar of the dentition : the period of teething is difficult for your child as for the parent. The silicone food of the beads is intended to be chewed and mâchouillés by your child in order to relieve her gums. A real relief for your baby as for you.
The discovery of colors and shapes : when baby is small, he discovers the world around him. Your necklace Amethyst will catch his attention and make him discover the colors, shapes and textures. This improves its experience, its knowledge and its development.
Our tips to better maintain your jewelry in portage
Wash it off immediately after the receipt
Clean clear water with mild soap or in the dishwasher
Let it dry in the open air
Wash it off repeatedly (to remove saliva)
Data sheet
Material
Silicone
Made in
Ukraine
Minimum age
birth
Sort
Collier boule
Size
One size