Rose and Rebellion
Rose and Rebellion Pre-School Baby carrier Skeletmans
A door-toddler-out standards
Designed with proportions for a non-standard, the door-toddler Skeletmans R&R allows you to carry children up to 20 kg, or 2.5 to 6 years. Its seat is 51 cm and his deck of 52 cm, this door-to-toddler, a pre-formed size "Pre-school".
Its relatively light weight enables you to take your baby carrier with you. Practice when you're on a hike or on a hike : if your child is tired and asks to wear it, hop in the door-to-toddler!
A door-to-toddler scalable
Your door-toddler Rose and Rebellion size Preschool is certainly one of the baby carriers and the largest in terms of market size. In particular, at the level of the measures of the seat and the deck.
Because of this, the gate-to-toddler Skeletmans of R&R is highly scalable : it will go a long way in your portage toddler.
Dimensions :
length of straps : 40 to 120 cm
length of the belt : from 75 to 173 cm
seating : 51 cm
height of the skirt : 52 cm
weight : 870 g.
A door-to-toddler comfortable
Your preformed Skeletmans of the brand "punk" English is ultra comfortable. Its many rembourages especially on the straps and in the hollow of the knees of the little worn. Regarding the straps, they are wide with lannières wide also. The fastener-lannière is she also very wide, but in no case annoying. It maintains between the shoulder straps.
The waistband is also very wide and provides excellent lumbar support. It does not slip and stays in place.
All of these critèrent provide a portage physiological : your child keeps the back rounded, her legs are bent in a position known as "M" and her knees are always higher than the buttocks.
As well, the portage with your gate-toddler Skeletmans is assured without back pain for the wearer and comfortable for wearing.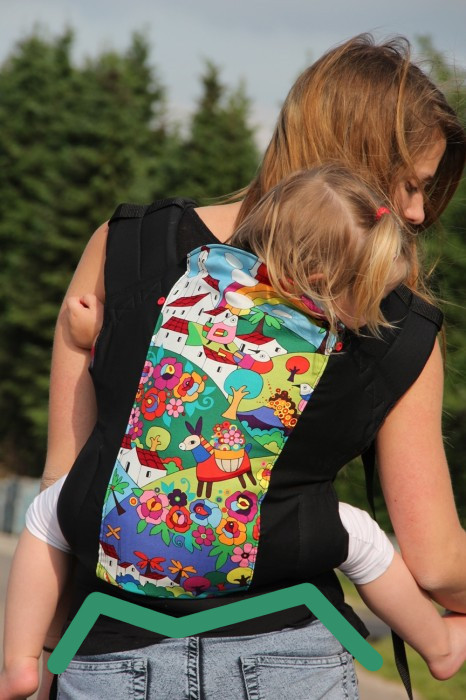 Rose and Rebellion : a port safe
All the baby carriers by Rose and Rebellion are certified Oekotex 100 to assist you to portage safe and healthy. Especially when baby machouille the baby carrier!
Little tip for your toddler : it has an elastic end of the strap which allows you to wrap the excess strap : malin!
A portage reversible
Your baby carrier to the grounds of rock ' n ' roll Skeletmans is reversible : one side patterned and one side is entirely black. If you change your mind, you change sides! Practice in the case of a small task.
Maintenance tips
Your door-baby washes in the washing machine in delicate cycle at 30°. A gentle detergent is recommended.
However, we recommend a wash or a stain removal local with a soap stain remover. In order to preserve the life of your average portage.
Characteristics
Recommended baby age

- 2 à 5 /6 ans

Carrying positions

- Front, Back & Hip

Kind of Baby Carriers

- Full Buckle

Label

- Oekotex 100

Baby's weight

- 9 to 27 kg approx

Made in

- Royaume Uni

Shoulder straps measurement

- 40 to 120 cm

Waistbelt measures

- 75 to 173 cm

Hauteur du tablier

- 52 cm

Largeur d'assise

- 47 cm

Main advantage

- Very large and comfortable

Warranty

- 2 years

Material

- 85% coton, 15% polyester
Avis des clients (1 Avis)
Anonymous A.
- 05/08/2020
Parfait
Be the first to ask a question about this product!