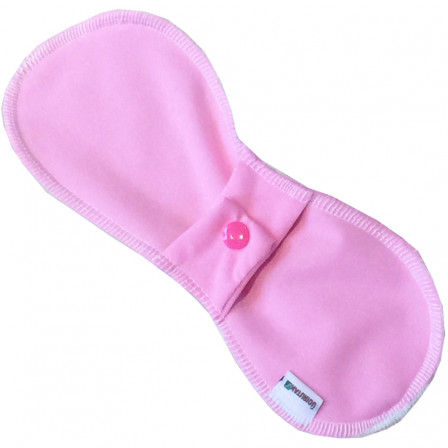 View larger
Sanitary napkin machine-Washable heavy flow Oeko-tex
Naturiou
New and improved version!
The pads are Washable (SHL) Naturioù are specially designed for heavy periods
Very absorbent :

Triple core

bamboo
Fabrics, Oekotex 100 (no harmful substances)
Manufactured in France by the seamstress Naturioù

Not

overpack : objective Zero waste
One of the

least expensive

on the market
Passes to the

dryer

and washable up to 90°C
sold to the unit
PUL coating :

prevents from slipping
Choose your color Blue aquamarine, candy Pink or Gray urban in the drop-down menu.
No reward points for this product.
Your order delivered within 2 to 4 days
Quantity
Discount
You Save
5
20%

Up to

9,90 €
3
10%

Up to

2,97 €
Sanitary pads heavy Flow Naturiou
The seamstress Naturioù offers SHL (pad washable), specially designed for flux abundant or bleeding :
Triple core

bamboo for a great absorption capacity

XL size

Length 26.5 cm, width 7 to 10 cm
With such features, your towels are washable, have a high absorption capacity and this will prevent leaks during heavy flow.
Respect your skin and the environment
Of the SHL that respect your skin
Each fabric used in your napkins is selected for its label, Oeko-tex 100 , which guarantees a composition that is free of toxic chemicals.
The outside, side of pants: PUL oeko-tex 100, very waterproof
Inside, on the skin side : micro sponge of Bamboo label, Oeko-tex 100
Core : triple-layer of micro-sponge of bamboo Oeko-tex
Your towels Naturiou also respect the planet
If you use the SHL, it is that you are certainly concerned with the ecology and zero waste.
Naturiou is committed to its towels washable on 4 points :
Circuit manufacturing short

: the SHL are made by the seamstress Naturioù in Britain

Not overpack

plastic : just a sheet of silk cellulose, and a manila envelope for sending

Impact

transport

low

: the shipment can be done by simple letter, postcard, or via DPD. In 2 cases the carbon is offset.
Information carbon offsetting group Laposte
Information carbon offset carrier DPD.
Why use sanitary towels washable?
The sanitary pads that are washable are a good alternative to towels and tampons. Reusable, you wash and it is gone. You save and make a gesture to the environment.
The sanitary pads that are washable are manufactured in fabrics certified Oekotex 100. Your skin is not breached. She breathes during your period. The itching disappear. The use of SHL helps prevent infections.
Simple to use
The napkins are washable Naturiou heavy Flow and are easy to use. Comfortable and flexible, they offer seamless protection. They are very absorbent because they are made of bamboo. You feel fresh and confident. They are covered with cotton velvet for a smooth, incomparable and absolute comfort.
Bamboo is a natural fiber antibacterial. Odors are non-existent.
Soft and thin, the SHL Naturiou remain in place through the fins. They attach with a pressure button. They do not move and do not interfere with the movements.
Composition : Bamboo and PUL
1-face, PUL coating oeko-tex 100 ;It is a polyester fabric waterproof polyurethane coating (slipping into the pants)
1-face, micro-sponge bamboo single-side : 80% viscose from bamboo, 20% polyester.
Maintenance tips and washing SHL Bamboo
Wash cycle at 90°c possible
Dry soft cloth authorized
To preserve as long as possible your bamboo, we recommend that you use the special laundry cloth diapers.
Data sheet
Made in
France
Material
Bambou et PUL
Label
Oekotex 100
Dimensions :
10cm
Conditions de lavage
60°
Product Reviews
Number of Reviews :

16

Average Grade : 4.4 /5
Aurélie A.
the 18/11/2020

5/5
Très bonne qualité
Marie L.
the 31/07/2020

3/5
les serviettes sont absorbantes comme il faut, en revanche l'attache n'est pas du tout adaptée et la serviette bouge beaucoup trop. Côté esthétique, on repassera. Le blanc, c'est salissant et le rose et le bleu du PUL sont très enfantins... Mais ceci n'est qu'un détail et ne joue en rien dans l'utilisation des produits.
LYNETTE R.
the 22/02/2020

4/5
Ne glisse pas trop. Très confortable. On en oublie la serviette. Par contre, à voir à l'usure au niveau de la couture sur les côtés, il y a des petits fils qui apparaissent en raison du frottement j'imagine.
Marie-Capucine B.
the 19/02/2020

5/5
Imperméable et très doux
Claudia G.
the 08/02/2020

5/5
Confortable, pas d'odeurs, retient bien le flux abondant
CARINE C.
the 17/12/2019

5/5
Très satisfaite de mon achat ! Je recommande ! Idéal pour flux abondant, pour l'instant nettoyage nickel en faisant tremper.
Aurore L.
the 10/06/2019

4/5
Bonne qualité absorbe bien le flux Bouge un peu et longueur correct, ce n'est que ma première utilisation donc je verrai avec le temps Après je pense que toutes les serviettes lavable bouge et glisse un peu étant donner que ces une pression est pas coller comme les jetable. Pour moi on peu pas tout avoir et perso je suis contente de ma serviette.
Morgane R.
the 07/06/2019

5/5
Très bien super confortable très bien cousues
Anne-Cécile D.
the 05/03/2019

4/5
Difficile de bien les laver. La couche interne reste colorée. Sinon, super absorption, très confortable, pas d'odeur.
Emmanuelle N.
the 06/02/2019

4/5
Bon produit, juste un tissus trop lisse à l'extétiriez, ce qui fait que la serviette est très mobile.
Jennifer L.
the 05/02/2019

5/5
Très belle finition.
Nathalie G.
the 17/11/2018

5/5
Parfait
Anonymous A.
the 03/10/2018

3/5
Très douces et confortable agréable a porter , absorbante
Anonymous A.
the 29/09/2018

5/5
Confortable et efficace
Anonymous A.
the 14/09/2018

5/5
Très bonne qualité. Ergonomie au top.
Anonymous A.
the 09/07/2018

4/5
Serviette de bonne taille et de bonne qualité, elle est très confortable et douce, on ne la sent même pas quand on la porte. Elle est très efficace et bien absorbante pour un flux normal mais pas suffisante toute une nuit pour une personne avec un flux abondant.
More reviews...