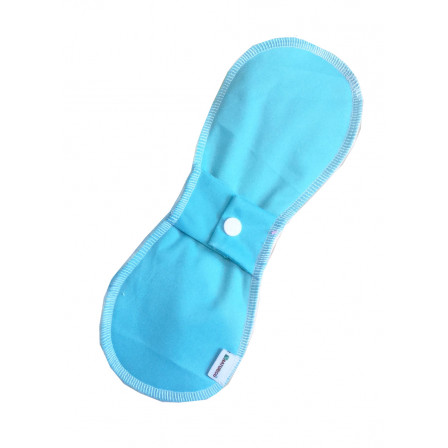 View larger
Panty liner machine Washable Bamboo Oeko-tex
Naturiou
New design less slippery
Easy

to place

Mini

and

discreet

19cm x 8cm

Absorbent

(core micro-sponge bamboo)

Free of toxic products

, label öko-tex 100
Made in

France

Machine washable and goes in the tumble-dryer up to 90°C.
3 colours to choose from in the drop-down menu : Pink, Grey urban, Blue aquamarine.
Protects slip washable sold by the unit.
No reward points for this product.
Your order delivered within 2 to 4 days
Quantity
Discount
You Save
5
20%

Up to

5,25 €
3
10%

Up to

1,58 €
Why choose a panty liner washable?
1 - Because ecological
The guard slips are washable are an environmentally friendly alternative to towels and tampons. Reusable, you wash and go!
You make a gesture to the environment and your wallet will thank you.
Naturiou undertakes not to over-packaged with plastic protect-briefs-washable. They will be shipped in a packaging made of sheets of tissue paper and kraft paper.
2 - personal Reason
Shin-briefs-washable are made in fabrics certified Oekotex 100. Your skin is not irritated. She breathes during your period thanks to the PUL breathable and waterproof. The itching disappear. The use of sanitary pads washable helps prevent infections.
3 - economic Reason
Has the purchase it is a little more expensive than the towels but after a few months or a few weeks you will find widely.
Zoom in on the SHL Mini Naturiou
Micro sponge Bamboo oko-tex 100 on the skin side,
PUL side panties certified Oeko-tex 100.
Absorbent and reliable
Form scoop for more absorbency and discretion
Soft and fine
Comfortable, thanks to their small fins.
Mode of employment of the panty liner Naturiou machine
The napkins are washable Naturiou are easy to use. They are comfortable and flexible. You feel confident and fresh.
They offer seamless protection. They are very absorbent because they are made of bamboo. You feel fresh and confident. The micro-sponge covers your guard slip for an incomparable smoothness and comfort.
The SHL are made of bamboo, antibacterial. Odors are non-existent. The napkins are washable Naturiou remain in place through the fins. They attach in the panty with the touch of a button. They remain in place.
Panty liner machine washable Made in France
The guard slips Naturiou are fully manufactured in Britain by the seamstress Naturioù. The towels are just wrapped in a sheet of tissue paper as protection.
You are certain to adhere to your beliefs:
Local procurement
Optimized carbon footprint and offset by the carriers
Respect of the work and the person
Composition of SHL Naturiou
Reusable towels Naturiou have 1 face-PUL (breathable and waterproof). At the center, a double thickness of bamboo ensures a high absorption capacity. In the Face of internal micro-éponde bamboo very soft
All the fabrics used are certified Oekotex 100.
How to maintain and wash your waterproof slip?
Wash up to 90°c
Possible use of the dryer soft
Use a stain remover if needed, such as soap with essential Oils (which leaves a good smell)
Choose a detergent layer of machine-washable in order to preserve the most of your bamboo
Data sheet
Made in
France
Material
Bambou et PUL
Label
Oekotex 100
Conditions de lavage
60°
Product Reviews
Number of Reviews :

17

Average Grade : 4 /5
Cécile D.
the 19/03/2020

3/5
Fabriqué en France, super, mais le protège slip glisse et donne une sensation d'insécurité fort dommageable. Ajoutez une 2e paire d'attache, et voilà !
Stéphanie L.
the 24/01/2020

3/5
Moyen les coutures ne sont pas terribles et ce n'est pas très joli, je ne pense pas que ce soit très solide. Par contre c'est confortable.
Thérèse S.
the 27/12/2019

5/5
Parfait et bon pour la planète, aucune odeur
Pauline K.
the 17/12/2019

4/5
Bien
Estelle L.
the 06/12/2019

5/5
Convient à mes attentes !
Nathalie W.
the 16/11/2019

4/5
Bon rapport qualité prix. Forme proche des protège slips jetables et surtout petites ailettes, ce que je recherchais par rapport aux autres produits avec des ailettes plus grandes, car je souhaite les porter au quotidien. Début des tests, à confirmer : - on y perd un peu en tenue, vaut mieux avoir une lingerie assez large à l'entrejambe ; - sinon glisse aussi un peu de l'avant vers l'arrière mais pareil qu'avec l'autre marque
Laurence A.
the 04/10/2019

5/5
Voilà qui va nous changer la vie! Toutes les filles de la famille ont adopté ces protèges slip! Très bon produit :)
Anne-Laure R.
the 20/08/2019

5/5
J'apprécie beaucoup ! J'avais déjà testé les serviettes qui sont très économiques financièrement et sont très absorbantes. Comme les serviettes, les protège-slip sont un peu épais, ne sont pas à l'abri de bouger un peu selon le vêtement que l'on porte (mais rien de méchant tant que c'est pas de sport intensif) et peuvent un peu comprimer si on reste un moment assise (au travail par exemple). Mais pour avoir tester des protège-slip d'une marque différente : ils absorbent mieux et plus (bonne alternative à la serviette pour un flux moyen !!), ne bougent pas plus et ne compriment pas plus ! Ils sont d'ailleurs plus agréables au contact avec les bouclettes et non un tissu lisse comme l'autre marque (qui est d'ailleurs bien plus chère même si moins épaisse).
Nathalie L.
the 04/07/2019

3/5
Ils bougent beaucoup malheureusement. Pour mon cas personnel ils serviront juste pour mes petites fuites urinaires et à la maison. Je me demande comment font les femmes qui les utilisent pour leurs règles et au travail... les accidents doivent être fréquents et forts désagréables...
Emilie S.
the 27/06/2019

3/5
Protège slip léger sèche rapidement
Aurore L.
the 10/06/2019

4/5
Elle glisse un peu faut la remette correctement en se rhabillant mais sinon bonne qualité Après on verra dans le temps car première utilisation. Contente de ma serviette
Salomé B.
the 11/04/2019

5/5
Super produit, je compte en acheter d'autres pour compléter ma collection.
Sonia B.
the 14/03/2019

4/5
Très bon produit. Très confortable, facile à laver. Économique et écologique. Bon pour la planète et bon pour moi
Anne-Cécile D.
the 05/03/2019

4/5
Belle finition. Discrète et confortable mais bouge un peu
Marielle B.
the 25/01/2019

4/5
Bien
Annie D.
the 07/08/2018

5/5
Bien
Céline P.
the 19/07/2018

2/5
La matière est très douce mais un peu déçue car le protège-slip ne tient pas bien en place (pas assez ergonomique si je compare avec une autre marque que j'ai pu tester).
More reviews...