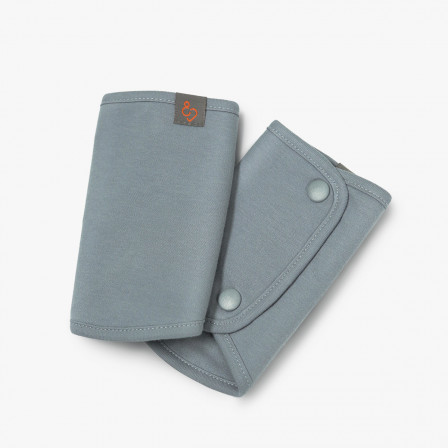 View larger
Waterproof strapless Love and Carry
Love and Carry porte-bébés
Protects-shoulder straps for door-bébes physiological Love and Carry
They are made of cotton for baby-carrier physiological AIR and DLIGHT, and Meï Teï.
The guard straps to protect the straps of your baby carrier from saliva of your child and the wear and tear.
Sold as a pair.
100% cotton.
No reward points for this product.
Your order delivered within 2 to 4 days
Your protects-strapless Love and Carry
Protect-strapless Love and Carry are an essential accessory to protect and sustain your carrier in time. It is an alternative to the too frequent washing of the carrier. The report covers the shoulder straps wash in the washing machine.
Your protect-shoulder straps are lined in cotton for maximum softness.
They click easily on the straps of your baby carrier Love and Carry.
Tip :
You can also use to protect shoulder straps with the baby carrier flexible meï taï.
Composition :
Cotton and polyester.
Data sheet
Made in
Europe
Material
100 % Cotton
Minimum age
birth
Size
One size
Product Reviews
Number of Reviews :

20

Average Grade : 4.8 /5
Mariana L.
the 26/06/2020

5/5
Mieux que je ne l'aurais imaginé, je recommande !
JULIE R.
the 03/06/2020

5/5
produits conformes à la description
Valérie J.
the 13/05/2020

5/5
Très bonne qualité de tissu et pressions solides. Très pratique. Je recommande ce produit.
Cedric R.
the 06/05/2020

5/5
Notre bébé fait ses dents et à tendances à mordre les lanières ce qui permet de les épargner un peu.
Isabelle S.
the 19/04/2020

5/5
Bien
Magalie G.
the 11/04/2020

3/5
Conforme à la description
Très pratique et facile à entretenir
Solenne L.
the 17/02/2020

5/5
Super
Florence B.
the 17/01/2020

5/5
nickel
Anaelle A.
the 01/12/2019

5/5
Facile à positionner, très douces
Virginie B.
the 28/11/2019

4/5
Très bien.
Claire W.
the 07/11/2019

5/5
Très pratique...plus besoin de tout laver !
Aurelie S.
the 28/10/2019

5/5
Pratique quand bébé machouiller les bretelles du porte bébé
Florence A.
the 14/08/2019

5/5
Super doux bebe ne les mordille pas encore mais idéal pour protéger les bretelles quand elle aura envie de tout mordiller
Alexandra V.
the 03/06/2019

5/5
Très bien
Mathilde J.
the 28/05/2019

4/5
effectivement bébé mâchouille le porte bébé, pratique mais pas très joli.
Hélène M.
the 11/04/2019

5/5
Très bien pour physiocarrer
Camille L.
the 16/01/2019

5/5
Le tissu est très doux, le produit facile à installer avec ses boutons-pression, ces protège-bretelles sont vraiment universels.
Maëlle L.
the 31/12/2018

5/5
conforme
Julie D.
the 31/12/2018

5/5
Bon produit
More reviews...