Tots Bots
Mesh for reusable diapers, Totsbots
A layer of fun and colorful
The reasons for the Totsbots Easyfit Star Kaleidoscope are sublime. It is a layer of washable, fine and comfortable. Bamboo, it is very absorbent. It contains an insert stitched to the layer. The insert folds in the pocket of the coat. Latest version of the brand's scottish, the Easyfit Star V5 does not have seams on the thighs. The leaks are contained. No leakage through the seams.
Your layer washable TE1 Easyfit V5 Star
Its strengths
easy to use thanks to its hook and loop fasteners
as practical as a disposable diaper
very fine, discreet under clothing
very powerful and engrossing as made of bamboo.
It has :
wide elastic at the back and on the legs : do not mark the baby's skin
seams new generation : no leak warranty
pieces of velcro, which enable you to adjust the diaper for a perfect adjustment
a system of pressure on the front : allows you to change the height of the layer for high scalability.
A layer in a scalable
The Easyfit Star Totsbots is scalable. You don't need to buy different sizes of diaper when the baby grows : it is suitable from birth to cleanliness (from 3.5 to 15kg).
You can use the TE1 Easyfit Star as early as 3.5 kg. For small babies or premature infants below 3.5 kg to use diapers Totsbots special new-born as the Teenyfit.
A layer is highly absorbent
Your coat is machine Easyfit Star is made of bamboo. It is the fiber more absorbent. It has an insert sewn in bamboo.
When baby gets older and wets more of its layers, you can add a booster in bamboo. He slides it into the pocket of the coat.
A layer of ultra fine
Your layer washable TE1 Easyfit Star V5 is thinner than the previous generation, the V4.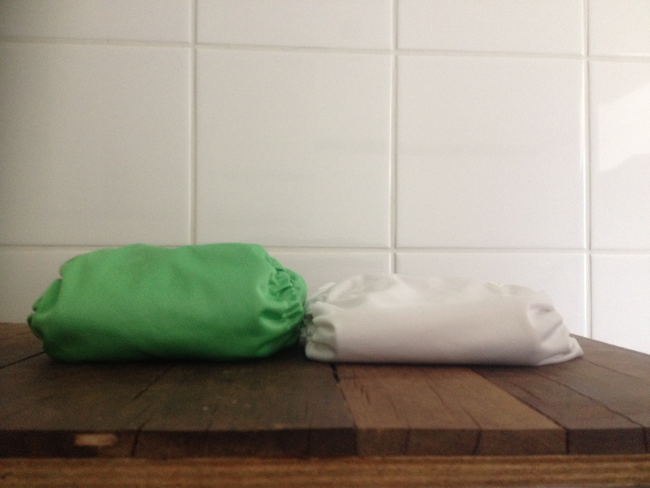 On the right the V5 Easyfit Star finer than the V4
A perfect fit
Closures, velcro fastening allow a perfect fit. The layer Easyfit Star V5 is suitable for all morphologies of the baby.
A layer safe
Your coat is machine Easyfit Star is certified Oekotex 100.
Composition of your Easyfit Star
Outside
PUL (polyester) waterproof and breathable. It is a soft fabric and stretch.
Inside
Sponge bamboo (45% viscose from bamboo, 43% polyester, 12% polypropylene).
Maintenance tips
Dry storage in a pail until the next laundry
Wash at 40°
Dryer highly recommended not to risk damaging the PUL layer
Use a detergent for cloth diapers, non-encrassante for your layers.
Avis des clients (6 Avis)
Bien, mais dommage qu'il ne se serre pas plus. En machine, le linge arrive à resortir.
Anonymous A.
- 05/01/2020
Le filet n'a pas de lien pour le fermer je suis déçue
Be the first to ask a question about this product!