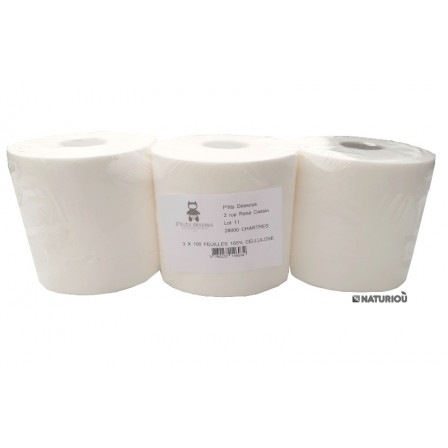 View larger
Lot of 3 rolls of protective paper layer washable P'tits Below
P'tits Dessous
3214693
No reward points for this product.
Your order delivered within 2 to 4 days
Data sheet
Label
Oekotex 100
Material
Polyester
Product Reviews
Number of Reviews :

9

Average Grade : 4.2 /5
Audrey T.
the 16/10/2019

5/5
Je l'utilise à chaque fois et j'approuve ! Il absorbe bien !
Audrey T.
the 17/08/2019

5/5
Je l'utilise souvent pour mon fils. Il a été en rupture de stock à un moment donné, s'est pourquoi je fais le plein au cas où !
Audrey T.
the 05/06/2019

4/5
Le produit est comme dit dans l'annonce. Texture un peu rêche mais large, parfait pour bien épouser la protection.
Pauline D.
the 25/01/2019

4/5
Pas encore utilisé
Elsa D.
the 16/08/2018

1/5
Pas terrible
Anne-Sophie S.
the 20/04/2018

5/5
Très bon produit, bon rapport qualité/prix
Andrea B.
the 15/04/2018

5/5
Excellent, papier épais et largeur parfaite pour nos couche
Anonymous A.
the 30/01/2018

5/5
Produit conforme à la description, impeccable !
Anonymous A.
the 14/12/2017

4/5
J'ai laissé un commentaire sur le site, je trouve le papier un peu trop effet carton ! Une matière plus douce et plus souple m'aurait plus convenue. Sinon, la taille est bien et le papier joue son rôle de protection.
More reviews...