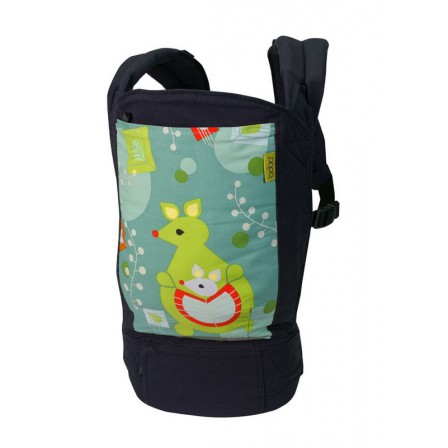 View larger
Boba 4G Baby carrier Kangaroo
Boba
8000602
Boba 4G Tweet : change in design
The new Boba 4G Tweet is more refined as it has lost its brown band and the Boba logo is smaller (see first 4 photos).
The 4G Tweet Kangaroo is much more comfortable for newborns thanks to its two-position infant insert. The Boba 4G Tweet ergonomic baby carrier perfectly follows the growth of your baby.
The hood has been redesigned. It is attached diagonally for better head support. Improved foot straps ensure better leg positioning.
The Tweet pattern is the best seller at Boba.
By buying this product you can collect up to 6 loyalty points. Your cart will total 6 points that can be converted into a voucher of 2,70 €.
Your order delivered within 2 to 4 days
Boba 4G Tweet baby carrier: new version
The design of the Boba 4G Tweet ergonomic baby carrier has been revisited. It is more ventilated as the brown band on the body has been replaced with the Tweet pattern. A small, more discreet label allows you to see the Boba logo. We think this new version of the Boba Tweet is a success!
Compare: The first four photos are of the new Boba 4G tweet. The last are of the old Boba 4G tweet.
The new Boba 4G Tweet in 3 points:
For babies from

3.5 to 20 kg

(birth to approximately 3-4 years): it has a 3-step progression
Innovations that will change your life.
For all baby wearers from 1.5 m to 1.9 m, as easy to install as a backpack.
This progressive baby carrier follows your baby in 3 steps
The Boba 4G can be used from birth to 3 or 4 years of age (20 kg).
Step 1: Boba from birth to 7 kg
Use the infant insert to place your baby in the fetal position. This is the best position for your baby up to approximately 4 months of age to help him feel comfortable and be carried in an ergonomic position. The baby is worn on the front only.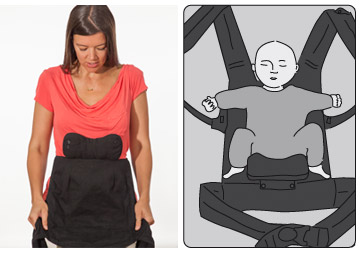 Step 2: from 7 to 10-12 kg (from 4 months of age)
The baby is worn in the front-inward position. The insert holds the baby in a natural frog-leg seated position to hold the hips and legs ergonomically.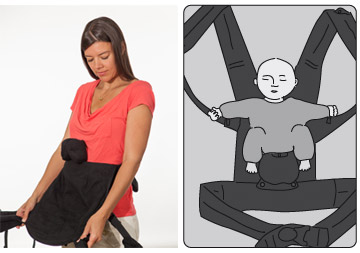 Step 3: from 10-12 kg to 20 kg
From approximately 10 kg, the infant insert is removed and the hood can support the head. It protects your baby from the sun or rain. The baby's legs are supported with foot straps that are practical for long walks. You can now wear your baby on your back.
Improvements of the Boba 4g Tweet
The Boba 4G baby carrier has a few improvements over the 3G version:
a wider seat for more comfort
side straps that are more easily adjustable as they slide towards the bottom
the Boba 4G straps are padded over a longer length
A baby carrier for anyone anytime
A stroller isn't practical in certain situations: country roads, busy sidewalks, grocery shopping, etc. Arms get tired holding baby and are needed for other things. With a baby carrier such as the Boba 4G, your child accompanies you while snuggled close. Whether you are Mum or Dad, you won't have to leave your baby. It is a secret weapon for calming baby and lulling her to sleep. And for hiking, you don't need to look any further: the Boba 4G is one of the best baby carriers for long walks.
Features of your baby carrier
100% cotton
weight: 500 g
one removable hood, adjustable depending on the age of the baby
3 storage pockets (including two with zipper)
New features of the Boba baby carrier in video
New Boba 4G baby carrier with infant insert
Data sheet
Kind of Baby Carriers
Full Buckle
Material
100 % Cotton
Made in
Asia
Recommended baby age
0 - 4 years
Baby's weight
3,2 à 20 kg
Carrying positions
Front & Back
Shoulder straps measurement
51 - 102 cm
Waistbelt measures
63 - 147 cm
Main advantage
footstrap
Warranty
2 years
Weight
645 g
Product Reviews
Number of Reviews :

65

Average Grade : 4.7 /5
CELIA M.
the 11/12/2018

5/5
Super porte bébé physiologique. Très beaux motifs. Je suis ravie
Françoise B.
the 08/08/2018

5/5
Produit conforme à mes attentes.
Camille T.
the 03/08/2018

5/5
Juste parfait Je recommande
Delphine V.
the 17/03/2018

4/5
Porte-bébé très jolie. Notre fille se sent bien dedans. Pour moi qui suis petite, il est un peu grand mais, pour le papa, il est parfait
Mathilde L.
the 05/03/2018

5/5
Très bon porte bébé. Facile à prendre en main, léger et très beau!!
Mélanie B.
the 20/01/2018

5/5
ravie ne va pas contre nature s'adapte au corps de bébé
Aurelie V.
the 28/12/2017

5/5
Très bonne qualité du boba 4g
Geraldine T.
the 20/11/2017

4/5
reflète bien la description sur le site
Christine B.
the 08/08/2017

4/5
pas encore servi: cadeau
Angélique B.
the 06/08/2017

5/5
Excellent produit ! Je recommande !
Isabelle F.
the 30/07/2017

4/5
De bonne qualité. Bien pensé. Quelques bémols (tête et sous bras) qui n'influencent pas mon choix d'achat.
Capucine L.
the 29/07/2017

5/5
Tout simplement génial !Hyper simple d'utilisation, bébé (1an) adore
Emeline D.
the 21/07/2017

5/5
Porte bébé physiologique boba 4g, génial, regrette juste de ne pas l'avoir commandé avant!!
Elodie M.
the 06/07/2017

4/5
J'aimerai pouvoir plus serrer les sangles au niveau des épaules.
Audrey R.
the 06/07/2017

5/5
Ce porte bébé est vraiment très bien mon fils étant un gros bebe mon dos est soulagé
Vincent G.
the 21/06/2017

5/5
Pour l'instant nous ne l'avons pas encore bien testé, mais bébé s'est endormi dedans facilement au 2eme essayage. Le produit respire la qualité et il est très confortable.
Cindy B.
the 24/05/2017

5/5
Confortable et pratique
Marine S.
the 13/04/2017

5/5
Il est vraiment trop .. pas de mal de dos rien.. Ça change la vie.
Justine G.
the 08/02/2017

5/5
satisfait de mon produit
Stéphanie C.
the 10/01/2017

5/5
très confortable
Estelle A.
the 08/12/2016

5/5
J'adore et ma fille aussi...
Perrine S.
the 20/10/2016

5/5
C'est mon premier porte bébé et j'en suis raide dingue!
Virginie T.
the 09/10/2016

4/5
Très bon article. Je regrette que l'attache du haut ne coulisse pas plus facilement pour un meilleur maintien du dos.
Sabrina P.
the 10/08/2016

5/5
Super porte bébéTres agréable de porter bebe malgré ses 8kg a 4 mois je ne sens pas du tout le poids du bebe ! Tres facile d'installation et bébé sy sent super ben.
Laurence C.
the 26/07/2016

5/5
Conforme à mes attentes
Sandra S.
the 22/07/2016

5/5
Très belle qualité et très confortable pour le porteur.
Claire M.
the 13/07/2016

4/5
Bébé 7 kg et déjà la sensation qu'il est trop lourd pour mes épaules...
RAJAE S.
the 12/07/2016

5/5
Produit conforme à la description, bien emballé dans le carton avec notice. Conforme aux attentes, Top !
Stéphanie P.
the 05/07/2016

5/5
J adore
Lucile T.
the 07/06/2016

4/5
semble bien à voir à l'usage
Marion B.
the 17/05/2016

5/5
Parfait pour les déplacements du quotidien tant pour papa qui est grand que pour maman qui est petite et bébé semble conquis
Melanie N.
the 19/04/2016

5/5
Pour un bébé qui adore être porté, c'est le top, j'ai trouvé ce qu'il me fallait!!!Ma puce de 12 mois adore!
Aline R.
the 31/03/2016

5/5
manque encore un peu de pratique mais très bon produit.
Sophie S.
the 15/01/2016

5/5
Produit identique a mes attentes
Olivier B.
the 08/12/2015

5/5
Très bien
Dominique A.
the 08/12/2015

5/5
bon produit, fidèle à la description
Déborah P.
the 20/10/2015

5/5
connu et reconnu, le boba 4G est pur moi le meilleur porte bébé physiologique. l'insert nouveau né est un vrai plus si on veut s'en servir rapidement. Super confortable, il permet de porter des bambins plusieurs heures sans problème
Laura K.
the 01/10/2015

4/5
Super en porte bébé dorsal pour mon fils de 1an (pas de douleurs) mais moyen en ventral avec celui d'un mois
Adeline C.
the 29/09/2015

4/5
Très rapide pour installer bébé, facile à ajuster à toutes les corpulence (porteur et porté), confortable, bébé y fait de bonnes siestes et maman voit son marathon quotidien facilité!
Audrey T.
the 15/09/2015

5/5
Conforme à mes attentes.Très bonne qualité.
Mathilde N.
the 12/09/2015

4/5
Un porte bébé très pratique mais un peu cher
Alice O.
the 20/08/2015

5/5
pratique... et beau !
Aurélie G.
the 19/08/2015

5/5
produit formidable
Helene L.
the 18/08/2015

5/5
Super produit
Manuela A.
the 07/08/2015

5/5
Utilisé pour le moment avec ma 'grande' de 4 ans et 15kg par le papa et moi même et très satisfaits tous les deux. Très beau produit et très facile d'utilisation. A tester maintenant avec le futur membre de la famille prévu en fin d'année.
Coralie L.
the 08/07/2015

5/5
Très bonne qualité, très esthétique. Bébé l'adore et maman ne le quitte plus!
MAGALI M.
the 30/06/2015

4/5
Très bon produit. Les lanières de serrage ne sont pas toujours bien accessibles quand bébé est installé
Agnes H.
the 09/06/2015

4/5
Très bien! Je pense que ça sera peut être un peu chaud (bien pour l hiver moins pour l'été)
Elodie B.
the 26/05/2015

5/5
j'ai bien reçu et j'en suis très contente par contre la boite abimée, mais heureusement mon boba n'a rien eu ouf !!!! merci
Aline R.
the 19/05/2015

5/5
Envoi rapide et soigné. Produit de bonne qualité. Très satisfait.
Charlyne V.
the 13/05/2015

4/5
Il est dommage de ne pas porter bébé dans le sens de la marche. Mon fils à six mois et c'est un âge où on aime regarder devant ! Peut-être que vous pourriez créer un dossier matelassé à attacher avec des pressions sur les côté du porte bébé qui se trouverait entre notre ventre et le dos de bébé ? Une pièce à ajouter en plus et qui aurait un coût bien entendu.
Charlotte S.
the 25/03/2015

5/5
Super rapide la livraisonSuper produit ma fille adore et moi aussi
Aurore B.
the 14/03/2015

5/5
Simple d'utilisation, je recommande !
Julie B.
the 11/03/2015

5/5
Porte-bébé très pratique et facile à mettre en place. Moi qui n'était pas très à l'aise avec les écharpes de portages ou les slings, je suis très satisfaite !
Thierry E.
the 10/03/2015

5/5
Très bien avec les protections des bretelles ..
Marine C.
the 19/02/2015

4/5
Bébé ne fait pas 7 kg encore et n'est pas à l'aise...
› Comment from Naturiou the 19/02/2015
Bonjour,N'hésitez pas nous contacter par téléphone si vous souhaitez que l'on regarde ensemble la position de bébé. Il devrait se sentir à l'aise avec le réducteur, même si la position optimale est vers 3 ou 4 mois quand il sort les jambes.Frédérique
Aurélien C.
the 13/02/2015

5/5
Plus pratique qu'une echarpe de portage!!
Mélanie S.
the 01/02/2015

5/5
Très satisfaite de ma commande. Reçue très rapidement ! Je recommande.
Segolene B.
the 20/11/2014

4/5
tres pratique
Julie B.
the 18/11/2014

4/5
Bien noté , je recommande
Mathilde H.
the 17/11/2014

5/5
Excellent porte-bébé. Nous le quittons plus !Changement de réglage très facile pour passer du papa à la maman.
Jousse V.
the 17/11/2014

5/5
bien
Stephanie M.
the 17/11/2014

4/5
super porte bébé. Pratique très beau. Seul bémol, l'attache de la sangle transversale fait un peu mal pour un porté dos. Il ne faut pas trop tendre.
Mélanie T.
the 17/11/2014

5/5
très joli produit. Le kangourou est adorable
Marianne M.
the 17/11/2014

5/5
Parfait
More reviews...