View larger
Boba 4 baby carrier Slate
Boba
8000612
Boba 4G Tweet : change in design
The new Boba 4G Tweet is more refined as it has lost its brown band and the Boba logo is smaller (see first 4 photos).
The 4G Tweet Kangaroo is much more comfortable for newborns thanks to its two-position infant insert. The Boba 4G Tweet ergonomic baby carrier perfectly follows the growth of your baby.
The hood has been redesigned. It is attached diagonally for better head support. Improved foot straps ensure better leg positioning.
The Tweet pattern is the best seller at Boba.
By buying this product you can collect up to 6 loyalty points. Your cart will total 6 points that can be converted into a voucher of 2,70 €.
Your order delivered within 2 to 4 days
Boba 4G Tweet baby carrier: new version
The design of the Boba 4G Tweet ergonomic baby carrier has been revisited. It is more ventilated as the brown band on the body has been replaced with the Tweet pattern. A small, more discreet label allows you to see the Boba logo. We think this new version of the Boba Tweet is a success!
Compare: The first four photos are of the new Boba 4G tweet. The last are of the old Boba 4G tweet.
The new Boba 4G Tweet in 3 points:
For babies from

3.5 to 20 kg

(birth to approximately 3-4 years): it has a 3-step progression
Innovations that will change your life.
For all baby wearers from 1.5 m to 1.9 m, as easy to install as a backpack.
This progressive baby carrier follows your baby in 3 steps
The Boba 4G can be used from birth to 3 or 4 years of age (20 kg).
Step 1: Boba from birth to 7 kg
Use the infant insert to place your baby in the fetal position. This is the best position for your baby up to approximately 4 months of age to help him feel comfortable and be carried in an ergonomic position. The baby is worn on the front only.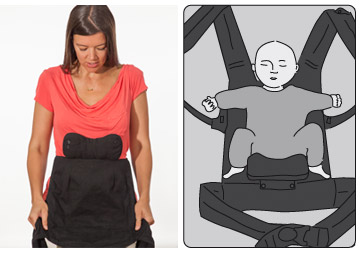 Step 2: from 7 to 10-12 kg (from 4 months of age)
The baby is worn in the front-inward position. The insert holds the baby in a natural frog-leg seated position to hold the hips and legs ergonomically.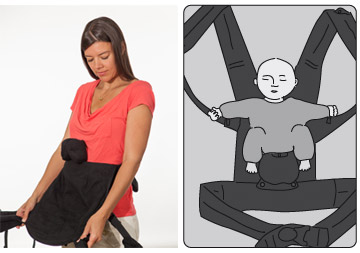 Step 3: from 10-12 kg to 20 kg
From approximately 10 kg, the infant insert is removed and the hood can support the head. It protects your baby from the sun or rain. The baby's legs are supported with foot straps that are practical for long walks. You can now wear your baby on your back.
Improvements of the Boba 4g Tweet
The Boba 4G baby carrier has a few improvements over the 3G version:
a wider seat for more comfort
side straps that are more easily adjustable as they slide towards the bottom
the Boba 4G straps are padded over a longer length
A baby carrier for anyone anytime
A stroller isn't practical in certain situations: country roads, busy sidewalks, grocery shopping, etc. Arms get tired holding baby and are needed for other things. With a baby carrier such as the Boba 4G, your child accompanies you while snuggled close. Whether you are Mum or Dad, you won't have to leave your baby. It is a secret weapon for calming baby and lulling her to sleep. And for hiking, you don't need to look any further: the Boba 4G is one of the best baby carriers for long walks.
Features of your baby carrier
100% cotton
weight: 500 g
one removable hood, adjustable depending on the age of the baby
3 storage pockets (including two with zipper)
New features of the Boba baby carrier in video
New Boba 4G baby carrier with infant insert
Data sheet
Kind of Baby Carriers
Full Buckle
Made in
Asia
Material
100 % Cotton
Recommended baby age
0 - 4 years
Baby's weight
3,2 à 20 kg
Carrying positions
Front & Back
Shoulder straps measurement
51 - 102 cm
Waistbelt measures
63 - 147 cm
Main advantage
footstrap
Warranty
2 years
Weight
645 g
Product Reviews
Number of Reviews :

57

Average Grade : 4.7 /5
Marie C.
the 19/05/2019

4/5
Pas évident à utiliser quand on est seul. Mais il est top
Claire C.
the 19/01/2019

5/5
Produit léger, facile d'utilisation et très pratique notamment pour les bébés grâce à l'insert pour nouveau né.
MAXIME R.
the 11/01/2019

4/5
Très fonctionnel et pratique
Andréa J.
the 31/12/2018

5/5
Bon rapport qualité/prix
Wilson T.
the 21/10/2018

5/5
Top !
VIRGINIE G.
the 08/10/2018

5/5
Super
Prescilla W.
the 02/10/2018

5/5
Très bon produit. Facile d'utilisation et résistant.
David B.
the 01/08/2018

5/5
Ce produit est digne de sa réputation ! Sans doute le meilleur porte bébé du marché.
Roxane D.
the 11/07/2018

5/5
Superbe porte bébé ! Confortable!
Celine D.
the 19/06/2018

4/5
Encore peu utilisé mais paraît de très bonne qualité et simple à enfiler
Alice G.
the 30/05/2018

3/5
Le produit en lui-même est vraiment bien pensé, je suis très satisfaite du design et de la conception même du produit. Cependant gros problème sur la qualité de teinture du tissu. J'ai pu constaté beaucoup de traces d'usure (marques blanches) lors du déballage du produit de son carton. C'est un défaut vraiment dommageable pour un produit de cette gamme
Faustine B.
the 19/03/2018

5/5
Très bon porte bébé, je n'ai pas l'impression de porter ma pitchoune tellement le poids est bien réparti
Aurelia B.
the 10/03/2018

3/5
Il fait son travail de porte bébé, très ergonomique, soulage le dos, pratique, mais sur la photo il est bien noir alors qu'en réalité il est gris antracite (on pourra discuter longtemps sur la couleur exacte) et attrape toutes les poussières et cheni en tout genre. Au vu du prix et des avis, je m'attendais à beaucoup mieux quand même. Il serait parfait de revoir le tissu pour les prochains modèles car cela fait cracra... ou alors il faudrait le laver apres Chaque utilisation et attendre qu'il sèche pour s'en servir à nouveau.
Anne Z.
the 07/03/2018

5/5
coton épais de qualité, facilité d'utilisation et confort
Marie P.
the 02/02/2018

5/5
Porte bébé pratique et agréable à porter. Les fixations dorsale et dans le coup permettent d'être bien maintenue et de ne pas sentir le poids de bébé
Marjorie M.
the 27/01/2018

4/5
C'est un super achat , il est léger est confortable pour mon bébé et moi . Le seul petit bémol ( tout petit ) c'est qu'il faut le coup de main et de la pratique pour mettre bebe dedans au début.
Aurélie L.
the 20/01/2018

4/5
L'ergonomie est super. Bébé a l'air très confortable. Le tissu par contre attrape les poussières. J'ai cependant des amies qui ont d'autres marques bien connues et le même problème.
Sarah V.
the 17/01/2018

5/5
De bonne qualité tout en étant très simple, sobre et pratique.
Ingrid P.
the 24/10/2017

5/5
Bonne qualité pas encore essayé
Ester G.
the 16/10/2017

5/5
très bonne qualité, bébé (4mois et demie) aime beaucoup être dedans
Dominique V.
the 04/10/2017

5/5
tres bien
Hafssa M.
the 26/09/2017

4/5
La qualité est au rendez-vous. Le réducteur pour 'ouveau-né est top et ingénieux. Mais je n'ai pas aimé la couleur slate et son seul defaut est qu'il est impossible de croiser les bretelles. J'ai donc renvoye le produit et préférê le manduca.
Sandra S.
the 25/08/2017

5/5
Super produit. Confortable, il s'adapte à nos différents gabarits. Et surtout plus rapide à mettre qu'une écharpe. Bébé (2mois) s'endort très rapide et plus longtemps que sur un autre support.
Lauriane D.
the 13/08/2017

5/5
Correspond parfaitement à mes attentes. Produit de qualité, identique à la photo.
Emmanuelle M.
the 09/08/2017

5/5
Porte bébé facile à mettre seul, qui maintien bien bébé et a une bonne ceinture afin d'alleger le poids du bébé sur le bas du dos. Je recommande.
Virginie B.
the 08/08/2017

4/5
Pas encore trop utilisé mais première promenade au top, bébé est bien installée et pas de tension dans le dos.
Donovan L.
the 14/07/2017

5/5
Super
Charline L.
the 19/06/2017

5/5
Cadeaux pour des nouveaux parents, ravis de leur nouvelle acquisition.
Noémie F.
the 28/03/2017

5/5
Ce porte bébé est confortable pour le bébé et le porteur.
Anne-France H.
the 28/03/2017

5/5
joli, léger, solide et confortable
Vanessa M.
the 25/03/2017

5/5
Très pratique Sobre
Anne-Laure N.
the 16/03/2017

4/5
pas encore utilisé
Gaelle P.
the 11/02/2017

5/5
Parfait :)
Aurélie R.
the 10/02/2017

5/5
Porte bébé physio génial, très pratique et adapté à mon bébé de 6 mois
AURELIE F.
the 16/11/2016

5/5
très bien
CORALIE G.
the 15/09/2016

5/5
pas de commentaires
Alice R.
the 30/08/2016

5/5
Produit au top, facile d'utilisation. Ma fille de 9 mois a quitté l'écharpe pour ce porte-bébé avec bonheur et moi aussi! Très facile d'utilisation!
Raphaelle G.
the 22/07/2016

4/5
conforme à la description
Anonymous A.
the 22/07/2016

4/5
conforme à mes attentes. Bébé est bien positionné à 15 jours !
Glénic B.
the 21/07/2016

4/5
Très bien pour notre BB de 3 mois juste testé rapidement avec notre grand de 3 ans mais il a l'air très bien...
Juliette F.
the 17/05/2016

5/5
Léger, sobre confortable, nous sommes très contents de notre achat, bébé de 6 mois qui commençait à trop gigoter en écharpe, il semble lui aussi très à l'aise dedans !
Morgan B.
the 05/05/2016

5/5
Porte bébé vraiment superMon fils se sent bien dedans et s'y endort très facilement.Facile à enfiler et y installer le petit meme seule !
Elodie G.
the 15/04/2016

5/5
Aussi tôt acheté aussitôt adopté. Adepte de l écharpe depuis bb 2, bb3 bougeait trop. A 8 mois je peux continuer à porter bébé et ce en toute légèreté, suite à balade de plusieurs heures en WE. C est sûr cet été il sera dans la valise.
Mandy L.
the 24/03/2016

4/5
Conforme au descriptif bebe étant en chemin le produit n'a pas pu encore être testé
Virginie L.
the 15/02/2016

5/5
Très bien
Alexia G.
the 06/01/2016

5/5
Je recommande
Anonymous A.
the 29/10/2015

5/5
Conforme à mes attentes
Emilie G.
the 20/10/2015

5/5
Le porte bébé de mes rêves... Dorsal ou ventral, mon bébé de 18 mois et presque 12 kilos y est comme un roi, nous avons retrouvé le contact bébé/maman lui qui n'est pas du tout câlin, il apprecie de plus en plus e portage et moi aussi
Anonymous A.
the 25/08/2015

5/5
Bon porte-bébé, réglages simples et portage très confort. Je peux emmener mon fils de 6 semaines en balade grâce au réducteur intégré spécial nourissons, il s'endort dedans tout de suite tellement il est bien! J'utilise en complément une écharpe de portage à la maison plus confortable pour les tout petits mais je sais que ce porte-bébé durera longtemps. Je suis satisfaite de cet achat.
Anonymous A.
the 23/07/2015

5/5
Commandé parfaite
Anonymous A.
the 30/04/2015

5/5
Parfait, exactement ce que je voulais, il ne fait pas du tout mal au dos, il est facile d utilisation, et adapté a mon nourisson de 1 mois Très bieb
Anonymous A.
the 19/04/2015

5/5
Un régal pour les parents et bébé !
Audrey M.
the 27/03/2015

5/5
Très bien, facile d'utilisation et conforme à mes attentes.
Laurent H.
the 28/12/2014

5/5
Rien à signaler
Pauline B.
the 19/11/2014

5/5
Excellent produit, je suis très contente de cet achat. Je le trouve très ergonomique et pratique à installer. De plus il ne prend pas beaucoup de place. Mon fils a l'air de beaucoup apprécier aussi. Je ne ressens aucun mal de dos en le portant : je le porte encore sur le ventre et il pèse 9kg. C'est un porte-bébé très bien pensé pour celui qui porte et celui qui est porté, très agréable pour tous les deux. Les astuces de capuche et d'étriers sont également appréciables.
Charlotte C.
the 17/11/2014

4/5
Produit conforme à mes attentes. Bonne qualité
More reviews...