Boba Wrap
Boba Wrap Serenity Bambou Bloom
Bobawrap Bamboo, his secret, a composition innovative
Boba's is an american brand, innovative. She proves again and pulls out a new composition for its wrap Bobawrap Bamboo :
66.5% bamboo
28.5% cotton
5 % elastane.
The bamboo brings an absolute support and incredible softness to your scarf. Ideal during the summer, the Bobawrap bamboo remains cool. The port becomes a magical time in close contact with your baby. Touch "peach skin" of your stretch wrap Boba is very nice. For a portage while tenderness!
The Bobawrap to wear from birth
With your wrap Bobawrap Bamboo, you can wear your baby from the beginning of his life. At the maternity ward, it allows you to make the "skin to skin" with your child. You carry the baby against you in order to get acquainted in an atmosphere that is serene and soft.
A physiological position respected for your baby
Your wrap Boba Wrap Bamboo Nile green allows you to wear it in a position that is healthy and respectful to the body of your baby. In fact, your baby is installed in the position called "the frog (a"spread-squat" in English) :
his legs are folded
his knees are higher than the buttocks
his back is well-rounded
his pelvis is slightly anteverted.
This position is validated by the'International Institute of Dysplasia of the Hip.
With your Boba Wrap Bamboo, you wear in 3 different positions : tummy, back and hips.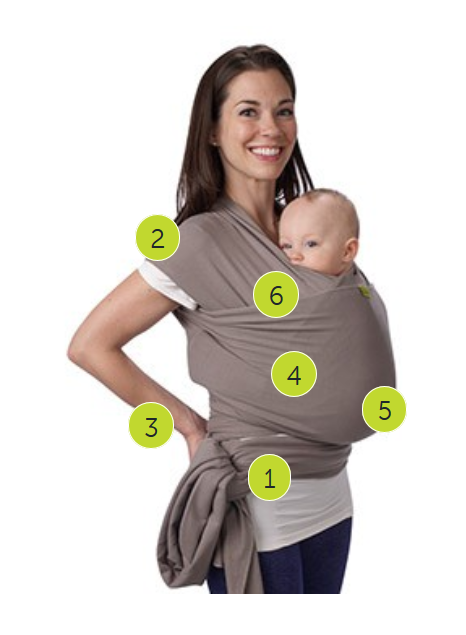 The Boba Wrap

envelope

perfectly the babies even smaller, like a cocoon.
Allows

free hands

and enjoy the baby at the same time.
Participates in the

development

of the baby and respects his or her physiology.
The Bobawrap remains flexible and does not deform.

No effect of sag

.
Scarf

easy-to-use

: a single-node base!
Can effect sweating : the cotton

leaves to breathe

your skin. The bamboo brings freshness.
Allows you to breastfeed discreetly.
Maintenance and cleaning
Wash at 40 or 60°.
Dryer possible, but from time to time, to extend the duration of vire of your scarf.
Tie your scarf Boba
Wear your baby with your sling Boba Bamboo Nile green

To carry a child with the scarf of portage boba... by Naturiou

Remove your baby from your wrap BobaWrap Nile green
Characteristics
Minimum age

- birth

Recommended baby age

- 0 - 18 months

Carrying positions

- Front

Kind of Baby Carriers

- Strechy wrap

Made in

- Asia

Warranty

- 2 years

Length

- 5 m

Width

- 50cm

Weight

- 610g

Material

- Bambou
Avis des clients (4 Avis)
Écharpe de portage Boba wrap rose poudrè, très douce effet peau de pêche. Légère à porter et très bon soutient pour bébé je recommande fortement
Pas encore utilisé mais conforme à ce qui est décrit , hâte d'essayer
Bonjour N'est elle pas trop chaude pour l'été ?
Bonjour,
La Boba Wrap Serinity Bloom contient du bambou, ce qui la rend plus respirante qu'une écharpe contenant que du coton. C'est idéal pour l'été.
Bonne journée à vous.