Buzzidil porte-bébés
Buzzidil Baby carrier Versatile Babysize Affenband
Buzzidil Versatil Babysize affenband: 0 to 18 months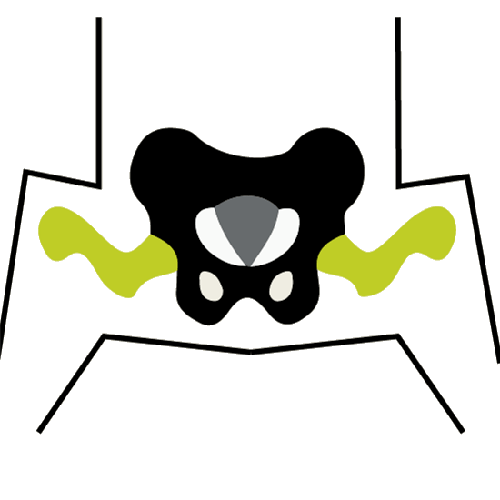 The Babysize is the Buzzidil the smallest of the austrian brand. It is perfectly suited to carry children from birth. Indeed, the apron (piece of cloth that supports the baby's back) can be reduced; The seat can also reduce through the cords of adjustment. This is the strong point of Buzzidil because decreasing the size of the baby carrier that you avoid taking away too much of the baby's legs. It is indeed necessary to wait about 4 months for the flexibility of the joints allows a port in the physiological position of the so-called M or the frog. From this age onwards, you will be able to loosen the cords so that the pool of baby departs naturally.
The Buzzidil Versatil ,it is also an innovation, because by rolling the apron you will be able to make a small booster seat or Hipseat.
Your Versatile: two carrying systems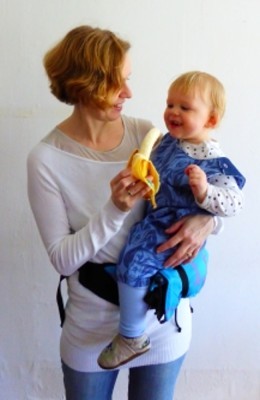 The Buzzidil Versatile folds in on itself to become the headquarters of hip or HipSeat. This is a genuine innovation : you have two possible uses with your versatil:
In portage, the long, to leave, to walk, you use your Buzzidil Versatile as a preformed traditional : braces clipped, deck in the back of your baby.
Carrying extra, for your baby from 6-8 months, you can just sit on this little seat and keep a hand on his back. Ideal for toddlers who want to constantly move up and down, for a hug or to go out for a few minutes while relieving your back. The Buzzidil Versatile, two baby carriers in one! It is recommended to use the Seat from 6 months or 8 months.
As an option, you can add on the straps of the belt a small bag. This bag allows you to store your laptop, keys, coat, toy, and taste..
Video of the Buzzidil versatil to make the booster seat.
As shown in the video below, it is very simple to make a booster seat or Hipseat with the new Buzzidil.
The secret of the versatil strapless ultra-adjustable
By looking at the photo below, one understands the secret of Buzzidil: The straps shoulder straps are elongated and touching the deck. The strap of the seat belt stretches across the whole length of the belt. This change allows you to shorten up these components, which offers two huge advantages:
The Buzzidil versatil is suitable for all carriers, even the smallest
The versatil allows the creation of a seat for the portage booster.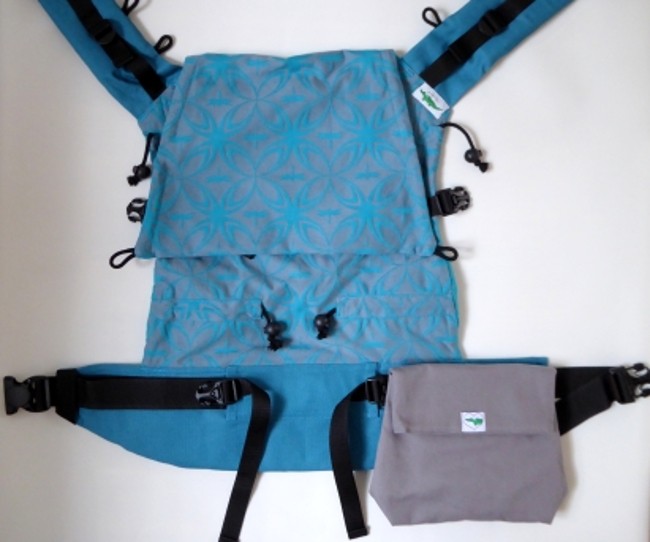 Photo of the Buzzidil versatil (bag optional)
Kind of Baby Carriers

- Full Buckle

Material

- 100 % Cotton

Minimum age

- birth

Made in

- Austria

Label

- Gots

Recommended baby age

- 0 - 18 months

Baby's weight

- 3,5 to 15 kg approx.

Carrying positions

- Front, Back, Hip and Hipseat

Shoulder straps measurement

- 45 - 102 cm

Waistbelt measures

- 60 - 135 cm

Main advantage

- 2 in 1

Warranty

- 2 years

Weight

- 680 g

Conditions de lavage

- 30°
Questions
Be the first to ask a question about this product!