Tots Bots
Totsbots TE2 PeeNut Wheels on the Bus - Layer washable
Layer washable Totsbots Peenut Wheels on the Bus
In reference to the nursery rhyme "The wheels on the bus", the layer of machine-washable Peenut Wheels on the Bus Totsbots is proving to be an adorable creation ! Its original motives so dear to the brand scottish are known for our cloth diapers Totsbots ! But not that.
Totsbots and his cloth diapers it is :
A layer infallible on which one can rely
A layer of bamboo ultra-absorbent
An outer fabric PUL certified Oekotex 100
A layer soft and supple.
How to use the layer washable Tosbots Peenut ?
The TE2 Peenut is an easy to use day or night. Its 2 inserts sold with it, is pressionnent in the layer. They may be pressuring together or separately. Dimensions of inserts absorbent insert Peenut consists of 2 parts :
an insert lightweight (size 27 cm x 14 cm)
an insert medium (size 32 cm x 14 cm).
Thus, you modulate the absorption of your layer Peenut according to baby. You position the insert light to a new-born. For Made of bamboo, the insert Peenut absorbs the liquid and ensures no leakage. The bamboo is known for its great absorption. When changing baby, the insert is soiled can be replaced by an insert of its own. As well, the panties is used several times (2 or 3 changes).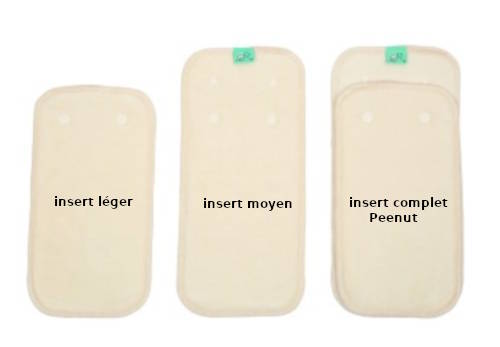 Insert machine Peenut in 2 parts
The Peenut Totsbots TE2 scalable
The TE2 Peenut Totsbots is a layer of one-size-scalable. It has on the front 2 rows of pressures. Thus, the layer folds in on itself to fit from birth to cleanliness (3.5 to 15 kg) approximately. Your baby's skin is not marked with the barriers in anti-leak of the Peenut. Smooth and reliable, the Peenut is suitable for all morphologies of the baby.
Composition of the Peenut Chatterbots
100% polyester polyurethane laminate (PUL) which is waterproof and breathable for the panties Peenut
The insert front & back is in viscose bamboo (80% viscose from bamboo, 20% polyester).
The layer Peenut Totsbots is certified Oekotex 100.
Maintenance and cleaning
Machine wash to 40°. An ingenious system of hook and loop fasteners allows you to fold the velcro fastening on themselves in order not to damage the rest of the machine. We recommend the detergent layer machine for the maintenance of your layers. About Totsbots (2017), Mother & Baby has been awarded the prize for the best layer washable Totsbots Peenut.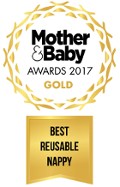 Video presentation of the Peenut
Characteristics
Minimum age

- birth

Label

- Oekotex 100

Baby's weight

- 3 à 8 kg

Made in

- Scotland

Main advantage

- Couche à scratchs évolutive

Material

- Bambou et PUL

Conditions de lavage

- 40°

Routine de lavage couches lavables

- Pas de vinaigre blanc ni bicarbonate de sodium
Be the first to ask a question about this product!