Tots Bots
Totsbots PeeNut TE2 Breeze layer washable size 1
Your layer washable TE2 PeeNut
The PeNut from Totsbots is a layer of all-in-two, that is to say, it is composed of two parts :
the panties waterproof velcro fastening allows you to adjust the layer
the party acquiring = insert bamboo.
You pressionnez the insert bamboo in the panties. When you change your baby, remove the insert is soiled and replace it with a insert clean. The insert is soiled is stored dry in a bucket of storage (sold on our site) until the next washing. As well, the panties PeeNut Totsbots can be reused several times (2 or 3 changes).
Your PeeNut for the day and the night
The panties of protection
It is PUL waterproof end and and breathable. Wide elastic at the thighs and at the back prevents leakage. The baby's skin is not marked.
The panties can also be used above a classic Bamboozle sold on our site.
The insert absorbent
The insert (part absorbent) consists of 2 different inserts in bamboo :
a insert light
an insert for a medium.
The inserts can be used separately or together to modulate the absorption.
For a new-born :
the insert light is recommended for the day (size 27 cm x 14 cm).
For the night :
Use the insert medium for the night (size 32 cm x 14 cm).
When baby grows up :
Use the 2 inserts together to increase the absorption capacity.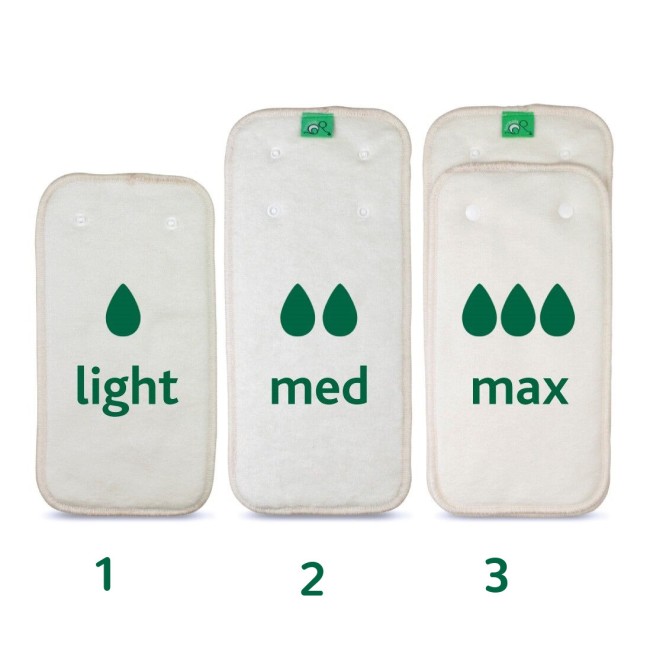 Your PeeNut : a layer of machine-washable scalable
Your PeeNut Totsbots is a layer of single size. Its 2 rows of pressure at the front allow you to change the height of the layer.
Composition of your PeeNut Totsbots
panties : 100% polyester polyurethane laminate (PUL) waterproof and breathable
insert : front & back viscose bamboo (80% viscose from bamboo, 20% polyester)
kernel-absorbent microfiber (100% polyester).
The fabrics are certified Oekotex 100.
Maintenance tips
We recommend a machine wash in 40°. The velcro fastenings are folded to the inside of the layer. The inserts can go in the dryer. On the other hand, it is strongly recommended not to move the panties to the dryer, the risk of impair the impermeability.
We recommend that you use a washing powder that will not foul the fibers in order to preserve your cloth diapers.
Manufacture : Scotland.
Video presentation of the Peenut
A small video Totsbots that shows you how to use it, simply and quickly, the Peenut!
Characteristics
Minimum age

- birth

Label

- Oekotex 100

Baby's weight

- 3 à 8 kg

Made in

- Scotland

Main advantage

- Couche à scratchs évolutive

Material

- Bambou et PUL
Be the first to ask a question about this product!