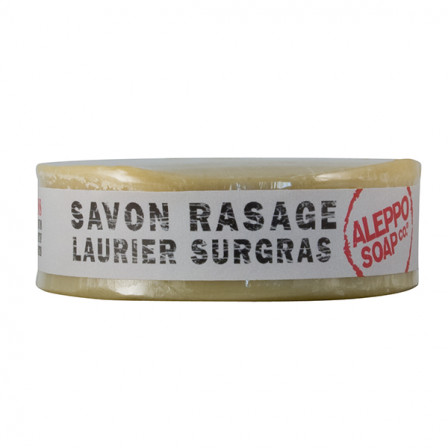 View larger
Refill soap for shaving Barber Alepsoap
Tade
ASCOPE11BIS
Refill Soap of the Barber - 100g
The charging necessary and economic for your soap shaving Tadé.
Without additive suflate and fragrance-free.
Weight: 100 g
Size: 7cmx 2.5 cm
With A base of oil of laurel.
Made in France
Delivery offered from two know
No reward points for this product.
Your order delivered within 2 to 4 days
Soap of the barber's non-perfumed and suitable for sensitive skin.
Soap of the Barber dermatologically tested.
Composed of primarily of Laurier, all other components are plant based.
The exact Composition of the soap or shaving Tadé : Aqua, sodium oleate*, sodium laurate*, sodium palmitate*, glycerin, sodium linoleate*, glycerin, sodium linoleate*, sodium stearate*, sodium linolenate*.
* Vegetable origin. Dermatologically tested .
The soap of the Barber : a mix millennium olive oil and laurel
The soap of aleppo is the origin of the hard soaps in the world.

It is elaborated exclusively with natural raw materials : olive oil, oil of bays of laurier, water, and soda natural. No fragrance, dye or preservative are added in its composition.

These ingredients are selected by Tadé, to allow a control to each stage, for traceability, and manufacturing in strict compliance with the traditions.

This soap of Aleppo is made by a master soap maker who uses an artisanal method ancestral a thousand years old, thus preserving the active compounds in plants.

A full day of saponification, heat the olive oil is done in copper cauldrons. At the end of cooking, when the dough is ready, it is added to the oil of bays of laurier in order to enrich it. At the end of the firing, the paste is spread in large cloths and cut manually.

The blocks of soap of green color, are then stored in the tower for 9 months of drying and ripening in the open air, under the arches of the soap factory and get the color green to brown depending on the quality of the drying, a sign of extreme quality.
This soap is suitable for everyone and recommended for sensitive skins
The composition exclusive of oils nobles of olive and laurel Tadé, rich in essential fatty acids, is very skin-friendly.
The softness of the olive and the purifying properties of oil of bay laurel are known for their virtues, for centuries throughout the mediterranean.

The laurel is also used in traditional medicine as wound healing, it is soothing. Those who suffer from skin problems derive great benefit. The other can wash every day with soap of Aleppo, which is very friendly to the skin, but also hair, it maintains the health. Some people do not, however, wash the hair only at the soap of Aleppo, because it does not give them shine. Those who have long hair, in particular, can alternate with a shampoo.
Weight : 100g
Made in France
This soap is produces hand-crafted, the weight may vary slightly. Ingredients and finished products are not tested on animals.