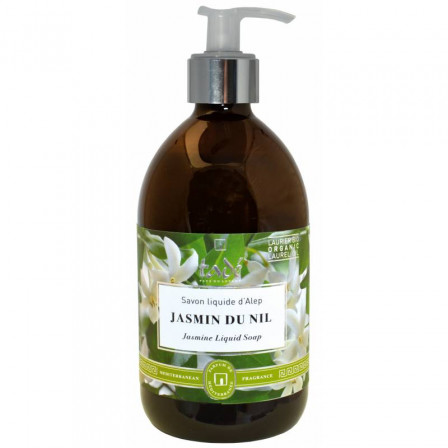 View larger
Liquid soap of Aleppo to the jasmine of the Nile Tadé
Tade
TDCOPE15
Liquid soap of Aleppo to the Jasmine of the Nile
Your liquid soap of Aleppo Tadé is fragrant of a jasmine mesmerizing. Made of olive oil and bay laurel organic, cooked in a cauldron.
Soap care, body and face.
Without sulfates.
Capacity : 500 ml.
No reward points for this product.
Your order delivered within 2 to 4 days
Soap Aleppo olive and laurel scented with jasmine
The Alep soap base of olive oil and laurel is prepared according to the traditional method of saponification cooking oils. This allows to obtain a soap rich in essential fatty acids, contained in oils nobles of olive and laurel.
The olive oil softens and nourishes the skin without drying it out or irritating it.
The oil of laurel brings the virtues of his aseptisantes and a scent stimulant tonic for the whole body.
Delicately scented with jasmine.
For all skin types
The soap of Aleppo is recommended for all types of skins, especially for the more sensitive or prone to drying out.
For the hands, face and body.
Cosmetics and care of the Steam room Tadé
Check out all the care products of the brand of Tadé Country of the Rising Sun. In the purest tradition of the care ritual in the Hammam, you will find all the know-how of master artisans-boiler.