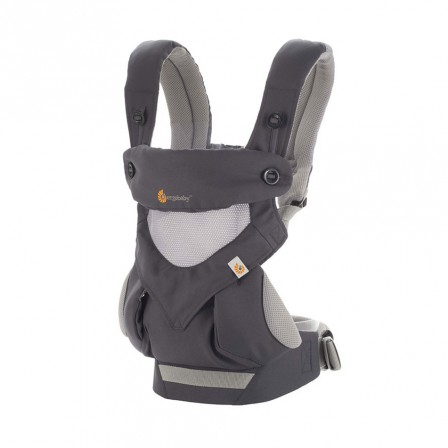 View larger
Ergobaby 360 Baby carrier All Positions Cool Mesh Air Charcoal black
Ergobaby
BC360PBLKGRY
The carrier physiological Cool Air is a Ergobaby to share : it is specially designed for hot weather with its fabric micro-ventilated area.
In fact, thanks to its breathable mesh 3D, the air circulates and allows you to limit the sweating of the baby and the wearer.
It is ideal for walks with a tropical or summer.
TheErgobaby Cool Air is suitable for children of 0 to 48 months.
Model : Ergobaby Cool Air Anthracite.
By buying this product you can collect up to 7 loyalty points. Your cart will total 7 points that can be converted into a voucher of 3,15 €.
Your order delivered within 2 to 4 days
The Ergobaby 360 Cool Air :

This system mesh also protects from the wind and cooler temperatures.As its name indicates, the baby carrier physiological Ergobaby Cool Air is ventilated fabric and breathable. It lets air. This is the only Ergobaby 360 offering this possibility. This is a huge advantage when it's hot !
In addition to the system, Cool Air, this Ergobaby takes all the strong points of the baby-carrier 360 of the mark :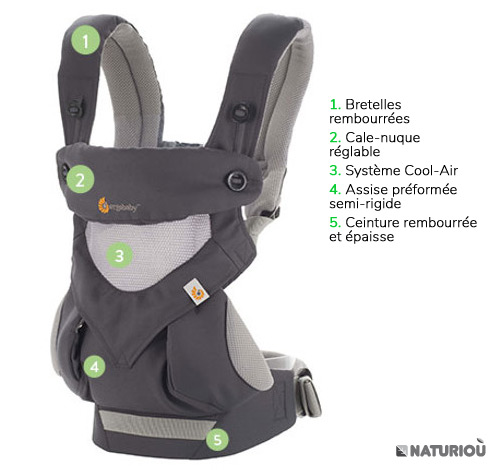 1-padded shoulder Straps
For long walks in the baby carrier without getting a sore shoulder.
2-Cale-neck adjustable
It allows to follow the evolution of baby and keeps his head and back well maintained.

3-System, Cool Air
Fabric patented breathable and ventilated specific to the Ergobaby Cool Air.

4- Seat pre-formed semi-rigid
Allows you to keep in physiological position of the legs and the back of baby in 4 positions : facing the world, and abdomen, on the side or in the back.

5-padded waist Belt and thick
The more the belt is wide and thick over the portage will be comfortable. With the Ergobaby 360, you have one of the belts the wider market. What to do hikes and walks without back pain.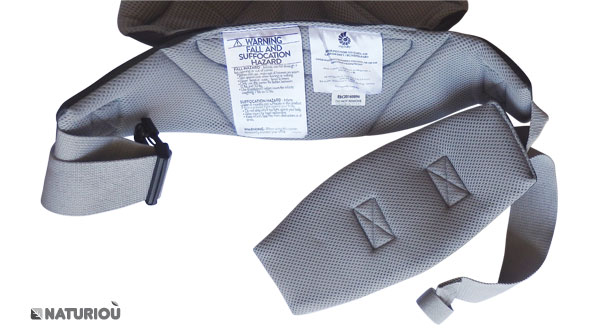 The Ergobaby 360 : 4 positions of portage
Here is in detail the 4-position of the portage of theErgobaby 360 Cool Air Anthracite :
1 - Wear your baby facing you
A position of portage, all in all a classic with a carrier preformed.
2 - Baby in the back
Perfect Position from 8 or 10 months. With your child in the back, you'll be able to walk long distances without difficulties.
3 - Baby on the side (on the hip)
A position very common and can allow breast-feeding for example.
4-Baby "face the world"
This is THE position that is open to debate. A lot of parents (and children) want to be able to wear the face of the world.
Before the baby carrier Ergobaby 360 Cool Air, it was discouraged because it did not meet the physiology of the baby.
Ergobaby seems to have found the solution thanks to its seat and semi-rigid bucket.
The baby's legs are parallel to the ground and his back slightly bent forward.

The 4 positions of the Ergobaby 360 Cool Air Anthracite
A document FAQ complete on the Ergobaby 360
Find many information and answers to your questions about the Ergo 360 in the document to download a little lower.
Data sheet
Kind of Baby Carriers
Full Buckle
Made in
Asia
Material
Polyester
Recommended baby age
4 - 48 months
Baby's weight
5.2 to 20 kg approx.
Carrying positions
Back, Hip, Front facing parent, Front facing out
Shoulder straps measurement
73 - 119 cm
Waistbelt measures
66 - 140 cm
Main advantage
most notorious
Warranty
10 years
Weight
680 g
Product Reviews
Number of Reviews :

39

Average Grade : 4.7 /5
Sophie F.
the 15/06/2020

5/5
Super, la fonction vue sur le monde est génial bébé adore! Dans l'autre sens il s'endort! Nous avons vraiment l'impression qu il est bien installé!
Lucie W.
the 15/05/2020

4/5
Très bien mais j'ai serré les sangles au maximum et c'est encore un peu grand pour moi. (Pourtant je mesure 1.57m ) Se découd sur le devant après 3 jours d'utilisation... Sinon très ergonomique pour bébé de 6 mois qui a déjà profité des positions face au monde, face à moi et à dos. Le poids est très bien réparti ce qui est très confortable pour le dos du porteur! Déjà testé dur une randonnée de 10 km. Je ne regrette pas l'écharpe de portage avec laquelle je n'aurai jamais marché autant tant pour mon dos que pour bébé. Lui a bien profité pour observer la nature et dormir. Facile et rapide à installer. Du bonheur !
Laura W.
the 06/05/2020

5/5
Top ! Nous, la petite, nos dos, tout le monde est satisfait ! On récommande sans hésiter.
Jennifer L.
the 23/04/2020

5/5
Article très confortable pour le porteur et pour bébé. Facile à utiliser
JEAN M.
the 17/04/2020

5/5
Très bien
Amandine F.
the 03/04/2020

5/5
Super! Très confortable pour le parent et l'enfant. S'adapte super bien. Je recommande !!
Mélanie C.
the 20/12/2018

5/5
Super
Feride E.
the 29/11/2018

4/5
Excellent produit je l'utilise tout les jours et regrette de ne pas l'avoir acheté plus tôt. Les points positifs : Je ne sens pas du tout mon bébé de 9kilos même porté plus d'une heure. Très confortable la ceinture abdominale ainsi que les lanières. L'installation en ventrale position monde et très simple et rapide. Je n'est pas encore testé les autres positions. Les points négatifs : L'option « cool air » Je ne l'ai pas encore utilisé en été mais je ne pense pas qu'il permet d'avoir moins chaud qu' un autre porte bébé. Je changerai peut être d'avis cet été. Les lanières sont à la limite de mes épaules même serrée au Max.
Anonymous A.
the 29/09/2018

5/5
Au top ! :)
Anonymous A.
the 13/07/2018

5/5
J'avais déjà l'original d'Ergobaby (ancienne génération) et je voulais un porte bebe face au monde et léger pour l'été. Mon bébé est encore trop petit pour la position face au monde mais je suis ravie du confort pour lui et pour moi en position classique ventrale. Les réglages sont faciles à faire. Et j'ai beaucoup moins chaud en cette période estivale (bien sûr ça tient chaud quand même, mais comme quand on porte son enfant dans les bras). Je suis très satisfaite de mon achat
Anonymous A.
the 23/05/2018

4/5
Très bon produit. Il faut quand même être 2 pour le mettre (fermeture dans le dos). Et mon garçon mesure 70 cm et c'est OK mais tout juste pour l'utiliser sans réhausseur. Mais très content du produit, le bébé aime surtout quand il est face aux autres :)
Anonymous A.
the 30/04/2018

4/5
bon produit
Anonymous A.
the 29/04/2018

4/5
Facilité de prise en main, d'utilisation. Tissu de qualité et finition soignée.
Anonymous A.
the 23/02/2018

5/5
Produit de haute qualité, solide, léger, très bien fini. Bébé adore et s'endort tellement rapidement dedans! Position physiologique pour bébé et adieu mal de dos pour maman!
Anonymous A.
the 15/12/2017

5/5
Bonne qualité du produit, après un peu d'expérience pratique à installer, on est à l'aise (autant bébé que les parents).
Anonymous A.
the 05/11/2017

5/5
Super porte bébé, utiliser a la campagne pour les corvées quotidienne, la tête de bébé est très bien maintenu. .. il y a un coup à prendre pour fermer seul les attaches dans le dos, mais avec les tuto youtube pas de soucis. .. je recommande
Anonymous A.
the 28/09/2017

5/5
Il faudrait question à l'an personne qui l'utilise mais elle a l'air Ravie
Anonymous A.
the 23/09/2017

5/5
super confort
Anonymous A.
the 20/09/2017

5/5
Le porte bébé est facile à mettre soi-même et semble de très bonne qualité.
Anonymous A.
the 13/08/2017

5/5
Le produit est enveloppé avec un papier cadeau et destiné à être offert donc je n ai pas pu voir le contenu j espère qu il est correct ,car c'est un cadeau
Anonymous A.
the 09/08/2017

5/5
Facile à mettre. Bébé a une bonne position des hanches meme face au monde Mais tiens quand meme chaud car bébé est contre nous
Anonymous A.
the 15/07/2017

5/5
xxxx
Anonymous A.
the 15/07/2017

4/5
Super pratique,confortable. Bébé est à l'aise dedans. Un peu chaud en été quand même.
Anonymous A.
the 13/07/2017

5/5
Facile d'utilisation, très pratique ! Achat conséquent mais c'est un produit de qualité qui durera dans le temps, pour plusieurs enfants, de la naissance jusqu'à un âge bien avancé !
Anonymous A.
the 01/07/2017

5/5
Très bien, service impeccable, soigneux et attentif. Je recommande !
Anonymous A.
the 28/06/2017

5/5
Mon bébé s'y sent bien. De belles balades en perspective!
Anonymous A.
the 15/06/2017

4/5
pratique pour des balades, mais aussi pour dans la maison. bébé adore pouvoir regarder (face au monde) pendant que je fais mon quotidien, tout en étant près de moi. quand même assez chaud en plein été comme il est collé à nous, mais je recommande
Anonymous A.
the 10/05/2017

4/5
Très bien
Anonymous A.
the 04/05/2017

5/5
Très bien
Anonymous A.
the 28/04/2017

5/5
Tred satisfaite de ce porte bébé, dont la matière permettra à ma puce de ne pas avoir trop chaud sur les marchés du Sud de la France :-)
Anonymous A.
the 28/03/2017

5/5
Très bon produits, très qualitatif et confortable.
Anonymous A.
the 17/09/2016

4/5
Très bon produit, qualitatif et bien pense, à l'exception de la sangle dorsale à déconseiller aux dos larges.
Anonymous A.
the 11/08/2016

5/5
Je suis fan du 360 que j'utilise depuis 3 ans avec mes 2 enfants. Je ne connais pas le modèle cool air mais je l'ai achete en cadeau à ma belle sœur. Je pense qu'il sera parfait.
Anonymous A.
the 04/08/2016

5/5
Incontestablement le meilleur porte-bébé du moment. Tant pour bébé que pour le porteur.
Anonymous A.
the 27/07/2016

4/5
Bon produit. Premières balades effectuées avec un bébé satisfait et serein. Donne un peu chaud malgré la maille mais inévitable à cause dû peau à peau. Je recommande
Anonymous A.
the 25/03/2016

5/5
Confortable, pratique et rapide à mettre, j'attends de tester les aérations quand il fera chaud.
Anonymous A.
the 14/03/2016

5/5
Hyper léger, ergonomique, facile d utilisation, bonne qualité. Le bébé n est pas encore né donc pas encore testé en action.
Anonymous A.
the 02/02/2016

5/5
hyper fonctionnel et surtout respecte la morphologie de bébé
Anonymous A.
the 31/01/2016

5/5
Très satisfaite , me paraît de très bonne qualité. Je ne pense pas être déçue
More reviews...