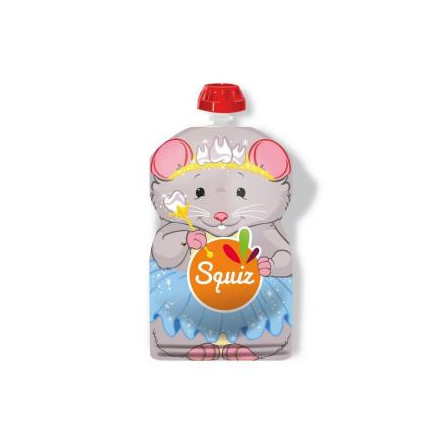 View larger
Water bottle reusable Squiz at the unit Mouse Smile Carnival
Squiz
SQUIZ00020
Gourd Squiz flexible and reusable unit
The pretty water-bottle-reusable Squiz is sold by the unit.
The gourd Squiz is manufactured without BPA, or phthalate. Soft, but resistance, it is filled with foods such as :
The advantages of the water bottle reusable Squiz are indisputable : ecological, economic, practical and easy to use.
Go to the dishwasher.
Capacity 130 ml.
Colour : Mouse Smile of the Collection Carnival.
No reward points for this product.
Your order delivered within 2 to 4 days
The water bottle reusable Squiz : a good deed for your wallet
Sold to the untité, the water bottle reusable Squiz is an economical solution. In fact, the gourd Squiz replaces the packaging of stewed type "Pom-buddy". The gourd Mouse Smile Squiz is reuses to the infinite : it is enough to wash it. It is dishwasher safe or can be cleaned easily with a bottle brush. Your wallet will thank you.
The gourd Squiz at the unit : a gesture for the environment
Reduce your waste, go to the Squiz ! The water bottle is flexible is reusable as many times as you want. It reuses about 50 times. Finished the waste, you fill your water bottle and you wash your car. So on. Less packaging, less waste. You go to the zero waste, it is the Planet that thank you!!!
The gourd, flexible Squiz : healthy and safe
The gourd Squiz is made in Switzerland with materials 100% european. It contains no BPA or phthalate. It is packed by an association of employing people in a situation of hamdicap (ESAT).
Water bottle to the unit Mouse Smile Squiz : practice
The gourd Squiz is flexible. It closes with a zip. It fills from the top and closes with a zip. In practice, it can be taken anywhere. In daily life or during the picnic, you have your water bottles Squiz at hand.
How to use your water bottle reusable Squiz ?
Open the gourd, ensuring that the bouchoi is closed
Fill it with a spoon, a funnel or directly with the spout of the blender applesauce, mashed potatoes, soup, yogurt...
Close it by pressing the zip on the entire length
Consume immediately, or store in the fridge/ freezer
Clean with a bottle brush or in the dishwasher occasionally.
Details of your water bottle reusable Squiz
Volume : 130 ml.
Dimensions : 16 cm x 9.5 cm.