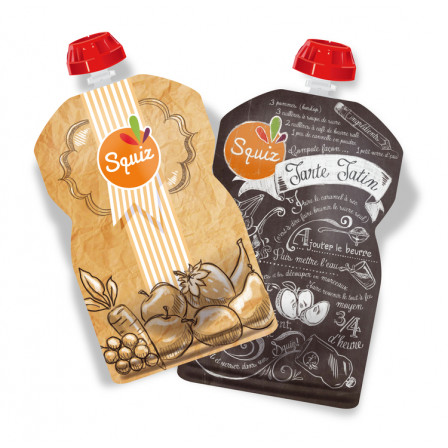 View larger
Lot of 2 water bottles reusable Fruit Kraft Squiz
Squiz
Gourds Squiz reusable limited series
Lot of 2 gourds washable Squiz flexible and very practical for compotes, purees, yogurt.
Suited as much to small as to large.
Its advantages :
Ecological
Economic
Dishwasher-safe.
Guaranteed without BPA or phthalates.
Capacity 130 ml.
Collection Fruit Kraft ( Tatin + Kraft).
No reward points for this product.
Your order delivered within 2 to 4 days
Gourd Fruit Kraft Squiz reusable and eco-friendly
The gourd, flexible Squiz is a small innovation. It is very convenient because it can be taken anywhere. You slide into the bag at snack or picnic lunch of your child.
Finished waste plastic, Zero Waste ! You reuse fifty times your water bottle reusable Squiz.
You make a gesture for the environment and for your wallet.
The gourd Squiz goes in the freezer. Thus, you can store directly your preparations, in your gourd. Clever !
Composition healthy
The gourds Squiz Fruit Kraft are made without phthalates and BPA. Your children do not swallow no toxic substances. You put in yoghurt and compotes of your preparation.A gesture that is safe and healthy for our children.
The manufacture of bottle gourd Squiz is european, and the assembly is done in Switzerland.
The water bottle reusable Squiz consists of 3 layers to avoid tearing. She is so strong and lasting in time.
Your gourd Squiz : easy-to-use
Thanks to its wide aperture zipped at the base of the water bottle, you fill easily your Squiz with :
liquids
compotes
yogurt
or other preparations.
Wash your gourd Squiz
You wash your flask with a bottle brush or in the dishwasher.
Capacity : 130 ml.
Dimensions : 16 cm x 9.5 cm.
Innovation award
The gourds Squiz have been praised by the emissions Capital and Kindergarten.
They received the prize of "best innovation" Baby Gold 2015 by the visitors of the Salons Baby.