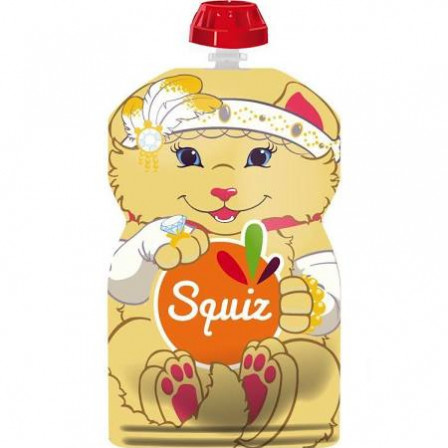 View larger
Water bottle reusable Squiz at the unit Kitten Carnival
Squiz
SQUIZ00013
Water bottle machine Squiz
The water bottle reusable Squiz Kitten is washing. It does not flow, therefore no waste and overpackaging.
Its advantages :
practical : it can be taken anywhere
environmentally friendly : it can reuse fifty times
economic : sold by the unit
go to the dishwasher.
BPA-free, phthalate-free.
Capacity 130 ml.
Colours : Kitten of the Collection Carnival.
No reward points for this product.
Your order delivered within 2 to 4 days
Gourd Squiz ecological and economic
Tired of throwing away the packaging of the yoghurt and compotes? You are adept to zero waste? You want to make a gesture for the Planet? Take the water bottle reusable Squiz !
The gourd Squiz is ideal for your children. It fills applesauce, mashed potatoes, yogurt or soup.
The gourd, flexible Squiz allows to reduce its waste. Finished packaging is non-biodegradable that accumulate. The gourd, flexible Squiz sze reuses. Go zero waste !
Gourd Squiz reusable : a product safe and healthy
The water bottle is flexible and reusable Squiz does not contain phthalates nor BPA. You are sure of its composition safe. It is Swiss made with materials 100% european.
It consists of three layers to prevent tearing. A cap is screwed to close. You will find a zip to ensure a good seal.
Of the disabled persons condition the gourds Squiz (ESAT).
Gourd Squizz reusable : a gesture for the environment
With the water bottle machine Squiz, you make a gesture for the Planet. Finished the waste, place it in the reusable. You use your water bottle and wash it then. It reuses approximately fifty times.
Zoom in on your gourd Squiz Kitten Carnival
Capacity : 130 ml.
Dimensions : 16 cm x 9.5 cm.
Usage tips
The water bottle machine Squiz is easy to use. You fill out after you tighten the cap. You zipper to close and seal the gourd.
The gourd Squiz is freezable, réchauffable and pliable.
Microwave prohibited.
Dishwasher possible, but not often. Prefer a wash with a bottle brush.
In order to keep as long as possible your gourd Squiz, we recommend that you :
close the zip carefully
do not put the gourd in the sun
do not soak your gourd for too long.