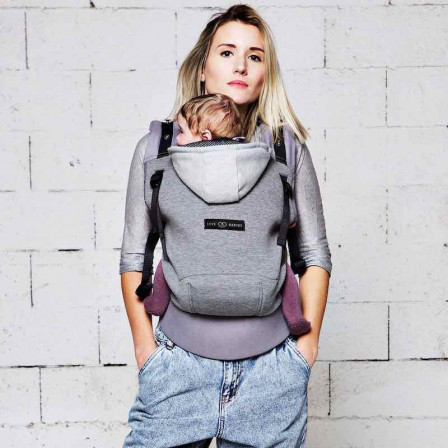 View larger
Hoodiecarrier JPMBB Grey Flannel
Je Porte Mon Bébé
HC43
A look that is resolutely urban for moms who do not want to compromise aesthetics on their ergonomic baby-carrier. This hoodiecarrier of Je porte Mon bébéwear, a style for fashionable parents!
Carry baby from

3.5 kg to 20kg

,
3 positions (front, back, hip),
3D mesh panel, Oeko-Tex 100

certified

.
Model : Hoodiecarrier grey Flannel
By buying this product you can collect up to 5 loyalty points. Your cart will total 5 points that can be converted into a voucher of 2,25 €.
Your order delivered within 2 to 4 days
A dynamic look for your HoodieCarrier Grey Flannel
Want a total look when you go out with baby ? Need to feel pretty while being a mom ? This all-new HoodieCarrier home JPMBB is made for you!
Its fabric flannel associated with a hood that goes everywhere fit perfectly with all your outfits. Carry baby with a preformed becomes a fashion accessory.
A fabric
Air Mesh

for comfort more suited to the needs of baby

An innovation that will renew the universe of the carrier. After the physiocarrier in 2015, I wear My Baby republishes his feat by launching its preformed hooded material 3D Air Mesh.

Need a baby carrier that allows passing the heat in the summer, but keeps baby warm in the winter? The Air Mesh has all these qualities with a look that's decidedly new that will also seduce you.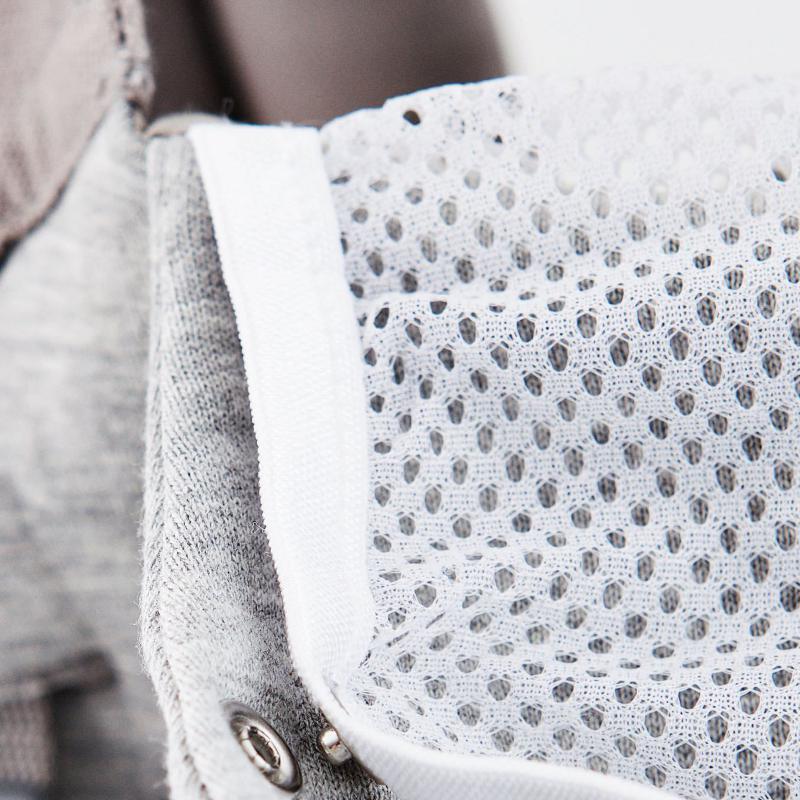 The advantages of this carrier is physiological
Snaps that allow you to prop the baby's head when he falls asleep in his

baby carrier JPMBB

.

A headrest

in addition to the hood for the hot summer days. Well protected, your baby will accompany you for shopping or a walk in a park.
Of

elastic security

for

maintaining physiological

always more optimized.
A

textile 3D Mesh

used first time for making new pannel.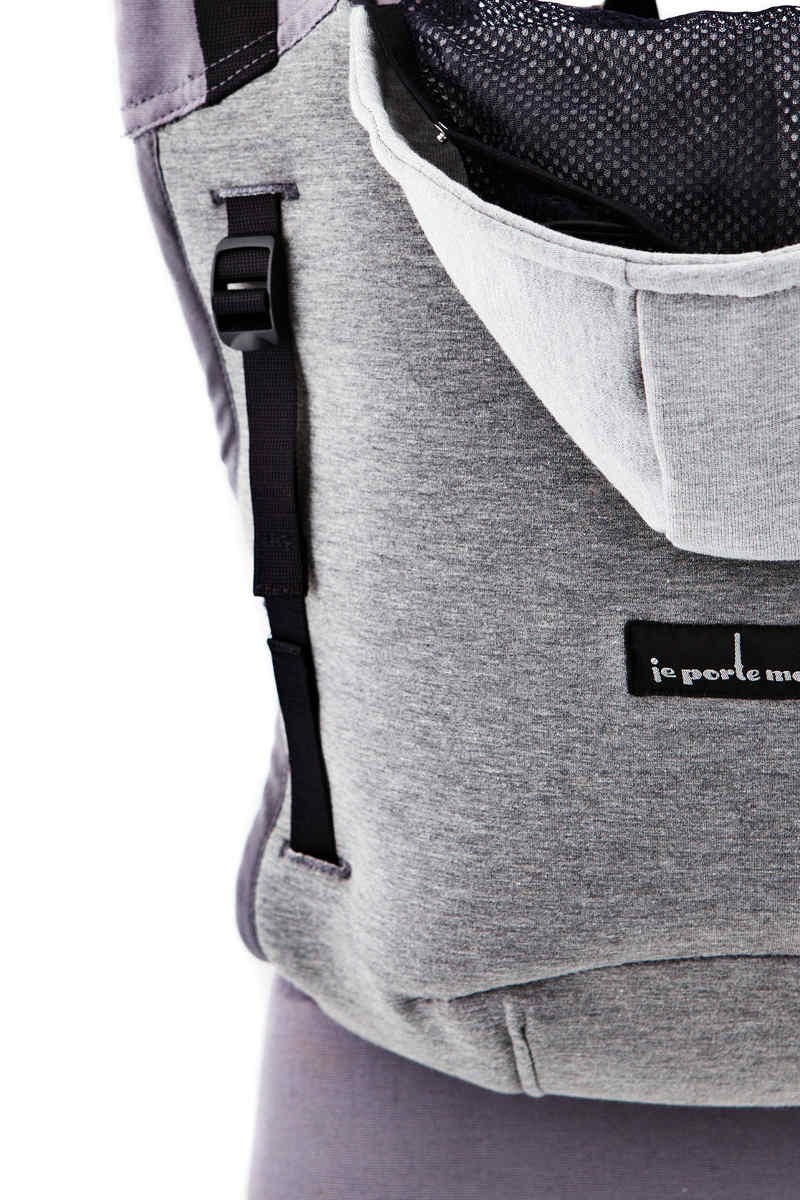 Zoom in on the characteristics of this Full Buckled by JPMBB
Of the

shoulder straps to wear straight or crossed

for a comfort that was always strengthened,
Keeping baby in an

ergonomic position

even if you crouch,
The

spring rings

allow you to hang the head,
Think about the

extension kit

for the use of your carrier as soon as the birth of your "little".
Straps settings lateralized to adjust your

preformed

in a turn of the hand.
A hood that comes to be clipped on the

HoodieCarrier

as soon as the first cold weather.
How to maintain your HoodieCarrier Grey flannel ?
This fabric 3D air mesh to really have all the qualities! It can even withstand a washing in a washing machine at 30°. However, this preformed do not pass the dryer and can be ironed. AYour baby carrier is garanti 2 years except for the seams.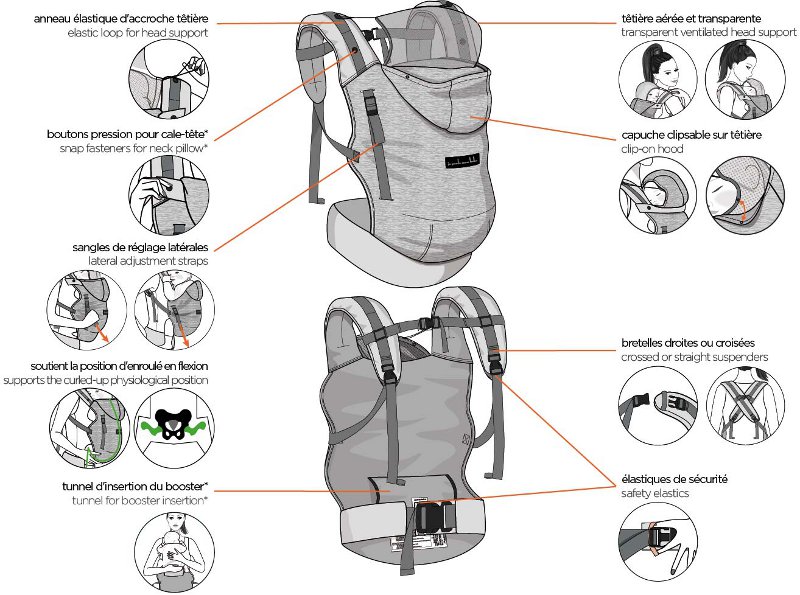 Video : Wear easily in the back with your HoodieCarrier
Data sheet
Kind of Baby Carriers
Full Buckle
Made in
Turkey
Label
Oekotex 100
Material
Coton, polysester, élastane
Recommended baby age
4 - 48 months
Minimum age
birth
Baby's weight
5 à 20 kg (dès 3,5 kg avec le coussin)
Carrying positions
Front, Back & Hip
Shoulder straps measurement
46 - 141 cm
Waistbelt measures
63 - 131 cm
Hauteur du tablier
42 cm
Largeur d'assise
43 cm
Main advantage
Good value for money
Warranty
2 years
Product Reviews
Number of Reviews :

62

Average Grade : 4.8 /5
Stephanie D.
the 02/07/2020

5/5
Super beau super pratique
Noemie L.
the 30/06/2020

5/5
Agreable à porter, stylé, convient bien au bébé :)
Christine B.
the 20/06/2020

5/5
Tres bien
Anais M.
the 08/04/2020

5/5
Très bien conformes à mes attentes
Martine B.
the 20/02/2020

5/5
Parfait
Emeline C.
the 11/02/2020

4/5
Très pratique à mettre seule comparé à une écharpe de portage normale. Bébé très bien installé dedans, porte-bébé physiologique. Désign très sympa. Seul bémol, ce porte-bébé est très chaud. Il n'y a aucune aération pour l'été par exemple. Je pense qu'en cas de haute température, le portage s'avère compliqué. Mais en conclusion, très satisfaite de mon achat.
Nathalie D.
the 23/12/2019

5/5
très bon produit très esthétique facile à ranger
Laila S.
the 06/12/2019

5/5
Rien à ajouter
Cassandre C.
the 03/12/2019

5/5
Génial ! Mon did de 1 an adore être dedans ! J'aurai su je l'aurai acheté avant!
Marie-Claude H.
the 28/11/2019

5/5
C est un cadeau donc pas d utilisation par moi
Amandine F.
the 21/11/2019

5/5
Top! Facile à mettre et pratique
Clémence F.
the 21/11/2019

5/5
Pas encore testé car bébé pas encore né mais semble de très bonne qualité
Floriana N.
the 19/11/2019

5/5
Je suis très satisfaite. Mon bébé a deux mois, je l'utilise avec le pack nouvau né.
Claire Z.
the 08/10/2019

5/5
Très bon produit
Claude B.
the 25/09/2019

5/5
j'ai commandé cet article pour l'avoir vu chez une personne qui l'avait commandé précédemment et je n'ai donc pas eu de surprise
Anissa N.
the 19/09/2019

5/5
Produit de qualité et qui répond aux attentes, satisfaite
Steffie S.
the 11/09/2019

5/5
Porte-bébé agréable pour moi et mon enfant. Jpmbb cest toujours de la qualité.
Nathalie S.
the 09/09/2019

4/5
Un peu cher mais j espère que la qualité y est
Audrey C.
the 20/07/2019

5/5
Conforme aux attentes pour un nourrisson de 14 jours qui aime etre en contact
Stéphane H.
the 18/07/2019

5/5
Excellent produit pour emmener son bébé avec soi.
Natalie D.
the 18/07/2019

5/5
Parfait
Heloise M.
the 17/07/2019

5/5
Super
Mickael P.
the 13/07/2019

5/5
Très pratique pour porter bébé, adopté dessuite
Monique C.
the 10/07/2019

5/5
Cadeau pour une naissance
Laure F.
the 29/06/2019

5/5
Porte bébé au top ! Le seul point négatif je dirais c'est qu'il ne s'ouvre pas comme m'en physiocarrier pour « aérer » bébé
Bérengère G.
the 16/05/2019

5/5
Très bon produit, très pratique !
Agnes O.
the 10/05/2019

5/5
Très bien
Emilie L.
the 25/04/2019

5/5
Portage physiologique. Matière souple et agréable.
Olivier N.
the 16/04/2019

5/5
Confort, pratique, esthétique !
Sylvie G.
the 18/03/2019

5/5
C'est un cadeau
Marie B.
the 16/03/2019

5/5
Conforme à nos attentes et d'excellente finition
DJAMILA A.
the 16/03/2019

5/5
Très bien
Elise F.
the 07/03/2019

5/5
Top !
Charlotte S.
the 06/03/2019

4/5
Agréable joli et pratique
Jennifer P.
the 06/03/2019

5/5
Très bon produit
Jocelyne T.
the 19/02/2019

5/5
tres bon produit
Fleur M.
the 15/02/2019

4/5
Esthétique, pratique, confortable. La capuche est un vrai plus pour protéger bébé du vent/soleil/pluie.
Nelly T.
the 13/02/2019

5/5
tres bien
Hélène D.
the 31/01/2019

5/5
Tip top. Correspond à mes attentes.
Marie C.
the 21/01/2019

5/5
Tres bon produit
Victoria L.
the 17/01/2019

5/5
Super produit
Mélanie A.
the 15/01/2019

5/5
Porte bébé parfait pour un bb de un mois (mon cas) avec le booster (indispensable). L'echarpe maintient quand même le nouveau né un peu plus dans une meilleure position je trouve... Mais franchement le hoodiecarrier remplit sa tâche (dis bien arrondi, confort) et est super pratique... même en intérieur quand pas le temps d'enfiler l'echarpe !
Sarra K.
the 02/01/2019

5/5
Super, bébé l'a bien vite adopté.
Annick P.
the 31/12/2018

4/5
Nous ne l'avons pas encore utilisé
Lydia G.
the 31/12/2018

5/5
Article moderne satisfaite de mon achat.
Mathilde Z.
the 31/12/2018

5/5
Magnifique et super confortable
Alice T.
the 31/12/2018

4/5
Pas encore utilisé, et j'aurais souhaité l'avoir en gris-mauve et non tout en gris. Mais le modèle reste joli et la matière agréable et douce pour bébé!
Jessica M.
the 30/11/2018

5/5
Porte bébé au top et avec le pack extension on peut l'utiliser dès la naissance. Pour sortir mon chien pas besoin de poussette pour amener bébé très pratique et confortable
Elodie B.
the 27/11/2018

5/5
Parfait !
Laura E.
the 08/11/2018

5/5
Super produit Je ne l'ai pas encore essayé mais il a l'air autant confortable pour le bébé que pour la maman. Le tissu est tout simplement au top
Bahija B.
the 07/11/2018

5/5
Top !!
Fanny D.
the 31/10/2018

5/5
Super
Marianne C.
the 23/10/2018

5/5
Parfait
Fiona P.
the 20/10/2018

5/5
pas encore testé, bébé n'arrive pas avant fin novembre.
Margot W.
the 17/10/2018

5/5
Excellent produit! Au top! Mon bébé l'a adopté en quelques Minutes
Magali B.
the 22/09/2018

3/5
J aurais aimé le carton d emballage d'origine pour pouvoir le ranger !!
Nadine R.
the 07/09/2018

5/5
très bien
Coralie L.
the 15/08/2018

5/5
porte bébé très confortable, j'avais pourtant un mei tai avant et bien je suis plus à l'aise avec ce porte bébé. Mon fils de presque 5 mois est bien installé devant comme derrière, La peetite capuche est top. Il se règle de partout donc s'adapte aussi bien à bébé qu'à maman ou papa. J'adore !
Francis D.
the 30/07/2018

5/5
PAS ENCORE UTILISE
Adele B.
the 27/07/2018

5/5
J'adore !! Tout simplement parfait. Adepte de l'écharpe de portage jpmbb, je ne regarder pas le hoodiecarrier. Ma fille y est bien il est joli et très confortable pour nous deux
Anaïs D.
the 05/06/2018

3/5
Le Hoodie est plus confortable niveau assise que le physiocarrier mais le problème persiste dans la rigidité des bretelles Acheté pour papa porteur il lui convient surtout avec l'esthétique plus "sportive" Moi je préfère mon tula acheté sur le site mais en portage dos le Hoodie est agréable surtout point de vue réglages (bebe plus haut que dans le tula)
More reviews...