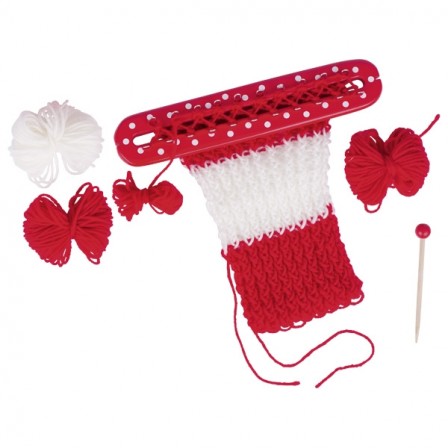 View larger
Dial knitting
Goki Nature
58509
Dial knitting Goki
To learn how to knit, here's the framework knitting Goki.
Easy-to-use, framework knitting will teach your children to knit. He will be delighted to be able to make themselves pretty, small books.
Explanatory Notice supplied with.
Age : from 4 years.
No reward points for this product.
Your order delivered within 2 to 4 days
Dial knitting Goki
Toys fun and easy to learn manual work.
With the framework knitting kids can make themselves small gifts.
A leaflet explains how to prepare your knits.
The needle wood and the wool of color are attached to be able to start immediately.
Toys Goki
Designed in Germany, the toys GOKI involved in the development and the maintenance of motor functions, sensory and cognitive of children.
The games Goki are characterized by excellent finishing, and with an originality that has nothing to envy to their counterparts in plastics.
Each toy is the subject of the greatest attention on the part of Goki. They are manufactured according to the rules of fair trade in Europe or Asia.
The brand Goki is distinguished by a functional design and very aesthetic. The colors are modern and deep.
Toys Goki give a lot of fun and realism to the games of children. The games are essential for developing and maintaining the motor functions, cognitive, or sensory for your little ones.
Data sheet
Material
Wood
Minimum age
3 years
Peintures et vernis
écologiques et sans toxique