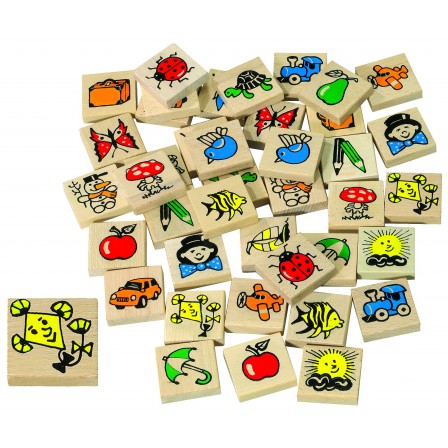 View larger
Game memory in wood: the weather
Detoa, jeux en bois
The memory is a memory game, it is necessary to find two pieces indentiques.
40 parts of solid wood and varnished écolologique. The pieces are 4 cm side.
3-year-old.
No reward points for this product.
Your order delivered within 2 to 4 days
The memory is a great classic still as effective with the children. We mix the pèces wood and return not to see the drawings. Each player looks at a piece in turn. If it finds two drawings are identical, he keeps them and plays again.
Whoever finds the most of identical parts to be won! The wooden parts are very pleasant to the touch, a game not to be missed.
The games Detoa quality and know-how.
Known in Germany and unheard of in France, Detoa has an experience of over 100 years in the wooden games. Each creation is made with quality wood and dried for 6 to 8 months. The manufacture is hand-crafted and the finishes are perfect. You will find in these games of resplendent colors without toxic and incredible durability. The quality is simply outstanding...
Wooden games made in Europe (Czech Republic)
Data sheet
Minimum age
3 years
Material
Wood
Made in
Europe
Sécurité
Normes CE EN 71
Dimensions :
250x170x22mm
Peintures et vernis
écologiques et sans toxique