Goki jeux en bois
Kubb game viking wooden large model
Large size : official size of the game Kubb
Kubb, also known as the chess Viking, is a game where to win you have to bring down the king first.
But be careful ! He must first overthrow all the soldiers of the opponent...
Kubb means "wooden block" in the dialect of Gotland (Sweden). This bowling game is very practiced in the nordic countries. On your turn, you will become fast fans!
Composition of the game Kubb
-Ten newly thrown kubbs, rectangular parallelepiped of wood, still called soldiers or blocks
-A king, one greater than the newly thrown kubbs with one end chisel-the symbol of a crown
-Six sticks, cylinders of wood that you throw on the kubb
-Four stakes to mark the corners of the field.
The Kubb is made of Beech: a wood strong enough to not be too damaging, and flexible not to break.
The rules of the game Kubb
You will find a detailed version on Wikipedia by following this link :
 rules of the game Kubb in detail
The plot of the game Kubb
In the version " classic ", the field is a rectangle of 5m by 8m. But Goki has invented the "mini Kubb" which allows you to play on a dining room table for example.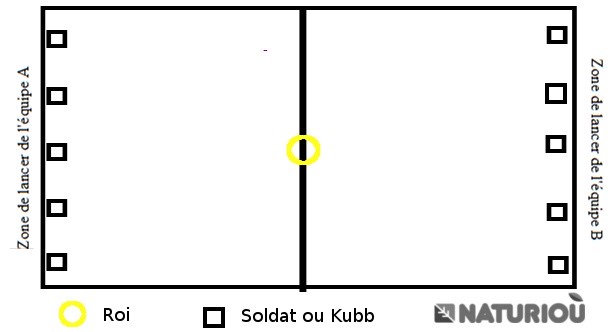 The principle of Kubb
Two teams of 1 to 6 players compete against each other.
Each team starts turn 6 fight to try to knock down the Kubb wooden (or soldiers) of the opposing team. The first team that puts down all the Kubb on the camp opponent may then bring down the king and wins the game.
Subtlety of Kubb
If the team Has taken down the Kubb team B without being able to unseat the king, team B takes the Kubb who have fallen down and throws them into the opposite camp. As well, the team identifies the Kubb thrown by the equipped B. the Kubb becomes soldiers field.
Team B will therefore reverse the newly thrown kubbs already present in the opposing camp, most of the soldiers of the fields. You imagine that team B will in most cases to throw the Kubb closest to make them fall off more easily.
Advanced rule Kubb



In turn, The team will start its fight from soldier field-still standing (the one that is the closest to the king). It is through this rule that Kubb is a game of strategy. In effect, what is the value of the B-team ? Throw the Kubb as close as possible to overturn more easily ? Or more away to prevent the team from approaching ?
It's up to you!
Avis des clients (10 Avis)
Anonymous A.
- 08/09/2020
très bien de plus emballé dans du carton recyclé : top!!!!
Anonymous A.
- 29/06/2020
Tout à fait conforme à la description.
Be the first to ask a question about this product!