Kinderkraft
Kinderkraft Sofi - baby travel Cot 4 in 1
Modalités de paiement en 3 ou 4 fois sans frais
Sofi house Kinderkraft : a baby bed 4-in-1
Your bed Sofi 4-in-1 adapts in several situations. Usable from birth up to 15 kg, you can use it 4 different ways.
Baby cot classic
Place your baby in the upper part of the bed. Your baby will be comfortably seated thanks to the soft mattress and bed sheet in 100% cotton everything you provided. On the side, you'll find nets transparent in order to let your baby observe through.
Under the mattress of the upper part is the zippers and fasteners to secure the mattress. This setup is perfect for babies from birth.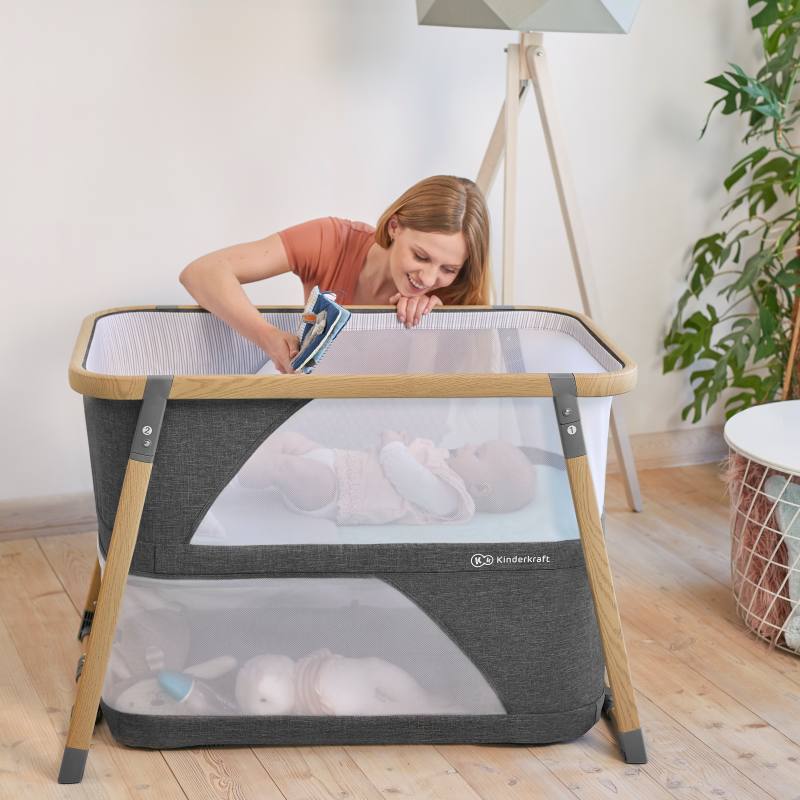 For children older, simply detach the mattress from the top to position it at the very bottom, at the bottom of the bed. It is perfect for children who are beginning to sit up. Up to 15 kg maximum (approximately 3 years).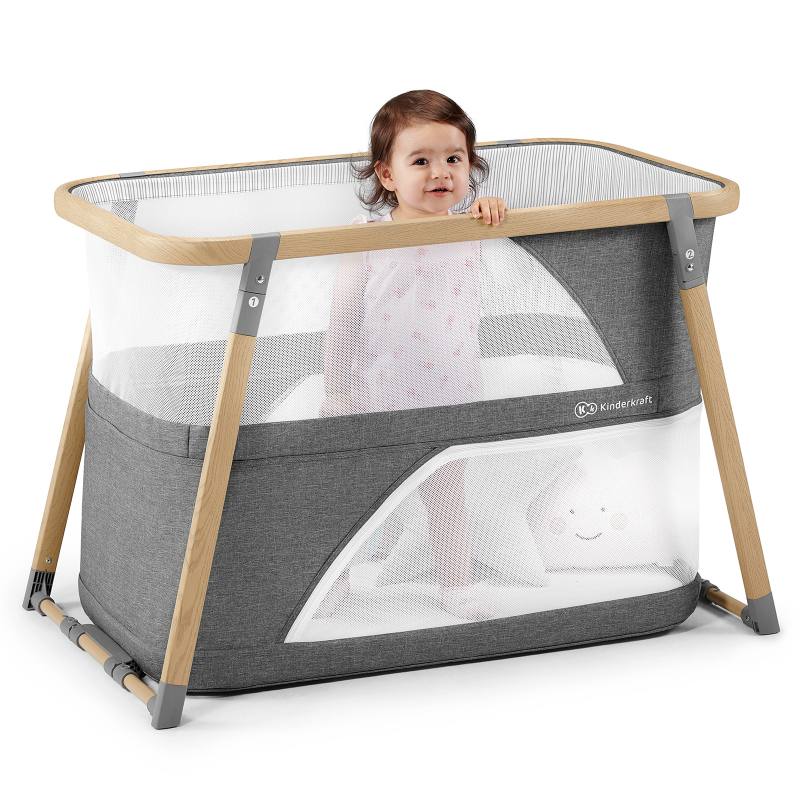 Park toy
In the lower part, a large storage space allows you to create a small park toy for your child. You can also open the mesh on the side to open the park and let your child enter or exit according to his desires.
This location can also serve as storage when the baby is placed at the top. Put his toys and his stuffed animals favorite.
Mode cradle
With two wedges of plastic placed on the sides, the bed can be used as the cradle. Turn the hold down to swing gently to your baby.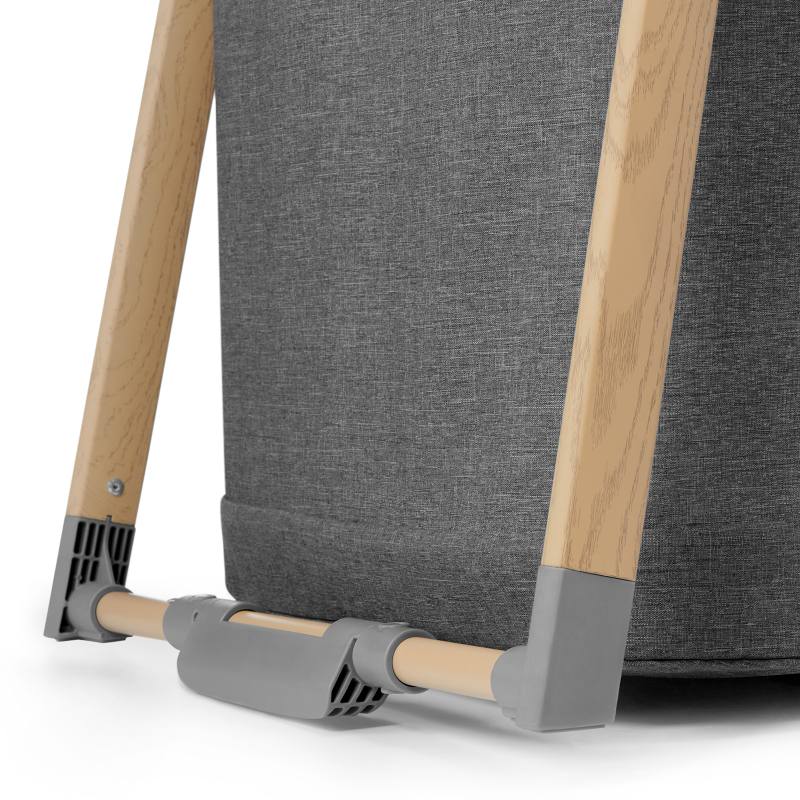 Travel bed
Your bed Sofi is easily transportable when traveling. Folding in 5 seconds, you can store it in its carry bag. Easy to carry and very lightweight, perfect to take anywhere !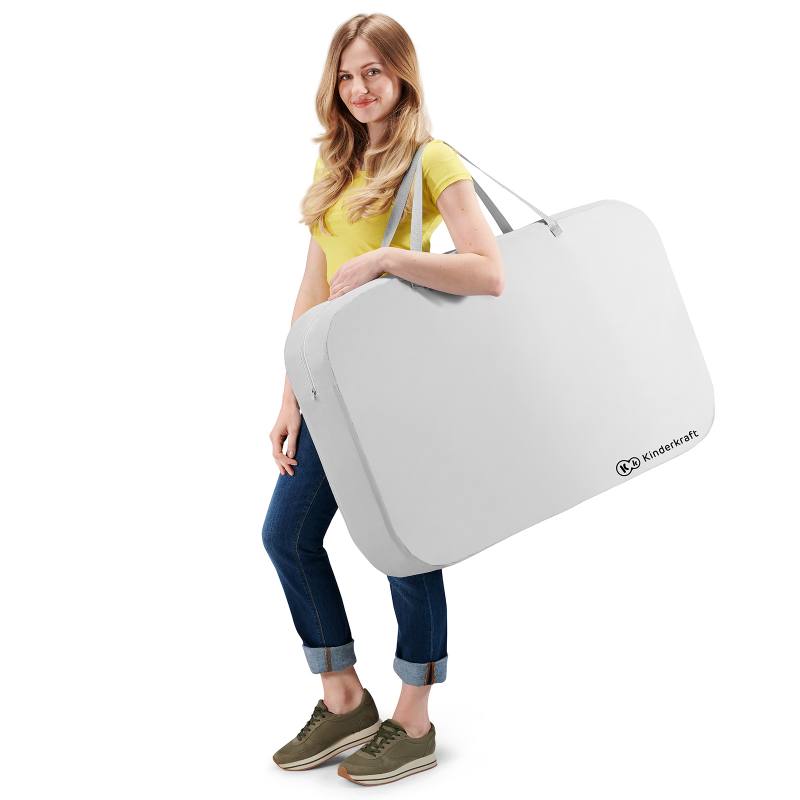 Supplied accessories and additional features
Mattress 920 x 510 mm
Sheet 100% cotton : machine washable 30° (delicate cycle)
Rubber feet under the bed to isolate the bottom of the bed, preventing your child from catching a cold and avoid scratches on the floor
Transport bag to take your bed Sofi everywhere with you. Dimensions : (L) 97 x (l) 14 x (h) 63
Warranty 2 years
General presentation video
Quick user Guide
Characteristics
Material

- Aluminium, Coton, Acier

Made in

- Asia

Recommended baby age

- 0 - 36 months

Baby's weight

- Jusqu'à 15 kg

Warranty

- 2 ans + extensions de garantie jusqu'à 10 ans gratuites
Avis des clients (32 Avis)
Canon ! HYPER PRATIQUE ! Je ne regrette pas du tout ! Et très jolie, finitions parfaites, gros coup de cœur.
Le produit est conforme à la description
Bonjour, Comment faire pour mettre un drap housse sur le matelas quand il est en position haute ?
Le matelas se trouve dans une housse où il y a aussi le « sommier » (une petite plaque de « bois »). Avec le système d'accroche (pour la position haute), il est impossible de mettre un petit drap. Faut-il enlever le matelas de la housse et le poser sur le «  sommier » qui lui restera dans la housse qui sera accrochée avec la fermeture éclair ? Sinon impossible de changer le drap sinon de laver l'ensemble. J'ai du mal à penser que rien ne soit prévu pour charger le drap quand il est en position haute. Merci d'avance je pense que votre réponse intéressera d'autres acquéreurs !
Bonjour, en effet d'après Kinderkraft, lorsque le matelas est en position haute il n'est pas possible d'ajouter de drap housse sur le matelas. (Retrouvez ici le système d'attache où l'on voit bien que le matelas est attaché au lit). Vous pouvez en revanche ajouter un petit drap ou une couverture par-dessus le matelas.
La solution que vous proposez semble faisable. Il faut veillez à ce que le sommier reste bien attaché en position relevée pour qu'il ne tombe pas.